By Susan Harman
After Iowa's 87-77 victory over Colorado Friday night in Seattle and after her media commitments were fulfilled, Iowa coach Lisa Bluder sat courtside and watched Louisville play Mississippi. She wasn't scouting, per se, because her assistants had already prepared a scout on each of those two potential opponents. Nor was she ordering a hot dog and a Starbucks.
She was providing herself with an "eye test."
"It's more for their personnel, their style, how physical they are, that type of thing, how fast they are because sometimes you can't tell those things on film as much as seeing them live," Bluder said.
She said she wasn't checking opponent sets because her assistants were in the scouting seats.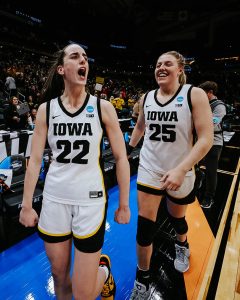 "Sometimes after a game it's hard for me to focus," Bluder said. "I'm not a (good) scouter immediately after a game because I'm kind of thinking about that last game. I missed the whole first half anyway."
The eye test revealed honorable mention All-America guard Hailey Van Lith, Louisville's leading scorer, and guard Chrislyn Carr who went to high school in Rock Island, Ill., and is the team's second-leading scorer and best 3-point shooter.
"I was really impressed with (Mykasa) Robinson and her speed," Bluder said. "I did not know she was that fast. I would not have thought that from watching her on film or just seeing her statistics, for example.
"I think (Olivia) Cochran is very physical inside. Again we're going to have to play that post that's very physical and that rebounds really, really well. So it was good; it was good to get that eye test."
Louisville's history under coach Jeff Walz places the program among the best in the nation. The Cardinals have qualified for the NCAA Tournament in the last 12 seasons in which the tournament took place. They reached the Final Four three times, including last season, and were national runners-up in 2013. They reached the Elite 8 four times and Sweet 16 three other times. They have advanced to the Elite 8 or beyond for five years in a row.
The Cardinals (26-11) have size, depth and quickness on the perimeter. Van Lith is Louisville's version of Caitlin Clark, and the two played together on USA Basketball teams.
"I think she plays with a ton of energy and passion, and that's what I admire most," Clark said. "I'm somebody that plays with that same level of passion and energy and excitement. She's feisty."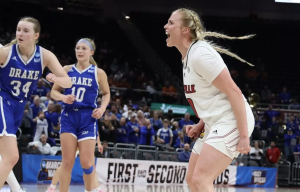 Clark's scouting report has Van Lith as a good mid-range jump shooter who also attacks the rim.
"But I think more than anything she's just their emotional leader," Clark said.
The Cards also have depth in the sense that the first three off the bench can contribute just like the starters. Morgan Jones, a 6-foot-2 grad transfer from Florida State can drive like a guard and is an aggressive offensive force.
"Morgan has played extremely well, and I'm really proud of her," Walz said. "She plays hard, she's competing, she's starting to make reads, which is something we've worked with her on. If we can continue to have her play the way she is, and Liz (Dixon) off the bench as well and Merissah (Russell), we've got some scoring and some depth."
Dixon, a 6-5 Georgia Tech transfer is a shot blocker who also shoots from the mid-range. Russell, a 6-0 junior, is a shooter off the bench.
But like Iowa's last two opponents, Louisville's identity is wrapped up in its defense. It holds teams to 63.4 points per game on 40 percent shooting.
Robinson, a 5-7 super senior, is a key to the Cardinals' perimeter defense.
"I think you could just look at the stats, man," Van Lith said. "I mean, ever since I've been at Louisville, especially last year, Mykasa guarded the team's best player, and last year we were known for holding the best player to under 10 points, and that was because of her. She can guard 1 through 5. She's not just a guard defender. She's not just a post defender. She can guard any position and successfully.
"I think she also is — off the ball, her IQ for reading passing lanes and knowing where people are trying to go with the ball is the best that I've ever seen or played against."
"We run off her energy," Cochran said.
You can bet that Robinson will see some time guarding Clark, and she has a game plan.
"Caitlin's a great player. I think really just being physical from jump," Robinson said. "I think it's going to be a great team defensive night. I think we're going to all play well really well, maybe do a little trapping, do what we got to do. So just stay locked in and picking her up full court."
Bluder is well aware of the measures Louisville will deploy.
 "They really have great denial defense, great ball pressure," she said. "But beyond that, what is, I think, one of the best things is the variety of presses that they have. It's not just one press, but it's a variety of different presses that they can throw at you. So you have to change up your attack based on what they're doing. That's what makes it hard."
The game tips at 8 p.m. and is on ESPN.
Elite Vibes. #Hawkeyes pic.twitter.com/xHp8UZKLmZ

— Iowa Women's Basketball (@IowaWBB) March 25, 2023