By Pat Harty
IOWA CITY, Iowa – As the legend of Caitlin Clark continues to grow almost to mythical proportions, so does the stories about her path to greatness.
Iowa's dynamic junior guard, who is preparing to lead the Hawkeyes against top-ranked South Carolina in the NCAA Final Four on Friday in Dallas, grew up in West Des Moines playing basketball with her two brothers and her cousins, and it wasn't always as easy as she makes it look now with her logo threes, her no-look passes and her pin-point post feeds to Iowa teammate Monika Czinano.
Clark took her share of elbows, hard screens and teasing from her relatives as a kid, and she even had to deal with a bully or two along the way.
There was the time when Clark was just five years old and playing in a boys' league in Waukee when she stood up to a bully on the court, or it would be more accurate to say that she stood over a bully after having sent a message that she wasn't one to mess with.
Clark's grandfather, former Dowling Catholic football coach Bob Nizzi, told the story when asked on Monday if there was one particular moment when he knew his granddaughter was special.
Nizzi and his wife were in the stands watching Clark play that day, and early on their granddaughter was struggling.
A big kid on the other team was being extra rough and using his size to frustrate, and maybe even intimidate Clark.
"They were playing and there was a particularly large young man and rather aggressive that was about to position and out strength Caitlin and sometimes to the point where he was really taking advantage of the little girl," Nizzi said in a telephone interview. "And she would cry at any thought that she had been fouled or not allowed to participate the way that she thought she should."
Clark's father, Brent Clark, was her coach at the time and he removed Caitlin from the game so she could calm down.
Caitlin was crying when she went to the bench, so it would've been easy to assume that she feared her bigger and stronger opponent, and that she wanted no part of him.
"Her father sat her down and then he said when you're ready I'll put you back in and she stopped crying," Nizzi said.
Clark was eager to get back on the court, but playing the game she now loves wasn't really her motivation.
"Upon her going back in she never went to the ball to participate in the game that was going on," Nizzi said. "She went right to this guy and put on the best downfield block that I have ever seen and rolled this kid out of bounds and stood over him.
"She's a five-year old little girl and that is when her grandmother and I looked at each other and said, 'she's going to be really something.'
The same passion, toughness and grit that helped Clark stand up to that bully still is a big part of who she is today as arguably the best player in women's college basketball.
"He was bigger, and he was much more familiar with the game of basketball as boys play it than Caitlin was at age five," Nizzi said. "It didn't make any difference to her."
A family's influence
The 6-foot Clark is immensely talented from a skill standpoint as she so brilliantly showed with an unprecedented triple-double in leading Iowa to a 97-73 victory over Louisville in the Elite Eight this past Sunday in Seattle.
Clark finished with a 41 points, 10 rebounds and 12 assists, becoming the first college player, man or woman, to have a 40-point triple double.
She is a generational talent and has become the face of women's college basketball because of stat-sheet stuffing performances like Sunday's masterpiece, and much of the credit goes to her upbringing.
Standing up to a bigger kid wasn't really that big of a deal because Clark did that every day when competing against her brothers and her cousins.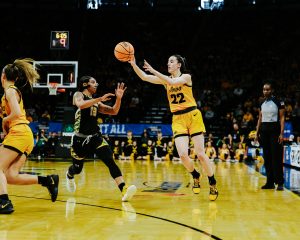 They would let her tag along, but they didn't take it easy on her just because she was a girl, and that tough-love approach would prove beneficial as Clark grew up.
She also preferred to play against the boys because the girls just weren't good enough to be competitive.
And no bully was going to stop her, even a boy that was bigger and stronger.
"There was an injustice done and she was out to rectify that," Nizzi said when asked what motivated Clark to stand up to the bully. "And you have to remember, her cousins really helped in her formation, the boys especially allowed her to play. And when she would get frustrated with their ability and her not being able to compete at that age, they simply made her stay and she'd come in, sometimes, crying and her parents would say, go back out and if you want to play this game you have to learn how to play it right and listen to what your brothers are telling you and what your cousins are telling you.
"I guess the family takes such great pride in Caitlin because they all feel, especially her cousins, that they had a hand in this."
Clark's message to the bully apparently came through loud and clear because Nizzi said he changed the way he played from that point on.
Instead of being overly aggressive and physical, the bully almost tried to avoid the feisty five-year old girl on the other team.
"I don't know what's in a bully's mind, but he made wide circles around her," Nizzi said.
Recognizing the gift
Clark showed at a young age that she was a gifted athlete.
She also excelled in soccer, but there was just something special about basketball.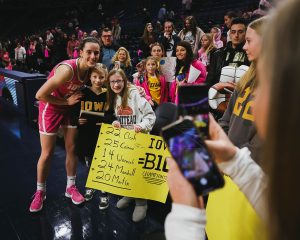 "She was five years old. She could dribble a basketball," Nizzi said. "She had great anticipation and seeing the floor, which is one of her greatest attributes today.
"It's just a marvelous thing to remember that she's wired special. Sometimes, there are special athletes that God has created, and God coaches and Caitlin Clark is one of those."
Nizzi is the father of Clark's mother, Anne, and he credits Anne and her husband for creating a healthy environment for Caitlin to excel, on and off the court.
Clark started hearing from colleges at a young age, and by the time she was a senior at West Des Moines Dowling Catholic, she was considered one of the top players in her senior class, and she had her pick of colleges.
"Her parents have done a great job with her of recognizing that gift and that ability, and at the same time, they've molded that into a young lady that not only enjoys passionately playing the game, she has given so many other people enjoyment and shown what it really feels like to be an athlete," Nizzi said. "She communicates that to the crowd and to the people. She enjoys what she does to the point that other people bring in that celebration."
Clark's competitiveness and her work ethic are two common traits within her family.
Her aunt Kathy, who is also one of Nizzi's daughters, refused to quit after being cut from the freshman basketball team at Dowling in 1978.
"She showed up for practice after practice after practice and kept coming and went on the bus and everything," Nizzi of Clark's aunt Kathy. "She just refused to quit.
"So, that determination and that persistence is a common trait that Caitlin and her aunt have."
She was just different
Tom Wilson has watched Caitlin Clark play in countless basketball games dating way back to when she first started playing the game.
Wilson is the head football coach and athletic director at Dowling Catholic, and he has a daughter that is Clark's age, and they grew up together.
"I've seen her play a lot of basketball games, and I'm certainly no basketball expert," said Wilson, who has led Dowling to eight state titles in football. "But it didn't long to figure out that Caitlin was different.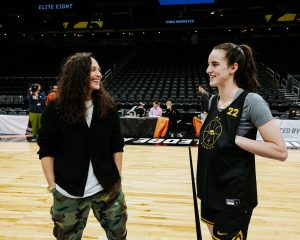 "I don't know if anybody would have predicted this. But you knew that she was going to go and do great things wherever it is she went. And I think all of us our lucky that she stayed in the state of Iowa."
Clark's older brother, Blake Clark, helped lead Dowling to a state title as the starting quarterback in 2017. He would then go on to play for Iowa State.
Her younger brother, Colin Clark, currently attends Dowling where he excels in basketball and track and field.
Her cousin, Audrey Faber, was also a star basketball player at Creighton.
And while her two brothers and cousins deserve credit for helping to make Caitlin Clark what she is today as a tough-minded player, Wilson praised Clark's parents for building the foundation for her success.
They tried to keep her life as normal as possible, even after she blossomed into a mega-recruit.
"They've done a great job of really navigating through all of this," Wilson said of Clark's parents. "I know that they shielded her from a lot of things when she was very young recruiting wise because that came early. And I just think they deserve a lot of credit for how this has all worked out."
It would've been easy for Clark to coast as a kid because of her talent, but her talent was matched by her work ethic and focus.
She embraced hard work and the daily grind, and she never cut corners.
Clark knew she had a gift and was determined to use it to the best of her ability.
She talked about working hard and striving for excellence in the moments after the victory over Louisville.
"She has put in the work, and as she said last night, and I think is something we always tried to preach is if you believe in something deep enough, and if you work hard enough, good things come true," Nizzi said. "And she's never shied away from work."
A great ambassador
Iowa head coach Lisa Bluder has called Clark the face of women's basketball, and to the students at Dowling Catholic, she is that and much more.
"I think for the school is similar to what you're seeing around the state and around the country in that she has really energized the sport of women's basketball," Wilson said. "She has certainly energized our community. It's definitely a topic of conversation at our school on a daily basis, and I think the big thing for us is we're just really proud of her.
"All the accolades and everything that she's earned is fantastic. But I think she's been a great ambassador for the sport at the University of Iowa and Dowling Catholic."
Clark met one of her idols this past Friday when former UCONN star guard Sue Bird, who recently retired from the WNBA, made a surprise appearance at Iowa's shootaround.
Clark and her teammates were awe struck when Bird walked on to the floor, and that was obvious by the looks on their faces.
"Last night they showed the Iowa women's team as Sue Bird walked in, and that's kind of how the students look at Caitlin here," Wilson said.
Most fans only see Clark on the court where she is highly competitive and highly emotional.
She hates to lose, but she loves playing to the crowds, even on the road where she is a huge attraction.
She will sign autographs long after a game has ended and will take photos with fans. That is Clark's way of helping to promote the game that she loves.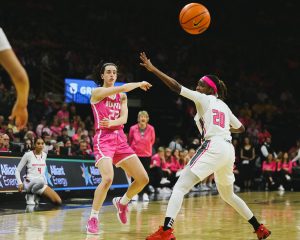 But there is another side to Clark, a more private side that gains comfort from just being around family and friends.
Nizzi said he is often asked what his granddaughter is like away from the court.
"When people ask us that question, so frequently our neighbors and other acquaintances, and we say she's just one of our kids, a young lady that shares a common bond with the rest of her family," Nizzi said "She has switches that she can throw that give her a sense of being really genuine. When she's out to compete, she competes. And when she's with her family, she's very social. She's very caring. She's very much involved with all the lives of the rest of her cousins."
Transforming the game
Bobby Hansen is also a Dowling legend after having led the Maroons to a state title as a senior in 1979.
He then would go on to play for Lute Olson at Iowa, where as a freshman he was a key piece to the 1980 Final Four team. Hansen also played for nine seasons in the NBA and has been the radio color analyst for Iowa men's basketball since 1992.
Hansen didn't have the chance to see Clark play at Dowling, but he heard stories about her incredible talent, and he's now a huge fan.
"You can kind of tell right away who's got that extra whatever is, drive, that skill level and the love of the game, I guess, would be a better way to put it," Hansen said. "It just jumps out at you right away."
"It's just crazy how good she is and to have that stat line last night, it's never been done, men or women."
Hansen was asked Monday if he thinks Clark is a better shooter or passer.
He paused briefly before answering.
"That's a good question," Hansen said. "She's a great shooter, but she's probably a better passer. You have the willingness to pass, and the ball is on the money. That's the fun part of watching her.
"I can watch people come down and shoot all you want. But when they pass the ball like that, I go back all the way to Magic Johnson and how he transformed the game with the pass. And that's what makes good team camaraderie. That team just looks together."