By Susan Harman
Caitlin Clark showed the world that she has no peer in women's college basketball. Clark's unprecedented 41-point, 10-rebound, 12-assist performance led Iowa to a 97-83 victory over Louisville and earned the team a berth in the Final Four.
"About the only people that believed were me and (Coach Lisa Bluder) when I first committed to her, and it was getting the locker room to believe, and then everybody in the locker room believed, and the rest is kind of history," Clark said. "A lot of people told me it would never happen when I came to the University of Iowa. But she believed in me, and that was really all that mattered."
 "It's like a storybook, but it's been like that for us all year long," Bluder said. "Honestly, we keep talking about destiny and how it's supposed to happen, and it is happening."
Clark shot very well, passed the ball adroitly, stole or tipped balls that weren't adequately protected and kept Louisville from doing the same. She frustrated the Cardinals' many defenses employed against her, whether it was using two bigs on her, quick quards or traps and presses.
She was ready to shine when Iowa needed her most.
"I'm so happy for Caitlin," Bluder continued. "I can remember sitting in her living room and her saying, 'I want to go to a Final Four.' And I'm saying, 'We can do it together.' And she believed me."
This is Iowa's second Final Four, coming exactly 30 years after the first appearance under Vivian Stringer. Iowa also reached the 30-victory plateau for the first time in program history.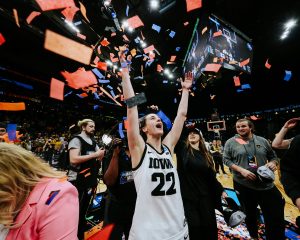 Dallas better be ready because the circus is coming to town with Iowa's high-flying offense and the star power of Clark.
"She is spectacular. I don't know how else to describe what she does on the basketball court," Bluder said. "A 40-point triple double against Louisville to go to the Final Four? Are you kidding?"
Iowa trailed 8-0 to start the game when coach Lisa Bluder called a timeout.
 "We were down 8-0, but were lucky enough that we have a group that is old enough to understand it's not going to bother us," Clark said. "We came out and changed our defense and really from there I thought we played really, really well."
"I mean, that could have blown up a lot worse than it did," McKenna Warnock said. "And I'm really proud of this group, and we really just focused on our defense one step at a time, and we knew that our defense leads to our offense."
As if on cue Iowa responded with seven points from Clark to calm the waters. Warnock started to heat up, scoring seven points in the quarter, Clark added eight more points, and the Hawkeyes led 25-21 after one quarter. They never trailed again.
The Hawkeyes halftime lead was a precarious 48-43, but they broke the game open in the third quarter.
"I really think we locked down on our defensive possessions," Monika Czinano said. "We always talk about our defense leading into our offense, and it really felt like it was flowing right there, and it honestly just really felt like we finally really clicked playing Iowa basketball like we knew we could."
In the third quarter Iowa outscored Louisville 30-16. Iowa made 9-of-16 shots, including 6-of-10 threes, and 6-of-7 free throws. The Cardinals made just 5-of-18 baskets, including one 3-pointer.
Louisville cut the lead to 48-47 by scoring the first two baskets after halftime, but Iowa responded with an 11-0 run featuring two Gabbie Marshall threes, one by Clark and a transition basket by Warnock on a feed from Clark. Time and again Warnock beat the defense down the court.
Then Iowa put together a 19-5 run to finish the quarter with a 78-59 lead. The Hawkeyes got contributions from five different players in that scoring spurt. Bluder credited Marshall's second-half defense on Cardinals star Hailey Van Lith and more attention to Chrislyn Carr, who made three 3-pointers in three attempts in the first half but none in the second.
The fourth quarter was a little messy but Iowa had the answers.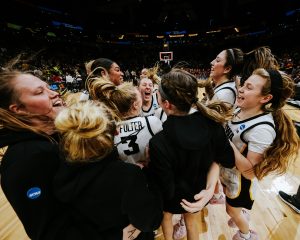 Iowa's offense shot an impressive 54 percent overall and 46 percent from 3-point range. Warnock finished with 17 points, Marshall 14, Czinano nine, Martin and Hannah Stuelke six each and Sydney Affolter four. Iowa's 3-point shooting was a huge difference. Louisville made 30 field goals and eight were threes, while Iowa made 29 field goals with 16 being threes. Iowa also outscored Louisville 23-15 on the free-throw line.
Van Lith had 27 points and center Olivia Cochran 21 for the Cardinals.
"We scored 83 points; it wasn't the offense," Louisville coach Jeff Walz said. "We just missed some shots. We had some good looks and just couldn't put the ball in the basket."
He bemoaned Iowa's advantage in fastbreak points in particular.
"That's what we had talked about," he said. "We got to make them earn everything. She's going to make some tough shots. She takes tough shots. You just can't let them get in transition and score easily."
Iowa has pointed toward this goal all season and has been up front about it. That can create tremendous pressure in an elimination game like this for everyone, but especially for a player like Clark who wears her ambition on her sleeve. And yet…
"This is probably the biggest game I played in, but I honestly felt it was one of the most calmness I've ever felt before a basketball game in my life," Clark said. "I believed and I visualized to be in this press conference with a hat and a shirt around me. So here we are."
But it wasn't just in Clark's head that the dream percolated. The five starters have played 90 games together.
"Experience is a great teacher," Bluder said. "They have just had that, and they have developed bonds over that time. They have learned lessons from different situations. When Monika said she was going to come back for a fifth year, we really believed that we could do something great with this team that was coming back.
"So that was a huge portion of this. If Monika wouldn't have come back it would have been really, really, really hard to do, and Caitlin knows that."
Moments that last a lifetime.#Hawkeyes x #MarchMadness pic.twitter.com/pfdVrLkCAu

— Iowa Women's Basketball (@IowaWBB) March 27, 2023