By Pat Harty
IOWA CITY, Iowa – Iowa senior defensive tackle Logan Lee isn't practice this spring because of a shoulder injury, but his impact still is felt on a daily basis as a team leader.
Lee was among five members of the Iowa football team's vaunted defense that met with the media on Thursday to talk about spring practice, about living up to the high standard on defense, and about embracing the daily grind, along with other topics.
And he didn't mince words as he talked about what it takes to be a leader.
"Every great leader is willing to speak up at a time where somebody is slacking off because we all have the same goal," Lee said. "And if you don't have the goal, you don't have to be here. We're not forcing you to be here. You're choosing to be here, and if you don't want to uphold that standard, go right ahead and leave.
"The biggest thing is we want guys to be able to buy in, be able to work hard and be able to put in the work that will try to help them separate themselves from the average person."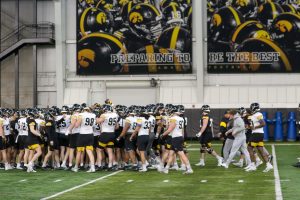 Lee, who made honorable mention All-Big Ten this past season, acknowledged that it isn't easy being an Iowa football player. He said it takes a willingness to embrace the grind and to sacrifice for the good of the team.
But not everybody is willing or capable of meeting that high standard.
"The guys that don't make it a lot of the time is because they aren't able to uphold the standard that we have set," Lee said. "No fault to them, but it's not for everybody."
Lee is among three starters returning on the Iowa defensive line, along with senior defensive tackle Noah Shannon and senior defensive end Joe Evans.
Shannon and Evans both are using their free Covid year to play another season.
They were also among the five players that met with the media on Thursday.
Iowa is expected to have another rock-solid defense next season under Phil Parker, but there are some big holes to fill at linebacker, and in the secondary.
Iowa has to replace its top three linebackers from last season, including 2022 Butkus Award winner Jack Campbell.
Lee is optimistic that the next crop of linebackers will rise to the occasion.
"I don't have any doubt in them by any means," said Lee, who is the only married player on the team. "People on the outside don't really know what they're doing. We graduated some great linebackers, of course. But that doesn't mean the crop coming in is any different.
"So, we've got  a great group of guys and I'm really comfident in their ability to be able to pick up the defense and be able to run the defense and be able to play at a high level because that's what we expect here and that's what is going to happen at the end of the day."
Senior Jay Higgins has the most experience of all the returning linebackers and is listed as the starter at the mike linebacker position where Campbell started in each of the past three seasons.
Sophomore Carson Sharar is listed as the starter at weakside linebacker, while senior Sebastian Castro is listed as the starter at the cash position.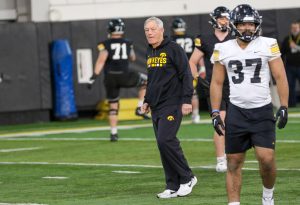 "We definitely lost some leadership and that means guys like myself have to step up," Higgins said Thursday. "And we understand what we lost and we understand where we need to be.
"And I feel like that's important for us. I've been learning from Jack for the last three years. So, him leaving just gave me the opportunity to continue what he focused on and continue what he taught me. Now it's my time to teach it to the younger backers."
Sophomore Jaden Harrell is one the younger linebackers to whom Higgins referred.
Harrell is currently listed as the backup behind Higgins, but as Higgins pointed out, the depth chart is very fluid at this stage.
"When it comes to the depth chart, we preach that we're going to go with the best linebacker that's available," Higgins said. "And that's how to keep the room balanced and keep the room competitive. Nobody is comfortable. Everybody's still fighting for their job."
Harrell also attended Thursday's press gathering and he talked about the challenge of carrying on the tradition at linebacker without having Campbell and Benson on the roster.
"It's definitely a loss of a mentor for me I'd say," Harrell said. "But at the same time, I've got to grow up and move on and advance to the next stage and kind of be a mentor for the next wave of linebackers."
Higgins pays no attention to the perception that Iowa is rebuilding at linebacker.
"We're not really concerned about what the outsiders are saying," Higgins said. "But we're worried about how much better can we get every practice. And that starts in spring ball. The more you're out there, the more you're learning, and I like our group."
Iowa will add another linebacker to the mix when Virginia graduate transfer Nick Jackson joins the team this summer.
Jackson started 33 of 46 games he played for Virginia and finished his career with 354 tackles.
As for Lee, he said he was ready to meet the Iowa standard when he joined the program largely because of how he was raised by his parents.
They taught him to value hard work, and to take advantage of each day.
"I've been very blessed with the way I was raised to be able to have that value instilled in me and that is something that I will never break on," Lee said.
The defense carried a heavy load last season due mostly to the struggles on offense.
The hope is that the offense will receive a boost from the addition of Michigan transfer Cade McNamara at quarterback.
Former Michigan tight end Erick All also has transferred to Iowa and is expected to play a key role next season.
Iowa finished 8-5 last season and defeated Kentucky 21-0 in the Music City Bowl despite having an offense that finished the season ranked 130th out of 131 FBS teams.
The defensive players remained optimistic throughout last season and they never pointed fingers at the offense because they understand the importance of staying unified.
But it will be kind of weird moving on without Campbell and Benson, and without former defensive backs Riley Moss and Kaevon Merriweather.
"It is weird," Joe Evans said. "I miss those guys for sure. Just having them around it was always nice. So, it has been weird. But I am very excited to see what these linebackers can do."