By Susan Harman
DALLAS—As if South Carolina weren't scary enough in person the Gamecocks' statistical superiority shows off their talent and the kind of dominant season they've had.
*A +18.2 rebounding margin in NCAA Tournament games and +20.3 overall;
*First in the nation averaging 8.9 blocks per game;
*Leads the nation in scoring margin with +29.5;
*Second in field-goal percentage defense (.317);
*Third in the nation in scoring defense (51.1);
*Seventh in scoring offense averaging 80.5 points.
The Gamecocks (36-0) are in their third consecutive Final Four and are the reigning champions. They have five titles beginning in 2015. They have 10 players at least 6-feet tall. Kamilla Cardoso, a 6-7 junior, comes off the bench.
"They're undefeated and that's a lot of pressure," Iowa coach Lisa Bluder said. "To be the defending champs, that's a lot of pressure. We're going in playing our best basketball and playing as hard as we can. And what happens, happens, but we don't have the pressure."
In other words Iowa is playing with house money. All the betting lines favor South Carolina by double digits. But Bluder said it was exciting to have the opportunity to play against the best.
"Here's where it brings out your best," she said.
Bluder was asked to look into a crystal ball and identify what Iowa would have done if it reaches the championship game.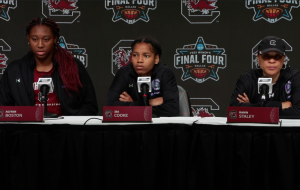 "We boxed out; we knocked down a bunch of threes," she responded. "That's what's going to win the game. If we have more possessions we're going to win the game. When they clean up on the boards, that's when it gets tough. Twenty-nine offensive rebounds they had against Maryland the other night."
"It's going to be important obviously to hit shots and to spread them out and make them have to play outside and bring the bigs out," Gabbie Marshall said.
The Hawkeyes know what they face, but they think their schedule has prepared them.
"We've gone up against some really tremendous teams," Clark said. "Obviously we know South Carolina is taller than anybody we've ever played. They haven't lost a game all season. We're just going to be us and believe that we can win, and that's all you can do.
"We're going to give it everything we have, and we've enjoyed every second in Dallas, and we want to be playing two more basketball games."
Iowa post Monika Czinano knows she will have her hands full with 6-5 Aliyah Boston, 6-2 Victaria Saxton and the 6-7 Cardozo coming off the bench.
"They have great inside presence. I feel like they always have," she said. "Both of their bigs are so good. The fact that they bring that size and presence off the bench is kind of unreal.
"I think that I'm really lucky to have played in the Big Ten, and even for our journey on this, playing Georgia, playing Colorado, who also have very big, strong, physical posts, it's kind of prepared me the best way it could for this game.
"But I truly think at this point of my career, having played for five years, I've played against so many different style post players, so many different physicality levels, that I'm really excited for this opportunity. I think it's going to be really fun. I love going against really great centers. I think it makes me better, it makes everybody better.
"More than anything I'm just very excited to play the game."
*The Clark Rules. You've heard of the Jordan Rules, the shorthand for the different way superstars are treated. Apparently Iowa has the Clark rules even though most college coaches like to control all aspects of their programs.
"Her freshman year, I definitely had some times I was pulling my hair out," Bluder confessed. "There's no doubt about it. Just she had to learn how to play with other players that were good players. In high school she had to do it all on her own. I remember going to her high school games, as she said, and kids yelling "overrated" to her from the stands. I just would love to see them today.
"But honestly, she did test us her freshman year. So we had to learn — it was give and take. It wasn't all controlling what she did because I think, when you try to stifle somebody like that, you're ruining a little bit of the type of player they are. What she does on her own is special. I think, if you were trying to tell her exactly what a good shot is, because what a good shot for her is totally different than what a good shot for somebody else is.
"So she has a little separate set of rules, quite honestly, than other people because she can do things other people can't do. We had to get her to understand how to play within a system a little bit without putting out the fire of being Caitlin Clark."
*Sharon Goodman honored. Iowa junior post Sharon Goodman was honored as having the highest grade-point average among the players at the Final Four. Goodman was honored at a banquet Wednesday night with all the teams.
"It was really special," Goodman said. "I wasn't expecting it at all. I didn't know that was a thing and nobody knew it was a thing, but once they started talking I think my teammates knew it was going to happen, but I really still wasn't expecting it at all."
Goodman is a health studies major with thoughts of going into nursing.
"I think the strests of having a lot to do is what motivates you to get stuff done," she said. "I've always been someone who takes school seriously, and I have a perfectionist personality, which sometimes isn't good, but I guess it helps out sometimes."
"I was so happy for her," Warnock said. "I came up to her before when they started discussing the grade point, and I was like 'Sharon, this is for you.' They started to discus that the (winner) had a 4.0. I said, "Sharon, you have over a 4.0, though I don't know how she does it. And she was like, 'I don't want to go up there.' Because she doesn't like to be in the spotlight, but she's so awesome.
"She's such a great teammate, probably the best teammate I've ever had."
*Stringer's message: Bluder talked about the message she got from former Iowa coach Vivian Stringer right after the Louisville win.
"It wasn't a text, it was a voice message, which tells you the age of both of us," Bluder joked. "Who leaves voice messages anymore? But I love voice messages because you can hear the enthusiasm in their voice versus reading it on a text, and she definitely had a lot of enthusiasm.
"Her love for the Hawks is strong, and I'm thankful — you were talking about mentors, and for the players, Vivian was certainly one of mine. So I'm very thankful to have her support, as the last person that took this team to a Final Four. That really means a lot."
*Showtime. The Kim Mulkey show on Thursday finished with a flourish. Mulkey, the irrepressible, flamboyant LSU coach, attended the news conference to talk about Virginia Tech with a cowboy hat that sported the Final Four logo.
"The hat? They gave us these hats, and I was looking for some cowboy boots," she said. "They didn't have that. But I love country music, and I just thought it was appropriate. I was going to come in here and sing, (singing) All my exes live in Texas.
"Which is true. I only have one, though, only been married once. But then I'm going to end with this: (Singing) I'm the happiest girl in the whole USA. Who sang that? Tell them, baby. Y'all have a good day."
Mulkey thought she was done, but the moderator called her back to the podium for one more question about whether she had talked to former player Brittney Greiner since her return from imprisonment in Russia. Mulkey has been criticized for not speaking up on Greiner's behalf during the latter's ordeal.
"No. But I'm glad she's back," Mulkey said. "I'm glad she's safe, she's sound. I think everybody is. But no, I have not."
Clark finalist for Wooden Award: Caitlin Clark is one of five finalists for the Wooden Award, which is presented annually to the most outstanding women's basketball player who achieves tremendous on-court success. The announcement was made on Thursday by the Los Angeles Athletic Club.
Joining Clark as a finalist for the esteemed award are Aliyah Boston (South Carolina), Cameron Brink (Stanford), Mackenzie Holmes (Indiana) and Maddy Siegrist (Villanova). All five players are invited to Los Angeles for the 47th annual presentation of the Wooden Award.