By Susan Harman
DALLAS – Years ago Iowa girls watched the IGHSAU state tournament and dreamed of playing there. Even girls whose high schools didn't play girls basketball thought about how wonderful it would be to play on that floor at Veterans Auditorium, to be on television and listen to Jim Duncan announce the Hall of Famers.
Iowa's wunderkind, Caitlin Clark, has talked often about dreaming of a Final Four as a little girl and then doubled down with Iowa coaches during her recruitment. It's a dream that flows through the consciousness of each college player and likely originated years before.
"I mean you dream of it as a little girl, always," McKenna Warnock said. "And I think it's kind of when Caitlin got on campus you realize that it truly was a possibility and when we all started playing together. Our starting five has been together three years. You knew that we had the capability to trust each other and our chemistry."
"I was just actually looking at my Snapchat memories, and I was at the games where (Notre Dame's) Arike (Ogunbowale) hit the two buzzer beaters, and Kobe was in the gym and everything, and I was with my AAU team," Gabbie Marshall said. "I was thinking about, 'Wow, I want to be them one day.'
Now I'm here. It's so special.
"It still gives me the chills to think about how that was my dream. And now people are looking up to us, and they want to be us. I just think it's such a special moment. It's bigger than the game at that point. So I think just soaking it all in and knowing that people are looking up to us, and we were once looking up to those girls. I think it's just awesome to think about."
Kate Martin's dream was a little bit different.
"My dream was always to play at Iowa," she said. "So I just wanted to be part of the team. my freshman year we made it to the Elite 8 and I thought that's amazing, no one expected us to be here.  Then we all started to believe it."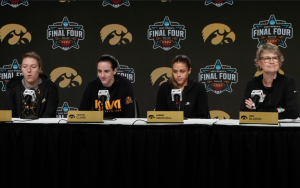 Sharon Goodman said it didn't occur to her until she was being recruited as a possible college player.
"Then I think it was like, 'Wow, that would be really cool,'" she said. "That is definitely the pinnacle of something that you want to get to."
Clark said her mother texted her last night.
"And she's like, 'I feel like I was kind of stuck in your dream that you wanted to do when you were 7-years old.' So it's pretty special, and I'm just trying to enjoy every single second of it."
Sophomore Sydney Affolter is from Illinois, so the dream did not include Vets Auditorium in Des Moines.
"Probably in eighth grade maybe seventh," she said when she caught the bug. "I just remember watching the Final Four games and being like, just like watching them with my family and thinking how cool it was and now having to live it out is so awesome.
"I remember when Arike hit the game winning shot," Affolter said. "I think it was crazy in our house."
Addie O'Grady said it might have been a little later for her. "But once I started watching so much college basketball, like actually knew players on the teams and knowing they made it that far. I was like, 'Wow, we can do that,'" she said.
So now they're actually here at the Final Four in Dallas with TV personalities wandering around, individual awards being handed out and the prospect of playing in the prime-time game Friday against the defending national champions.
"It's been crazy, honestly, it's been so awesome," Warnock said. "I mean it's been so busy in general and I guess you didn't realize how many different things you had going on, but it's really cool. They do so many interesting things for you here and it's honestly been a dream come true, but you don't want it to end."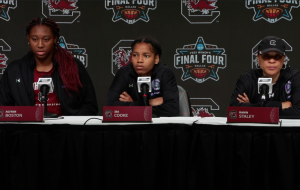 "It's exceeded (my expectations) so much more," Affolter said. "I mean just how much it's like growing the game of basketball and being able to do so many fun activities and experiences I have had with this team that's so close has been really fun."
O'Grady said: "It's so much more extravagant than I even expected. I expected it to be a lot. Just everything here all the stuff they've given us, like the activities we've done, like even the hotel, like everything is just first class."
Martin mentioned that the team buses get police escorts to their destinations. With lights flashing of course. "It's unreal; it's really hard to put into words," Martin said. "I'll appreciate it more when I'm older."
"This is everything you kind of dream of since you were a little kid," Clark said. "We've been lucky enough to be together for three years, and to go out kind of in this way and accomplish what we wanted to accomplish is pretty special. We believe while we're here we can win two more basketball games, and that is certainly our goal."
Even coach Lisa Bluder is having her own dream come true, in more than one way.
"I've been coming to the Final Four for a long, long time, but my seats are finally going to be pretty good tonight," she joked. "So I'm excited about that. I'm just trying to convince my team 40 minutes of basketball and a lifetime of memories, and that's all we have to focus on."