By Pat Harty
IOWA CITY, Iowa – Caitlin Clark will help the Iowa women's basketball team win games and recruiting battles long after she has finished her legendary career.
The dynamic do-everything junior guard has Iowa (31-6) in position to win its first national title and she has become the face of her sport as a generational talent.
Clark is the most popular college basketball player of her time, man or woman, and right now, she is arguably the most popular college athlete in any sport, and is using that to her advantage with name, image and likeness.
Kids now grow up wanting to be like Caitlin Clark just as she grew up wanting to be like Sue Bird, Diana Taurisi and Sabrina Ionescu.
Clark's decision to stay close to home to attend Iowa has benefitted her, and the Iowa program, in ways that were hard to imagine before she became a Hawkeye.
Clark, as a five-star recruit, had her pick of colleges coming out of West Des Moines Dowling Catholic and she considered leaving the state before ultimately deciding to play for Lisa Bluder and the Hawkeyes.
Clark saw how former All-America center Megan Gustafson thrived as a Hawkeye, both individually and from a team standpoint, and that helped to convince Clark that she could also meet her lofty goals at Iowa.
Bluder's sales pitch certainly was helped by the fact that Clark is from Iowa, but it took more than just being close to home to land Clark.
Iowa had to show that it was worthy of having a player of Clark's caliber, and with Gustafson being named the 2019 National Player of the Year in a season in which Iowa made the Elite Eight, Clark had all the proof that she needed.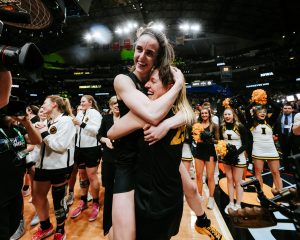 It also helped that Bluder likes to play at a fast pace on offense because her coaching style fits perfectly with Clark's aggressive style of play.
The family-like culture and long-term stability under Bluder were also selling points for Iowa, along with the opportunites for Clark to benefit from NIL.
But the most coveted recruits want to be assured that whichever school they pick will help them achieve their goals on the biggest stage, and it wasn't that long ago when almost all the top recruits in women's basketball signed with just a few schools, namely Connecticut, Tennessee and Stanford.
Clark might have chosen that same path 10 years ago, but women's college basketball has evolved and now has more parity.
The death of Tennessee coaching legend Pat Summit in 2016, coupled with Geno Auriemma's dynasty at Connecticut having fallen off somewhat recently has helped to even the recruiting playing field.
Clark met with the media in Dallas on Saturday and was asked what she would say to a five-star recruit about the advantages of playing for Lisa Bluder at Iowa.
"I could make you a really, really, really long list," Clark said. "I think the biggest thing is, when you are thinking about a school, I think for me, is I didn't want to go somewhere that only just cared about me playing basketball. I was going to go to a school that cared about me as a person.
"I think that's lost in today's world. Coach Bluder, we could have lost in the first round of this tournament, and she was going to love me the exact same way and be there for me for the rest of my life. To me, that means way more than ever cutting down a championship net or hoisting a trophy, and I truly mean that.
"This just comes along with the love we have for one another is being in positions like this. If you want to play in front of soldout crowds, if you want to play for a fan base that understands what's happening in women's basketball, you come to the University of Iowa."
Iowa used to sign star recruits on a regular basis in the 1980s and 1990s under former head coach C. Vivian Stringer.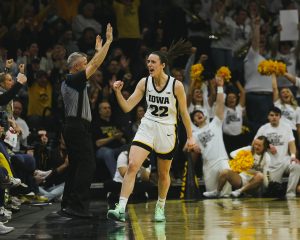 But when she left in 1995 to become the head coach for Rutgers, Iowa's recruiting suffered, as did the product on the court, until Bluder was hired in 2000.
Bluder rebuilt the program using mostly unheralded recruits sprinkled in with a few big catches such as point guards Cara Consuegra and Sam Logic.
From a recruiting standpoint, Gustafson had a solid reputation coming out of a tiny town in Wisconsin, but she was far from being at the same level as Clark and didn't have as many recruiting options.
Clark turned down the goliaths because she felt she could help Iowa reach that same elite status.
And while making one appearance in the national championship game doesn't make Iowa a goliath, it has to make Iowa more appealing to star recruits from across the nation.
A talented LSU team under head coach Kim Mulkey stands in the way of Clark and her cohorts making history on Sunday.
Mulkey, who built Baylor into an elite program before moving to LSU, has signed more than her share of blue-chip recruits, but even she considers the 6-foot Clark a special talent.
"I've never seen a player — I don't like to use the word "never," but I don't know that I've ever seen a player that can do what Caitlin does," Mulkey said Saturday.
Clark could play one more season in college, or two, if she uses her free Covid year. And by the time she finishes college, she should rank among the greatest players of all time, if she isn't there already.
Clark took a chance on Lisa Bluder and the Hawkeyes when she easily could've signed with a more established program.
And now both player and head coach are being rewarded in a huge way on the court.
But for Clark, the reward from being a Hawkeye stretches far beyond the court.
Recruiting is also about building relationships and trust, and Lisa Bluder, who is in her 23rd season as the Iowa head coach, has built that foundation with Clark, and with all the Iowa players.
"I think Coach Bluder's résumé speaks for herself," Clark said. "She's a tremendous coach, a tremendous person, and every single person in our locker room is valued. At the end of the day, I think that's way more important than ever cutting down a net."
"All we do is believe in one another…Coach Bluder knows how to create a culture where every one is valued."#Hawkeyes x #WFinalFour pic.twitter.com/JM3yHVAv4P

— Iowa Women's Basketball (@IowaWBB) April 1, 2023