By Susan Harman
DALLAS – If you were watching Friday night's national semifinal game pitting top-ranked and undefeated South Carolina against Iowa you may have noticed something about the Hawkeyes.
From the beginning of the game Iowa was ready to play. Make that ready to win.
What that meant was that the team's focus was entirely on its game plan and its execution. No time was spent wringing hands about South Carolina's towering front line nor its feisty coach nor it's quick scoring guard who loved dashing down the lane.
No time was spent worrying about a neutral court, which did have a sizable Iowa contingent but was far from a Carver-Hawkeye crowd or even one from the Big Ten Tournament.
Iowa built an early lead; South Carolina cut it to two and then Iowa scored on the final four possessions of the quarter to take a 22-13 lead.
If you were thinking, 'hooray at least we aren't getting embarrassed and are making a good showing,'
the Iowa players and coaches were not.
When South Carolina took a 32-31 lead in the second period and you were thinking, 'Oh brother, here they come,' the Hawkeyes were focused on other things.
"We know that's what the game is about," Kate Martin said. "A game of runs, highs and lows. They're going to go on runs; we're going to go on runs. Not getting too high. During their runs you've got to stay really composed.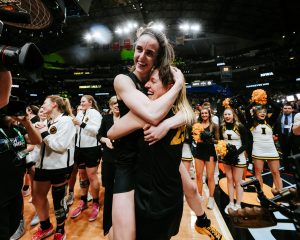 "And we've talked about that a lot (during) this NCAA tournament is staying composed, and I think we've been doing a really good job of it, staying together, having a so-what-now mentality, saying 'mission, focus' whatever it may be, and I just think we've been executing that part of our game plan really well."
Iowa came out of the locker room and built a nine-point lead, but South Carolina responded with a score after three offensive rebounds. No worries; send Caitlin Clark down the lane where she feeds Addie O'Grady for two.
Granted, when you have a player like Clark it's the equivalent of a security blanket or a Get-Out-of-Jail-Free card, but never did the Hawkeyes blink
They weren't clutching their pearls because stalwart center Monika Czinano was on the bench with three fouls just a minute into the second half. In came O'Grady and delivered two baskets.
"I just like how they stuck to the game plan no matter what," Iowa coach Lisa Bluder said. "Even if (South Carolina) made a three here or there, they didn't panic. They tried their hardest at boxing out, but (6-7 Kamilla) Cardoso is just too hard to box out."
"I think it was tunnel vision, and it was a focus," Czinano said. "It's a tunnel vision with the focus on just that one game at hand. We really understand that you can't do anything without winning that one. Granted there is pressure for our team, but it doesn't feel like it.
"We do such a good job of understanding that it's a game, and everybody shoulders the same amount.  We all do a great job of levelling it out. And so there isn't that tension or that pressure. It's just all joy and excitement."
A Warnock three bumped the lead to eight, but South Carolina scored the next six points. Iowa ended up with a four-point lead after three quarters.
If nerves or doubt or all those other sports demons were going to surface it would be in the final quarter. While fans' stomachs were no doubt in a uproar, the Hawkeyes' were not. There was absolutely no sign of nerves or panic knowing they had to go toe-to-toe for 10 more minutes and South Carolina had not lost a game all season.
"We led that game for almost 36 minutes (Friday)," Bluder said. "Whether it got close, honestly, I did not see any hesitation in their eyes. What Kate Martin was saying to the team, between the third and the fourth quarter, was 'keep the gas on. Let's keep going. Let's not play not to lose, but let's play to win.'"
Cue Clark. Arguably the greatest improvement the prolific point guard has made this year is in her on-court mental discipline. Yes, she had an intentional foul at Michigan State that could have cost the Hawkeyes the game. But her ability to control her decision making, whether it be taking questionable shots, passing in the midst of legs and arms or questioning referees has improved immensely. In turn the offense is more well-rounded, more dangerous and less of a burden to her.
"What I'm most proud about with her is just her composure on the court, her ability to mission focus," Bluder said. "She used to be a little bit of a wild card out there as far as her emotions, and I think she still plays with joy, but she's not letting her emotions get to her in a negative way. I think she had to learn that a little bit."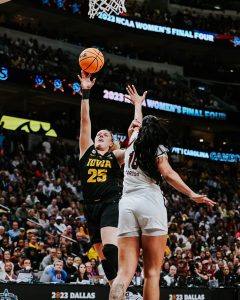 In the fourth quarter an Aliyah Boston layup cut the lead to one. Clark hit a three. South Carolina cut the lead to two, Clark hit a long three. She scored the final 13 points for Iowa including making all four free throws in the final 13 seconds. That's some security blanket.
The Hawkeyes aggressively competed to the final horn.
This team wasn't always this stoic in the face of pressure. But another year together, another year maturing and understanding each others' temperaments and goals had brought the Hawkeyes to this point.
"It's honestly just all confidence and trust in each other," Warnock said. "I think that not one of us really had nerves going into the biggest games of our lives, but I didn't feel any sort of nervousness and I think that just stems from having the confidence in my teammates, confidence in this team.
"We have so much trust and so much chemistry; obviously having started 93 games together is amazing. And just to have that maturity and that ability to grow together I think is a big reason why we're here."
Others might wilt under the pressure and the scrutiny these young women have faced, but they have not. You've seen it against Maryland in the Big Ten Tournament, Georgia in the second round of the NCAA and against Colorado, Louisville and South Carolina. Look for it. It's hard to see but it's there. In spades.