By Susan Harman
Dallas – If an Iowa supporter imagined all the horribles that could happen playing LSU it would match what happened to the Hawkeyes in the first half Sunday in the national championship game. While Iowa mounted a comeback in the second half, it fell short, 102-85, and LSU won its first NCAA women's basketball championship.
"I'm just so proud of them. They played in the national championship game," Iowa coach Lisa Bluder said.
It really is that simple. This team is the national runner-up and won more games than any other Iowa team in history.
"Coach Bluder came in really positive," senior Kate Martin said of the team's post-game meeting. "We have a lot to be proud of. We don't want our season to be defined by this one game, this one loss in the national championship. But LSU played really well."
Iowa's first half was a collection of foibles.
Monika Czinano, McKenna Warnock and Caitlin Clark all had foul problems. Clark had three, and the other two, who were mixing it up in the lane, had two apiece. LSU likewise had foul issues, but its bench was very productive (29 first-half points) in the absence of Angel Reese and Kateri Poole, who missed the equivalent of one quarter
Iowa (31-7) missed some easy shots inside early but still finished shooting 50 percent in the half. But LSU shot 58 percent, including an astounding 9-of-12 from 3-point range. Iowa shot well from three, 6-of-11, but couldn't match the Tigers' torrid pace.
Iowa turned it over 11 times in the half, and LSU got 10 more shots than did the Hawks. So Iowa trailed 59-42, the biggest deficit of the season, at halftime.
The Tigers' 59 points in a half and 32 points in the second quarter were records for a championship game.
LSU coach Kim Mulkey said the second quarter was the difference when three reserves led the Tigers to the big lead.
"When those guys got in there and they extended the lead and scored with Iowa, I thought this is going to be a fun night," she said. "They didn't just keep it close; they went in and attacked."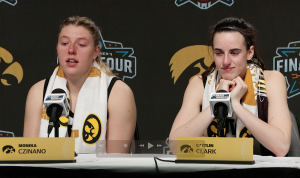 Senior Jasmine Carson played 12 minutes and didn't miss a shot. She made all five of her 3-point attempts, both 2-point attempts and both free throws for 21 points in the half. One of her threes banked in at the halftime buzzer.
"It was a surreal moment," Carson said. "Every player dreams of being on a big stage like this and having the game of your life, and for it to come to fruition, it meant a lot."
Yet the Hawkeyes kept the faith.
"I never thought we were going to lose," Martin said. "I thought that the whole game that we would win."
"We just had the mentality that we're never out of the game," Gabbie Marshall said. "We were down 17 and just having the mentality to just leave it all out there and never give up. I think having that mentality that we were never out of the game is kind of what pushed that run to get (within) seven. But ultimately they were hot. They stayed hot the entire game."
"I'm just proud of this group because we never gave up," Clark said. "We could have gone into halftime and been like what did we do? But our halftime locker room was like we're fine. We got this. We believe in one another. We have the offensive fire power to come out here and cause some damage.
"I thought it showed our fight."
As Marshall said Iowa made a run in the third period. Three 3-pointers (Warnock, Clark 2) and a 3-point play (Czinano) cut the lead to nine. A Czinano basket with 2:58 left in the third quarter got Iowa within 69-62.
"We have the No. 1 offense in the country. We have the means to get back into anything," Czinano said.
LSU floor leader Alexis Morris knew that too.
"No threes. The only thing I kept telling my teammates, whatever we do, we'll take twos over threes," she said. "Iowa is a great team. We knew they were going to make runs."
Trailing 73-64 Czinano got her fourth foul, and Clark was assessed a technical, which was her fourth foul. The tech came when Clark flipped the ball behind her back.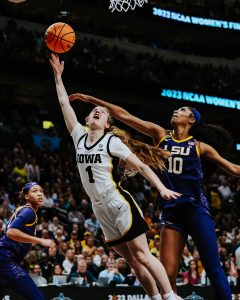 The referees had apparently warned Iowa at the 7:28 mark of the third quarter for delay of the game by tapping the ball after a made basket, so when Clark did not return the ball to the ref immediately with the clock stopped she was assessed the technical.
LSU missed the two technical free throws but made the two for the personal foul and then committed a turnover. It could have been worse, but Iowa's Karma had dissipated and it trailed 75-64 with 10 minutes left.
"Yeah, we got it to seven points in the third quarter. Man, I felt good right then," Bluder said. "I really did. I felt like, 'OK, we got this.' Then of course we have the foul, the technical foul, that stuff, and it just gets out of hand at that point."
LSU made 11-of-16 shots in the final quarter to seal the victory. Czinano and Warnock both fouled out in their final NCAA games. When Czinano went to the bench Iowa trailed by 14. Clark said her favorite target deserved better.
"I was really bummed that somebody who has made me a really, really good player had to spend the last five minutes on the bench and somebody who has given so much to our program."
The 37 combined fouls were a record for the championship game. Addison O'Grady and Hannah Stuelke combined to play 27 minutes in relief of the seniors.
Clark made eight threes, an NCAA title game record, and finished with 30 points. She scored 112 points in the last three NCAA games.
Czinano and Martin scored 13 points, Marshall 12 and Warnock nine for Iowa. LSU had five players in double figures led by Carson's 22 and 21 from Morris. Center LaDazhia Williams played 40 minutes and finished with 20 points. The All American Reese had 15 points and 10 rebounds.
It's bigger than basketball. It always has been. 💛@CaitlinClark22 x #Hawkeyes

— Iowa Women's Basketball (@IowaWBB) April 3, 2023