By Susan Harman
DALLAS – NCAA runners-up. Big Ten Tournament champions. Only team to defeat No. 1-ranked South Carolina. Set record for most wins in a season at Iowa. Caitlin Clark was the consensus player of the year. So much to remember about this Iowa women's basketball team other than losing to LSU 102-85.
"We just never gave up; we played team basketball," senior Kate Martin said. "We played with love; we played with passion, and we played with joy. That's what I want people to remember, and that's what I want people to see out of us from this whole season."
Iowa set attendance records at Carver-Hawkeye Arena and attracted fans on the road. It had an impact on TV ratings as well. Its brand of basketball was entertaining. Its players were household names.
"If people are excited about women's basketball because of Iowa, I am so thrilled with that," Iowa coach Lisa Bluder said.
"Just the way we play," McKenna Warnock said explaining why this team was so compelling. "We're passionate about each other. It's something people love to watch, and I think that's kind of why it's changing the game. I'm proud to be a part of all the viewership and all the love."
The players hear about it whether they are off social media or not.
"So many men and women have reached out and said 'this team is the reason we watch women's basketball now,'" Martin said. "The viewership has been up; our fans have been up. You saw it; we had so many fans here it was bleeding black and gold.
"I think it just shows that people like us as people as well, and that's super important and bigger than basketball. To be able to reach peoples' lives that way is really special."
The magician that is Clark brings fans to the game to see scoring at all three levels and acrobatic passing.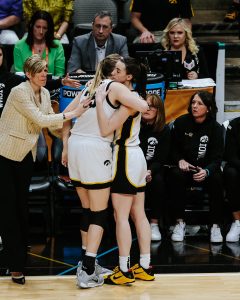 "She's a phenomenal basketball player," Monika Czinano said. "But I think the biggest thing is the way she holds herself, and the way she plays the game. She's doing it the right way. She's doing it the fun way and being a role model for little kids who want to grow up and be like her."
Associate head coach Jan Jensen said the Hawkeyes have brought in fans with the way the team plays as a whole.
"I think if you really study this team what's fun is that everyone plays a critical role," Jensen said. "They accepted those roles. Whatever they needed to do they did."
Iowa averaged a record 11,143 fans at its home games.
"Even from my freshman year to now we never sold out Carver my freshman year," Gabbie Marshall said. "Just seeing the numbers increase and increase, and it's only going to go up from here. Obviously you want people to be excited about women's basketball. We want people to be excited about our team and the joy that we play with."
Marshall gave a shout out to the Iowa fans who braved I-35 all the way to Dallas.
"I think that's awesome to see how supportive the Hawk fans are and not even just of our team but of all women's basketball," she said.
*Clark pays tribute to Czinano.  Clark and Czinano formed one of the most prolific guard-post combinations in history. Czinano's eligibility has expired after her extra Covid year. She finished with 2,413 points in her career, ranking her only behind Megan Gustafson and Clark on Iowa's all-time scoring list.
"Monika is one of the most fun people to be around," Clark said. "She's goofy… Monika would tell you that when she first got here she never dreamed to be as good as she is, and I still don't think she realizes how good she is, and other people don't realize it either.
"I told her after the game, 'I'm noting without you.' She's made me a better person, a better basketball player. And I'm just really lucky that I was able to play with Mon and share a lot of really fun moments with her. I think we're one of the best post-guard duos to play the game, and I'm just really lucky and grateful to have had these years together.


*National championship atmosphere.  Iowa came into the arena through a throng of pumped up Hawkeye fans. The fans never stopped once they got in the arena either.
"It was amazing," Marshall said of the atmosphere in the arena. "Seeing it sold out and all the black and gold. It just shows how much support this team gets and how Hawk fans just show up and show out on a daily basis. So it was awesome."
*Threes aplenty.  Iowa's defense got burned by LSU's hot 3-point shooting. The Tigers made 11-of-17 threes (.647). They came in averaging 34 percent as a team. Jasmine Carson, who burned Iowa for five 3-pointers in the first half, averaged 33 percent this season.
"I mean they played out of their mind, all props to them," Addie O'Grady said. "Offensively both of us were playing good. They just hit so many shots."
The Hawkeyes concentrated on All American Angel Reese and center LaDazhia Williams down low.
"Sometimes you just gotta pick your poison, especially when teams are hot and hot the entire game," Marshall said. "I think we told ourselves maybe they'll cool off a little bit in the second half. But you're going to have times when the other team is just hitting everything."
*End-of-game shenanigans.  Clark was asked about Reese's gestures toward her after the game that appeared to be a 'you can't see me' sort of taunt. Clark took the high road.
"Honestly, I have no idea. I was just trying to get to the handshake line and shake hands and be grateful that my team was in that position," she said. "That's all you can do is hold your head high, be proud of what you did. All the credit in the world to LSU. They were tremendous. They deserve it."
Bluder also dodged the loaded question. "I'm sure she was proud of her accomplishment," Bluder said. "And I would be really proud of my accomplishment if I won the national championship. We're all different people, and we all have different ways to show our emotions.
"Again, I've got to focus on what I can control."
*Officiating. Neither side seemed pleased with the officiating. Martin stated flatly that the officiating didn't influence the result. But it did produce a premature exit for both of Iowa's graduating players, Czinano and Warnock. Clark thought the game was called tightly.
Iowa coach Lisa Bluder tread lightly over the topic.
"I can't comment on the officials," she said. "It's very frustrating because I feel like I can't talk to them. They won't even listen. That's what's frustrating is there wasn't even a conversation to be had.
"When your two seniors have to sit on the bench — they don't know they're seniors. I get it. But those two women didn't deserve it. I don't think so. And then Caitlin getting a T. I don't know. It's too bad. Yeah, it's too bad."
*Grant's sweater.  A sweater owned by Christine Grant, Iowa's former women's athletic director and nationally known Title IX advocate, was brought to the Final Four, and Iowa's team passed the sweater around their circle at the end of practice. Grant hired Lisa Bluder and long thought she could take a team to the Final Four. Bluder's team understood the significance of the garment.
"I got the chills," Martin said. "Obviously Dr. Grant was a trailblazer for women's basketball, and I think our team are trailblazers in our own right."
"It was special. I don't think we could ever do as much for women's basketball as Dr. Grant did, truly," Marshall said. "Coach Bluder had a special relationship with her, and I think that was really, really cool for her to get that sweater, and I'm glad we were able to be little part of that as well. I think we're just continuing her legacy."