By Pat Harty
IOWA CITY, Iowa – Iowa receiver Diante Vines wishes he still could call Brody Brecht a teammate, but Vines understands why Brecht recently chose to focus solely on baseball.
"That's a big loss, but we can't knock him," Vines said Thursday. "The dude just threw a 104-mile per hour fastball.
"I can't tell him, come on dude play football. He's going to make some million dollars in (Major League Baseball)."
Brecht recently announced that he was stepping away from football where he played receiver for Iowa to focus on baseball where he is considered one of the top college pitchers in the country.
Brecht has a fastball that has been clocked at over 100 miles per hour numerous times and he projects as a likely first-round pick in the Amateur Baseball Draft.
Brecht juggled both sports for nearly two years at Iowa, but with so much potential as a pitcher, he decided to give baseball his full attention.
He was just recently named a midseason first-team All-American by Perfect Game as a sophomore.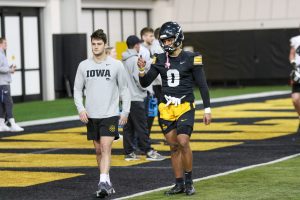 "It's a hard loss for us because we're tight in the receiver room," Vines said. "He's a good guy that we would like to have around, and also a great player.
"So, it definitely hurts us. But you can't knock the dude. He's just out there doing his thing."
Brecht has become Iowa's Friday starter, which is the same as being the ace on the staff. He has a 2.67 earned-run average while appearing in seven games, and he also has 59 strikeouts over 33 2/3 innings pitched, and has allowed just 19 hits.
Brecht had a career-high 13 strikeouts in his last appearance against Maryland this past Friday. One of his fastballs against Maryland was clocked at 104 miles-per hour as Vines pointed out.
"No one throws a faster fastball than the dude," Vines said of Brecht, who is from Ankeny. "His breaking ball is crazy. So, I don't knock him for doing that."
Depth at receiver was already a problem for the Iowa football team even before Brecht decided to focus solely on baseball.
Vines is now just one of four scholarship receivers on the Iowa football team's current spring roster.
However, two of the receivers on scholarship – Seth Anderson and Jacob Bostick – are both injured and not participating in spring practice.
Vines, a 6-foot, 198-pound junior from Danbury, Connecticut, was injured at the start of last season, but he recovered in time to play in seven games.
He finished with 10 receptions for 94 receiving yards last season.
"Knowing that I got to play in seven games last year, and I feel like I got better each game, it's been helping me with spring ball this year," Vines said.