By Pat Harty
IOWA CITY, Iowa – The addition of Michigan transfer Cade McNamara at quarterback has helped to fuel belief and hope that big changes are coming for the much-maligned Iowa offense.
The narrative this spring, and it seems like every spring now, is that the Iowa offense is being revamped, revitalized, or completely overhauled because that's what fans hope is the case, and because that's what some in the media want to believe.
McNamara's presence at quarterback has just made it easier to believe it this spring.
The offense should look different with McNamara playing quarterback just simply because he plays the position differently than how previous starter Spencer Petras played it.
McNamara is more mobile than Petras, and that will allow McNamara to move the pocket, and to scramble from the pocket, giving the offense more flexibility.
McNamara also has a proven track record after having led Michigan to the 2021 Big Ten title, and to the college playoff that season.
So, yes, there is reason for some optimism, and even reason to believe the offense will look different next season.
But with so much attention on McNamara, it deflects from the biggest concern on offense, which is the guys blocking for him up front.
Iowa could make drastic changes on offense, but it probably wouldn't matter if the offensive line continues to struggle.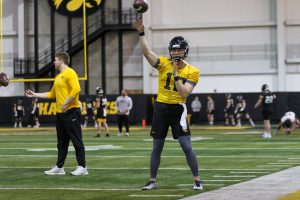 McNamara had the luxury of playing behind arguably the best offensive line in the country at Michigan, but barring a miracle, that won't be the case at Iowa.
All the talk about the changes on offense, and about McNamara being the savior would mean very little if the offensive line doesn't make significant progress.
Three of the five returning starters on the offensive line were made available to the media on Thursday, including center Logan Jones.
He didn't make any bold statements or wild predictions about what to expect from the offensive line.
But he seemed confident that the offensive line would be better simply from being a year older and a year wiser.
"Just getting those reps is the most important thing," Jones said. "We've gotten a lot of reps with each other, and then this spring, we're just building on what we had last year. And I know for sure, going into next fall,  we're going to be better because we want to be better. We want to play together, and we just want to improve. And that's the biggest thing for us."
You name it and the Iowa offensive line struggled with it last season, run blocking, pass blocking, everything.
There were signs of improvement late in the season, and that has helped with the mindset this spring.
"Getting that first year under everybody's belt, I mean we were just so young," said Jones, who is a junior from Council Bluffs. "Three or four of the guys didn't start a single game and then going into last year we had to start because we didn't have anybody."
Football is considered the ultimate team sport, and there were all sorts of problems on offense last season, from having very little depth at receiver, and from having a below average quarterback for most of the time.
But Iowa's problems on offense started up front in the trenches where a lack of experience was perhaps the biggest problem.
Iowa finished the 2022 season ranked 130th out of 131 FBS teams in total offense, and only averaged 94.9 rushing yards per game.
Jones still was learning how to play center after having switched from the defensive line, while the other starters on the offensive line were also young and mostly inexperienced.
However, that won't be the case next season, and that's why Jones believes that better days are ahead for the offensive line.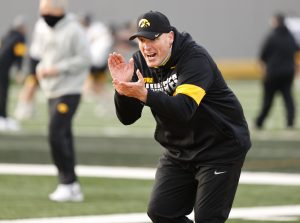 "There's a lot of learning that I had to go through and I think that the offensive line had to go through," Jones said. "Coming into this spring, we understand how each plays first of all. Going into (last) season we didn't play with each other very much, other than that fall camp.
"But now we're comfortable with each other and we know how to play with each other. We're more comfortable with how we play, so that's the biggest thing."
Jones believes that the growing pains from last season will help him and will help the other offensive linemen raise their level of performance.
"I have a fundamental base now," Jones said. "I know how to play the position, whereas last year, I watched the film probably like a week ago of last year and how I looked just absolutely awful. But I have a fundamental base behind me now. I know how to play on the offensive line.
"I'm not perfect. But I understand what I have to do and why I have to do it versus last year I was just kind of going out there and playing."
A cynic would say that talk means nothing in the spring, and fair enough.
But on the other hand, confidence is also a big part of the recipe for improvement, and Jones is clearly more confident than he was last spring because of having a year under his belt.
Jones also had the daunting task of replacing former All-America center Tyler Linderbaum last season, and there were a lot of bumps and bruises along the way.
"Obviously, we want to be better," Jones said. "Last year, we weren't where we wanted to be. But I just think the culture of our room needs to change a little bit. There's been this narrative that we're not very good, but I think we are, and if we just continue to grow, and that's what the spring is for, growth and development.
"We're not going to be perfect come fall. And if you want to see perfect, then you don't understand football. That's just not how football is played. But we're going to go out there and we're going to give it our all and we're going try and finish guys, which is what we want to do as an offensive line. That's our culture now."
Jones, along with junior left tackle Mason Richman, junior left guard Connor Colby, senior right tackle Nick DeJong and sophomore right guard Beau Stephens all have started multiple games for Iowa, and four of the five are now upperclassmen.
Iowa also has added two offensive linemen from the transfer portal in Daijon Parker and Rusty Feth, both of whom are graduate transfers.
And then of course, Iowa also has Kirk Ferentz entering his 25th season as head coach, and the offensive line is his area of expertise.
So, the excuse that Iowa's offensive line is young and inexperienced won't work anymore because that is far from the case.
And with experience comes confidence.
"It's probably the most important thing," Jones said. "You've got to have fundamentals. But if you don't have confidence that you're going to use those fundamentals and say you're going to reach this guy, if you don't have confidence you're going to get there, then you can't be in the game. You've got to have confidence in yourself and that the guy next to you is going to get the job done because if we're all five working together, it's hard to stop."
The Iowa offensive linemen are a close group that has bonded through the peaks and valleys of competition.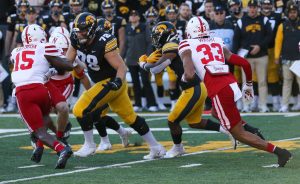 "I'd say as a room, we're all pretty close," Jones said. "I know what Beau Stephens is going to bring me and what Connor Colby and Tyler Elsbury are going to bring for me at guard. We know how to play with each other and we're all pretty comfortable.
"So, I just think having the room close, you know what you're going to get."
Colby also attended Thursday's press gathering, along with Nick DeJong, and Colby echoed much of what Jones said about the benefits from having more experience.
"The more reps you get, the better you're going to be," said Colby, who is from Cedar Rapids. "A lot of growth can happen in a year and that's definitely true. You can grow a lot and mature a lot in a year as a football player, and even as a person."
George Barnett is now entering his third season as the Iowa offensive line coach, so he should also be well beyond the adjustment phase.
Iowa offensive coordinator Brian Ferentz, who is Kirk Ferentz's son, also has experience with coaching the offensive line.
But Barnett is the one who spends the most time with the offensive linemen.
"Coach Barnett keeps us motivated, not that we don't have motivation on our own," Colby said. "But he gives us that extra push when we need it."
And while the offensive line has plenty of doubters and naysayers, and deservedly so, Colby said that isn't factor from a motivational standpoint.
I don't think any of us really pays attention to that at all," Colby said. "I don't think we even talk about it at all as a unit or anything like that. I think it's more just we know what we've got to do."