IOWA CITY, Iowa – A three-star running back from Indiana is the latest player to commit to Iowa's 2024 recruiting class.
Xavier Williams, who is from St. John, Indiana Lake Central High School, announced his commitment via Twitter on Saturday.
"It is truly a blessing to play the game that I love," Williams said in his post on Twitter.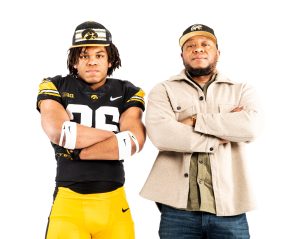 In 10 games as a junior, the 6-foot, 225-pound Williams rushed for 1,451 yards (6.5 YPC) and 13 touchdowns, according to MaxPreps.com. He also caught seven passes and completed his only throw for 42 yards.
Williams spoke highly of Iowa after visiting the UI campus in late March.
"I think I would be a good fit because I know they work hard and so do I," Williams said to Hawk Fanatic. "So, it would make me a better player."
Williams also visited Iowa State, Purdue, Western Michigan, Toledo and Miami (Ohio) this month. He reported scholarship offers from Miami, Ball State, Western Michigan, Bowling Green, Toledo and Northern Illinois, among others.
Williams is the eighth player to commit to Iowa's 2024 recruiting class, , the third from out of state and the first running back.
Iowa 2024 commitments
Xavier Williams, 6-0, 225, running back St. John, Indiana
Drew Campbell, 6-4, 225, defensive end, Cedar Falls
Cody Fox, 6-5, 270, offensive line, Winthrop (East Buchanan)
Derek Weisskopf, 6-3, 205, linebacker, Williamsburg
Cam Buffington, 6-3, 200, linebacker, Winfield-Mt. Union
Preston Ries, 6-2, 195, linebacker, Monticello
James Resar, 6-4, 204, quarterback, Jacksonville, Florida
Josh Janowski, 6-2, 275, offensive lineman, Tinley Park, Illinois
100% Committed🟡⚫️ #GoHawks pic.twitter.com/TLFzmMYj81

— Xavier Williams (@Xavierwilliamsw) April 15, 2023