By Pat Harty
IOWA CITY, Iowa – Quinn Schulte was the first Iowa defensive back to show up, followed by Cooper DeJean and Xavier Nwankpa.
They were joined by T.J. Hall, Jermari Harris, Koen Entringer and Deshaun Lee.
Hawkeye defensive backs were on full display at this past Thursday's press gathering at the Iowa indoor practice facility.
Meanwhile, just a few feet away from where the current players were being interviewed about a dozen former Iowa football players were working out as a group, including former All-Big Ten cornerback Riley Moss and former All-America strong safety Kaevon Merriweather, both of whom are preparing for the 2023 NFL draft.
It sort of looked like Phil Parker-land with so many current and former Iowa defensive backs all gathered in one place.
There were former star defensive backs, current star defensive backs and perhaps future star defensive backs all representing what the defensive backs proudly call the "doughboys."
The nickname was created about halfway through the 2021 season and it comes from the Iowa defensive backs considering the football to be like money, and they want to get some of that money.
And under Phil Parker, the Iowa defensive backs have shown an incredible knack for getting to the football.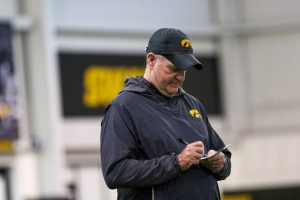 Iowa led the nation with 25 interceptions in the 2021 season, and the defense ranked third nationally with 30 takeaways that season.
Iowa had 15 interceptions last season, and 46 pass-break-ups.
Iowa also has had 17 defensive backs make first-team All-Big Ten under Parker, led by Bob Sanders as a three-time selection, and 17 that have been selected in the NFL draft.
There is an incredibly high standard for the defensive backs, and that pushes each of them to strive for excellence, because they know if they don't, they'll get left behind, and they won't see the field.
Here is a closer look at the eight defensive backs listed on Iowa's two-deep spring depth chart:
Cooper DeJean, 6-1, 209, Jr. – The Odebolt native is the latest in a long and distinguished list of standout defensive backs that have thrived under Phil Parker.
DeJean could play cornerback, safety, the cash, or even receiver, but he has found a home at cornerback, at least for now.
He has shown a knack for making big plays, and for being in the right place at the right time.
Combine those strengths with his immense physical talent and DeJean is a force in the secondary.
He led Iowa with five interceptions last season, and with three pick-sixes, including one in the 21-0 victory over Kentucky in the Music City Bowl.
He also ranked second on the team with eight pass break-ups last season and finished third on the team, and led all the defensive backs, with 75 tackles last season.
DeJean was asked last Thursday if his goals have changed now that he has established himself as a top defensive back.
"I don't know if they've changed," DeJean said. "I'm still trying to just help this team win. I think we've got a lot of talent and a lot of guys that can help us out in different areas."
The soft-spoken DeJean is focusing more now on being a leader, and that's easier to do with his success, and with his experience.
"I'm taking on a bigger leadership role this season," DeJean said. "I think for me, that's the next step and then improving each day. I've got to be better than I was last year. I can't go backwards. So, I'm always trying to get better than I was before."
"I'm seeing different things now that I've played some snaps. I think just helping the younger guys in practice and being more of a vocal leader out on the field, and also leading by example as well."
**********
Quinn Schulte, 6-1, 208, Sr. – The Cedar Rapids native is the latest walk-on safety to have blossomed under Parker's tutelage, joining a list that includes Derek Pagel, Sean Considine and Brent Greenwood.
Schulte is listed as the starter at free safety this spring after having started all 13 games at that position last season.
He played football for his father at Cedar Rapids Xavier, so he grew up around the game and he truly appreciates the value of hard work, preparation and making sacrifices.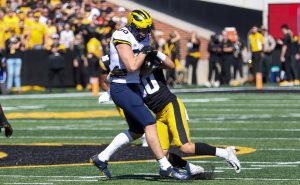 Schulte was well aware of the standard set by previous Iowa defensive backs when he chose to walk-on, and that high standard pushes him every day to reach his potential.
"I think for us, the standard has always been the same so no matter where you're at, no matter if you're one or two, when you go in there, you better make a play to coach Parker's liking," Schulte said. "It doesn't really matter who's on the field, coach Parker has the same standard set for everyone that's out there."
Schulte finished fourth on the team with 71 tackles last season and he had six pass break-ups and one interception.
He rarely is out of position, or gets beat on big plays, and that is due largely to his cerebral approach, to his preparation and to coaching.
**********
Xavier Nwankpa, 6-2, 210, Soph. – The former five-star recruit from Southeast Polk could easily be mistaken for a linebacker because of his size.
Nwankpa is listed at 6-2 in the spring prospectus, but he told the media last Thursday that he stands 6-3 and weighs 210 pounds.
He made his biggest impact on special teams last season as the backup to Kaevon Merriweather at strong safety.
But when Merriweather opted out of the Music City Bowl to prepare for the NFL draft, Nwankpa made his first start and showcased some of the skills that made him a coveted recruit.
He had one of Iowa's two pick-sixes in the game, and he also excelled against the run.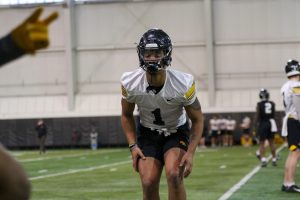 Nwankpa is now listed as the starter at strong safety, and with a season under his belt, he's now playing with more confidence, and with a better understanding of his role.
"I kind of see the same, but I can kind of pick up keys faster," Nwankpa said. "Everything I need to see, like run-pass or read tendencies is much faster than when I first got here."
Nwankpa has embraced Iowa's strength and conditioning program, and the results are easy to see.
"All my numbers are skyrocketing since I got here," Nwankpa said. "So, that's been a big thing."
Nwanpka said he is most proud of his performance in the squat where he is close to reaching 500 pounds.
**********
Jermari Harris, 6-1, 190, Jr. – The Chicago native was showing signs of maybe being one of Iowa's next great cornerbacks when he started the last six games of the 2021 season in place of injured cornerbacks Terry Roberts and Matt Hankins.
Harris had four interceptions, including one in the Big Ten championship game and one in the Citrus Bowl against NFL Draft prospect Will Levis from Kentucky.
But then his path to stardom was derailed by an injury that caused Harris to miss the entire 2022 season.
Harris declined to talk about the specifics of his injury last Thursday, saying he will leave that to the coaches. But he had plenty to say about what he learned from being injured, and about how much he loves the game of football.
"I can't put into words how much I missed the game," Harris said. "You don't realize how much you love something until it's gone. I didn't know if it was ever coming back.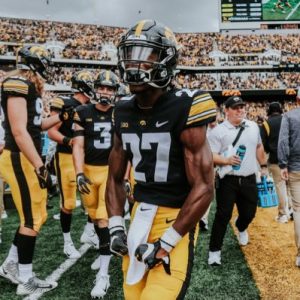 "So, I guess I found out a lot about myself and my love for this game. I'll still go out there and put my body on the line for my brothers and to see our team succeed."
Harris, who has the daunting task of replacing four-year starter Riley Moss at the cornerback position opposite of DeJean, has tried to turn his injury into a positive.
"This last year has been very eye opening," he said. "I'm a firm believer that everything happens for a reason, even wins and losses, there's stuff to learn from, and there are things to grow and there are ways to grow."
The time away from the field has helped Harris grow from a mental standpoint, and as a leader.
"I felt that is where I grew the most, mentally, being off the field and trying to help the younger guys, and listening to guys like Riley and Kaevon," Harris said. "Just soak it all in and just try to be and off-the-field coach."
**********
T.J. Hall, 6-0, 183, Soph. – A native of Fresno, California, Hall was previously committed to Washington, but he re-opened his recruitment after Washington had a coaching change.
Hall had a connection to Iowa in that his father played receiver for former Hawkeye assistant coach Don Patterson at Western Illinois where Patterson served as head coach from 1999 to 2009 after having been an Iowa assistant coach for 20 seasons under Hayden Fry.
Patterson recommended T.J. Hall to Phil Parker, and that would be the start of a relationship in which Hall has grown very fond of the Hawkeyes.
"Coach P, he's definitely a good coach and anytime I see him, I always say what's up to him and he always gives me some advice," T.J. Hall said of Patterson. "So, I always have love for coach P."
Iowa became Hall's top school after he visited the UI campus and watched Iowa defeat Penn State 23-20 on Oct. 9, 2021 before a sellout crowd at Kinnick Stadium.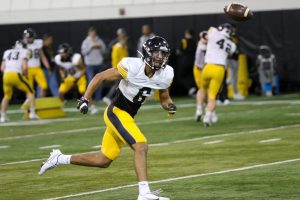 "I took a visit here during the Penn State game and everybody rushed the field and I was like, wow, that was my first Big Ten football game and I was like, wow, it's different in the Big Ten," Hall said. "That was a great experience and that kind of stayed I my mind, going away from home."
Hall appeared in all 13 games last season as a true freshman, playing mostly on special teams.
He is currently listed as the backup to DeJean at left cornerback.
Hall credits the standard set by previous Iowa defensive backs for helping to make the current defensive backs better.
The defensive backs are highly competitive in practice, so much so that they keep track of interceptions, pass break-ups and other statistics on a leader board that is updated each day.
"There's a standard that we all hold each other high to, getting better each day in practice, pay attention to the little details and try to eliminate big plays," Hall said. "A lot people will say that it's tough, but if you just lock in, watch film and get into the playbook, then it's not too hard to live up to that standard.
"But there's a reason there's a standard here and the guys before us set it and now we've got to live up to it."
Hall knew what he was getting into from a weather standpoint by choosing to attend Iowa.
And while it's still a big adjustment for a kid from sunny California, Hall has learned to deal with the weather as best he can.
"They told me a little bit (about the weather). But I don't think there is really anything you can do to prepare for it," Hall said. "But I think now, it just happens, and I can't complain. The weather is going to be whatever it is. And whatever it is, I just go with it that day."
**********
Koen Entringer, 6-0, 199, redshirt freshman – He grew up in Michigan. His father works for the University of Michigan. And he also had a scholarship offer from Jim Harbaugh and the Wolverines.
And yet, Keon Entringer still picked Kirk Ferentz and the Hawkeyes, even though Iowa didn't start recruiting him until late in the recruiting process.
"I think the biggest thing for me (about) Iowa, coming from Michigan, I had an offer from Michigan and that was always my dream school growing up," Entringer said. "But just because it's your dream school, it might not be the right fit. And when I took my first visit to Iowa it just felt like home and the coaches were honest with me and they had a really good plan for me and just made me feel that this is the place where I belong, and I know where I can be great."
Entringer said his father has always been a huge Michigan fan, so it took his father some time to embrace being a Hawkeye.
But not much time.
"It probably took him about a day or two," Entringer said. "But I'm his son. He's definitely going to support me no matter what."
Entringer has no regrets about picking Iowa over Michigan.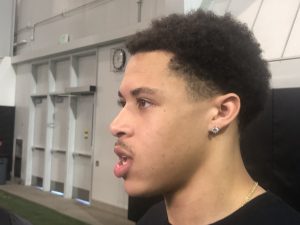 "I wouldn't change it for the world," Entringer said "And I feel this is best school I could have gone to, and I'm so thankful the coaches, coach Ferentz and coach Parker gave me an opportunity to come here and offered me a scholarship."
Entringer is a redshirt freshman after having appeared in four games last season. He climbed to No. 2 on the depth chart at free safety late last season before suffering an injury during bowl preparation.
He is now healthy and listed as the backup free safety behind Schulte.
"The game is as fast as you make it," Entringer said. "I know what I'm doing out there, just being confident and just getting more and more reps out there is something I can transfer over to the season, just being knowing if I can dominate someone in practice, I can definitely dominate them in a game."
Entringer didn't start playing football until late in high school, and that's one of the reasons he picked Iowa, which is known for developing players under Kirk Ferentz.
"I think they have, at least in my opinion, the best defensive back coach in the nation, and they have coach Ferentz, who is the best head coach in the nation in my opinion," Entringer said. "And I think his is the best program, it's a developmental program.
"So, I just think the ability to be developed is the most important thing. I knew they were just known for developing great players."
**********
Sebastian Castro, 5-11, 207, Sr. – The Oak Lawn, Illinois native is listed as the starter at the cash postition and as backup to Nwankpa at strong safety.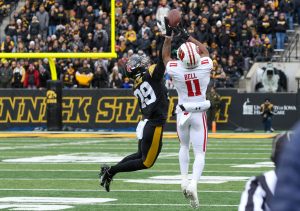 Castro appeared in all 13 games last season and finished with 33 tackles, five pass break-ups and two forced fumbles. He also had three tackles for loss and one sack.
Deshaun Lee, 5-10, 174, redshirt freshman – The Belleville, Michigan native has cracked the spring depth chart as the backup to Jermari Harris at right cornerback.
Lee said he benefits from the competition in practice as the defensive backs sort of feed off each other in competition.
The statistical leader board for defensive backs is updated each day, so each of the defensive backs knowns exactly where he stands in the friendly, but also very serious competition.
"Every day we come in there's going to be the updated points, so you really want to ball out in practice to see you nae up there because everybody sees it, all the defense," Lee said. "In each room, it's on everybody's board. That's just something to push you to harder and something to work for."
And though Lee didn't appear in any games last season as a true freshman, he still gained a wealth of experience and confidence from practicing on a daily basis, from studying the playbook, and just from the daily grind of being a student-athlete.
"Going through a whole season, I just feel like I play faster and way smarter, better eyes and things like that," Lee said.