By Pat Harty
IOWA CITY, Iowa – Another spring practice season has come and gone for Hawkeye football, including 25 straight under Kirk Ferentz dating back to 1999.
So, here are 10 observations, takeaways and opinions to help put a wrap on the spring.
It's hard to think of a time when Iowa had more quality depth on the defensive line than the present.
Lukas Van Ness was clearly good enough to have started on the defensive line for Iowa last season.
But the fact that he wasn't a starter as a third-year sophomore was hardly a case of Van Ness being treated unfairly, or of the Iowa coaches showing favoritism.
Iowa started the same four players on the defensive line in all 13 games last season with Joe Evans and John Waggoner starting at the two defensive end positions, and with Noah Shannon and Logan Lee starting at the two defensive tackles spots.
Lee was the only non-senior in the group, but he was a fourth-year junior and one year ahead of Van Ness in school.
Evans, Waggoner and Shannon were all fifth-year seniors last season and two years ahead of Van Ness in school.
Perhaps seniority was being rewarded, but in fairness to the four starters on the defensive line from last season, they all performed at a pretty high level for a rock-solid defense.
Maybe it was a case of if it's not broken then don't try to fix it by changing the starting lineup.
There were times when Van Ness was inserted early in games, making his status as a non-starter almost irrelevant.
It makes for an intriguing storyline heading into the 2023 NFL draft where Van Ness is expected to be selected in the first round on Thursday.
But the Iowa coaches shouldn't be accused of mishandling Van Ness.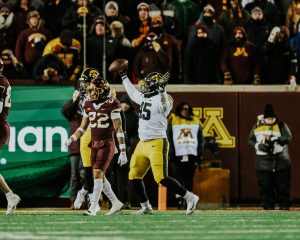 There was just so much quality depth and experience on the defensive line to where it made more sense to use a seven- and eight-man rotation in which the older and more established players were kept as the starters.
Van Ness and Deontae Craig finished last season ranked first and second on the team in tackles for loss with 11 and 10, respectively.
And neither one started because there were older and more established players in front of them that also performed at a high level.
Van Ness and Waggoner have since moved on, but Evans and Shannon both chose to use their free Covid year as sixth-year seniors, giving Iowa one of the oldest and most experienced defensive lines in all of college football.
Shannon and Lee have started 28 and 27 games, respectively, for Iowa while Evans, a former high school quarterback from Ames, has played a key role in each of the past three seasons.
Craig is now listed as the starter at left defensive end, but the second unit is also stacked with true sophomore Aaron Graves and junior Yahya Black both probably good enough to start at the two tackle positions.
Iowa can go about eight or nine deep on the defensive line without suffering much of a decline in performance.
Iowa defensive coordinator Phil Parker said the defensive line is the strength to the defense, and that's despite losing a potential NFL first-round pick in Van Ness and a multi-year starter in Waggoner.
Iowa defensive line coach Kelvin Bell deserves credit for not only his coaching, but also for having created an atmosphere in which his players put the team first because that isn't easy to do, especially in this age of the transfer portal where some players bail at the first sign of disappointment.
**********
2. A question I get asked more and more these days is if LeVar Woods should get consideration for the Iowa head coaching job when Kirk Ferentz decides to retire?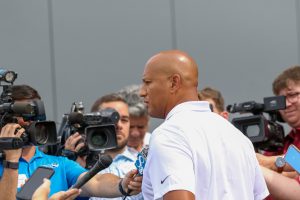 Just the fact that it's being asked is proof that Woods has gained the trust, respect and admiration of Iowa fans, and deservedly so.
His performance as the Iowa special teams coordinator since 2017 has been quite impressive.
Woods, 45, also grew up in Iowa, played for the Hawkeyes under both Hayden Fry and Kirk Ferentz, and for seven seasons in the NFL before becoming a coach.
Special teams has been a strength since Woods became the coordinator, and that should continue next season since Iowa has arguably the best punter/kicker combination in the country in Tory Taylor and Drew Stevens.
The players praise Woods for his attention to detail, and for his ability to teach and coach in a way that is easy to understand.
Kirk Ferentz has earned the right to retire on his terms, but he will also be 68 years old by the start of next season.
So, it's fair to speculate about who might replace Ferentz, and it's reasonable to think that LeVar Woods would be among the top candidates.
**********
3. Running back Terrell Washington Jr., was all set to play in Jeff Brohm's high-scoring offense at Purdue.
But then Brohm resigned as the Purdue head coach late last season to become the head coach at his alma mater, Louisville, which is also Brohm's hometown.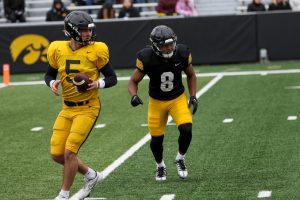 Brohm's decision caused Washington to re-open his recruitment, and the Texas native would ultimately sign with Iowa where he is now enrolled for the spring semester.
I mention Washington because he was impressive in Iowa's open practice last Saturday at Kinnick Stadium.
He just made it look easy with how he eluded defenders and made tacklers miss in space. And he also ran hard in traffic.
"Terrell has been a good addition, too," Kirk Ferentz said last Saturday. It's been good to watch him work out there."
Purdue had planned to use the 5-foot-11, 195-pound Washington as a combination running back/receiver, so he must have good hands.
And with Iowa being so thin at receiver, maybe Washington could help as a slot receiver.
It's just a thought.
**********
4. It was just one practice, and it was only seven-on-seven drills with no pass rush, but Cade McNamara still made some nice throws into tight windows last Saturday.
There was one play in which McNamara threw to the corner of the end zone and hit the receiver in stride.
The ball had to be thrown almost perfectly because there was hardly any space between the defender and the sideline, and McNamara delivered a strike.
McNamara's decision to transfer from Michigan to Iowa has brought hope to an offense that seemed hopeless at times last season.
"To me, he has a lot of the characteristics and qualities you're looking for in a quarterback," Iowa head coach Kirk Ferentz said after last Saturday's open practice at Kinnick Stadium. You can see why he was successful where he was before.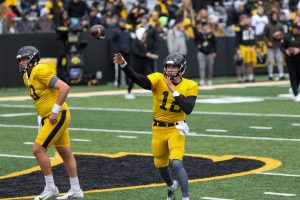 "The fact that he's been on the field and done it, doing it… There's something to be said for doing it. He's got that on his résumé. So he's got a confidence that I think is earned. He's helped bring that to our football team. He has a little edge to him, which is good. Good at every position.
"So far so good. He's been a really great addition to our team. I won't speak for everybody on our team, but I think they've all really embraced him, are really glad he's here. He clearly is our starter right now. It is not a debate. Real happy about him being there."
The only debate might be for the backup spot where Wisconsin transfer Deacon Hill moved ahead of third-year sophomore Joe Labas in spring practice.
Hill climbed to No. 2 on the depth chart despite having only been in the program since January.
Labas, on the other hand, was thought to have the edge since he started in the Music City Bowl and led Iowa to a 21-0 victory.
For Hill to have climbed the depth chart this quickly speaks volumes about his performance this spring.
"He's made a good showing for himself," Kirk Ferentz said of Hill, who is from Santa Barbara, California.
**********
5. Hayden Large has gone from being buried on the depth chart at tight end at the start of spring practice to now being perhaps the leading candidate to start at fullback.
You could assume because of his name that Hayden Large was destined to play football for Iowa.
But it wasn't that simple, because for one, his first name is only a coincidence, and because he grew up in Michigan where he was lightly recruited.
In fact, Large was so lightly recruited that he chose to play for NAIA Dordt University in Sioux Center where in three seasons he recorded 62 catches for 950 yards and 12 touchdowns.
Some players still slip through the cracks, even in this age of non-stop recruiting coverage, and the 6-5, 240-pound Large appears to be one of those players.
Some players also develop more than expected after they enter college, and then go looking for better competition.
"With his name, first question for his dad, Is there some Iowa connection?" Kirk Ferentz said last Saturday. "When I met him, I guess in January. Maybe it was December, I can't remember. Anyway, none at all. Just kind of random that that's his name. Usually if a guy is Hayden or Kinnick, there's got to be some Iowa connection.
"We were happy to have him join us. I really wasn't quite sure where it was going to go. Unfortunately we've had one injury this spring that Eli Miller is probably not going to be able to play in the fall, out of surgery. He was really doing well. All of a sudden we've got a void there. Hayden was doing okay at tight end. Give that a shot. Seems like he has a feel for it.
"Right now I think he can really factor into this whole thing. Funny how you stumble into things sometimes. Great young man. Very enthused about being here. Great attitude. Really glad he's here. It's kind of random that it all happened."
Sophomore Eli Miller was listed as the starting fullback heading into spring practice, but he suffered an injury that could cause him to miss the entire 2023 season.
Former Iowa offensive coordinator Don Patterson said Monday on the Hawk Fanatic radio show and podcast that Large's experience as a tight end could make him a receiving threat at fullback and that would give Iowa more flexibility.
The Iowa coaches saw something in Large that makes them think he can help at fullback, and it's hard to argue with Kirk Ferentz's long-standing success with position switches.
From Dallas Clark to Eric Steinbach to Robert Gallery to Tyler Linderbaum, switching positions at Iowa was the first step in their journey to stardom.
**********
6. Defensive lineman Jeremiah Pittman wasn't listed on the spring depth, but the Illinois native has made a strong impression.
Iowa defensive coordinator Phil Parker last Thursday mentioned Pittman as a player that has made significant progress this spring, and then  the head Hawk also had high praise for Pittman last Saturday.
"Pitt is one of our more improved guys on our football team right now," Kirk Ferentz said. "Great young guy, all that. He was a ways away a year ago at this time, even the fall. But he's taken some good steps. We have good confidence in him now. He's in the mix, so that's good to see."
The emergence of Pittman means that one of the deepest positions on the team is getting even deeper.
Imagine how competitive practice will be next season.
**********
7. Iowa's two starters at the safety positions couldn't have traveled more different paths to reach this point.
Senior Quinn Schulte, who starts at free safety, is a former walk-on from Cedar Rapids, who just wanted a chance to show that he could play at this level, while sophomore Xavier Nwankpa, who is now listed as the starter at strong safety, is a former five-star recruit who picked Iowa over Ohio State ane Notre Dame.
That's one of the neatest things about college athletics is that your background doesn't matter if you can meet the challenge.
Iowa has a long history under Kirk Ferentz of seeing talent where most others don't see, and of identifying walk-ons that are capable of playing at the FBS level.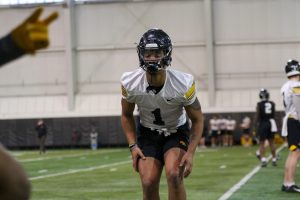 Schulte, for example, is the latest in a long and distinguished list of walk-ons who have thrived as safeties at Iowa, along with Derek Pagel, Sean Considine, Brent Greenwood and Jack Koerner.
Schulte started all 13 games last season and finished fourth on the team with 71 tackles.
Nwankpa made his biggest contribution on special teams last season as a true freshman.
He made his first career start in the Music City Bowl after Kaevon Merriweather had opted out of playing in the bowl to prepare for the 2023 NFL draft, and Nwankpa showed some of the stills that made him a coveted recruit.
He had one of Iowa's two pick-sixes in the 21-0 victory over Kentucky, and he was also solid against the run.
**********
8. Cade McNamara has received most of the attention, but Erick All's decision to follow his former Michigan teammate to Iowa is also a huge development for the Iowa offense.
All has proven himself as a tight end at this level after having played a key role for Michigan's 2021 Big Ten championship team, and he also seems to have fit in nicely as a Hawkeye.
Iowa has a big void to fill with the loss of All-Big Ten tight end Sam LaPorta to graduation, but All seems more than capable of filling that void.
The addition of All should give Iowa another productive one-two punch at tight end with fellow Ohio native Luke Lachey, who led Iowa with four touchdown catches last season.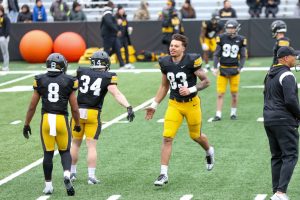 "Seems like they really get along well together," Kirk Ferentz said of All and Lachey. "I'm hopeful. Last year we ended up with two really good tight ends. I think you got a chance now to start a season with two guys like that.
"Luke is really just climbing the ladder each and every step. It's fun to watch him."
**********
9. In this new age of the transfer portal and name, image and likeness, rosters always seem to be changing, while coaches are always looking for help.
Kirk Ferentz said after Saturday's open practice that he still hopes to add some more players from the portal, with receiver and cornerback both being positions of need, but especially receiver where Iowa only has four players on scholarship right now.
"Yeah, absolutely. We're always going to be doing that," Kirk Ferentz said. "We're always going to be looking."
A number of receivers have entered the portal just in the past few days, including A.J. Henning from Michigan.
And while Henning, who also excels as a return specialist, might be reluctant to join an Iowa offense that only produced seven touchdown passes last season, he would likely have a chance to play immediately, and he would also be reunited with McNamara and All.
**********
10. Kirk Ferentz never would say this, but Iowa's 2023 schedule looks very manageable on paper.
It certainly helps that Ohio State and Michigan aren't on the schedule, but Wisconsin, Purdue and Nebraska also have first-year head coaches, so, each of those three teams could suffer through some growing pains.
Penn State is the only team on Iowa's 2023 schedule that finished last season ranked in the Associated Press top-25.
The 2023 season will also probably be the last time the Big Ten has two divisions with USC and UCLA both set to join the conference in 2024.
Iowa will have to take advantage of its 2023 schedule because it might never have another schedule like it.