By Pat Harty
IOWA CITY, Iowa – Under no circumstances would I ever pretend to be Mel Kiper Jr., or Todd McShay, or anyone else who makes their living evaluating and ranking players for the NFL draft.
One reason is because nobody has offered me that opportunity, and nobody should.
I'm not what you would call an NFL draft guru by any stretch of the imagination.
Even compared to some of my local colleagues in the media, my knowledge of the NFL draft leaves something to be desired.
I can recall an episode of the Andy Griffith Show almost to the moment, but I can't even remember who was picked first in the draft last year without help from Google.
But on the other hand, I've covered the NFL draft since 1992, and during that time, Iowa has had 105 players selected in the NFL draft, including 85 under Kirk Ferentz, and four this week.
It doesn't take a rocket scientist, or even Bill Belichick, to understand why defensive lineman Lukas Van Ness and linebacker Jack Campbell both were selected in the first round on Thursday.
Van Ness was picked by the Green Bay Packers 13th overall, while the Detroit Lions selected Campbell 18th overall.
Both players have the physical skills that are needed to compete at the highest level, and they both have produced on the field, especially the 6-foot-5, 246-pound Campbell, who was a three-year starter for Iowa and the 2022 Butkus Award winner.
Van Ness doesn't have near the body of work compared to Campbell, but that is also part of the intrigue with Van Ness is that he never started a game for Iowa, and only played for two seasons after having been redshirted in 2020, and yet, he still showed enough talent and potential to be picked in the first round.
That's incredible.
Was I surprised that Van Ness and Campbell were picked as high as they were?
Yeah, a little surprised.
But again, I'm no expert.
I was also a little surprised that Iowa tight end Sam LaPorta was picked 34th overall by the Lions, and that cornerback Riley Moss was picked 83rd overall by the Denver Broncos.
I figured they both would get picked, just not that high.
And while Van Ness was listed as a first-round pick on multiple mock drafts, Campbell was thought to be a second- or third-round pick.
Kiper Jr. had Campbell ranked as the 58th best player in the draft, so, Kiper's opinion, obviously, doesn't carry much weight with Detroit.
A lot of the Iowa players that have been drafted under Kirk Ferentz, after having defied the odds and exceeded expectations in college, would go on to do the same in the NFL.
But it's so hard to predict.
How many of you had George Kittle poised to become perhaps the best tight end in the NFL when he left Iowa in 2017?
Injuries kept Kittle on the sideline for long stretches in college, so when the San Francisco 49ers picked Kittle in the fifth round, it sort of came as a surprise that he was picked that high.
At least, to me, it did.
But there is one thing I will say about Iowa's 2023 NFL draft class, and the free agents, with certainty and with conviction; it's an incredible group from a character standpoint.
And for those rolling your eyes right now, character counts, even in the NFL.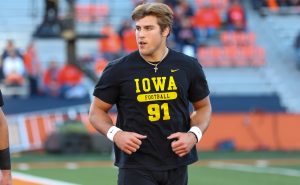 Iowa's draft classes are usually filled with high-character guys with strong work ethics because it's hard to reach that point without having those attributes.
But this current draft class seems to really standout from a character standpoint, and throw in Seth Benson, Kaevon Merriweather and Monte Pottebaum, all of whom have signed as free agents, and the character climbs to another level.
Merriweather played a huge role on and off the field as a Hawkeye.
He started 25 games at strong safety, but also saw extensive action in games in which he didn't start.
Merriweather recorded 47 tackles and had three interceptions this past season, earning second-team Associated Press All-America honors.
He skipped playing in the Music City Bowl to prepare for the 2023 NFL draft, but that was a personal decision for which Merriweather shouldn't be criticized.
As a Hawkeye, Merriweather was first-class all the way, a key voice during the summer of 2020 after multiple former Iowa players had accused the program of racial disparities and bullying.
Merriweather stood proud in his beliefs, but he also helped to change the culture by just talking and by listening and speaking from his heart as a young black man in a mostly white world in college.
Merriweather has a gift for gab, and he seems to really enjoy being around the media.
Not once can I ever remember him being dismissive, disinterested or anything less than very cooperative.
The media showed its appreciation by picking Merriweather as the first recipient of the Duke Slater Golden Gavel Award, which is presented to the Iowa player who not only is the most cooperative with the local media, but exhibits themself with professional integrity in all interactions.
Merriweather will now try to make it as a free-agent with Tampa Bay, and it would be foolish to sell him short.
Because this is the same young man that only had one Power Five scholarship offer for football coming out of high school in Michigan, and, of course, that was from Iowa.
Merriweather was more accomplished as a basketball player in high school, but the Iowa football coaches, particularly Phil Parker, saw Merriweather's upside in football, and as often has been the case, Phil Parker was right.
Van Ness, meanwhile, wasn't around long enough to get to know very well from interviews.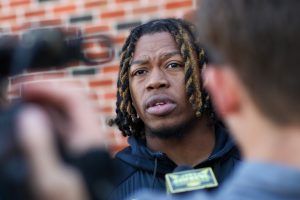 He was redshirted as a true freshman in 2020, and then was interviewed just a few times over the past two seasons.
But Van Ness also ascended to greatness as a non-starter who spent a substantial amount of time on the sideline as part of a deep rotation with older players, and he did so without complaining or disrupting the team chemistry, and without entering the transfer portal.
Van Ness put the team first, trusted and respected the opinions of his coaches, and just worked hard every day to get better.
That says a lot about his character.
The media became better acquainted with Campbell, LaPorta and Moss because they combined to play 13 seasons at Iowa, led by Moss's rare five-year run that came from him using his free Covid year.
Seth Benson was also popular with the Iowa media because he puts a lot of thought into his answers, and because he's just a nice guy.
That's the common thread with this draft class. They're all just nice guys that make the right decisions, on and off the field.
Moss and LaPorta both considered leaving for the NFL draft last season, but it seems in both cases, they made the right decision to come back.
Campbell also probably could've left for the NFL after last season, but it's hard to think of a player that enjoyed being an Iowa football player more than Jack Campbell.
The Cedar Falls native considered it a privilege and an honor to be a Hawkeye, and to play for Kirk Ferentz, and Campbell would often say that while being interviewed.
The respect and admiration between Campbell and Kirk Ferentz is so strong that they both would often become emotional as they talked about each other, especially in the final days of Campbell's career.
"He's one of the finest players I've ever worked with in my entire career," Kirk Ferentz said of Campbell to the Lions organization. "He's been an exceptional football player, exceptional team member, a great leader."
Campbell was interviewed too many times to count by the Iowa media, probably second most behind quarterback Spencer Petras, who by the way, is another nice guy.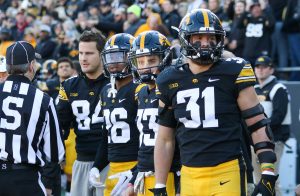 And though always polite and respectful, Campbell never seems comfortable talking about himself, nor can I ever recall him praising himself.
He is a humble, team-first guy to the core.
If Campbell had his way, he probably would avoid being interviewed, but not from disliking or disrespecting the media.
He just doesn't seem comfortable, or interested, in promoting his brand, or feeding his ego, and that's meant as a compliment.
LaPorta and Moss have also been interviewed multiple times over the years, and they both seem to really enjoy speaking with the media, not necessarily for the attention, but for the interaction, especially Moss.
To say that Moss speaks loudly would be an understatement.
He and former Iowa All-America center Tyler Linderbaum were both being interviewed at the same time in the indoor practice facility in 2021, and were standing about 20 feet apart.
I was part of a group that was interviewing Linderbaum, but it was hard to hear what he was saying over what Moss was saying 20 feet away.
Linderbaum finally paused, looked over at Moss, and then joked about how loudly Moss was speaking.
It's always fun to interview Moss because he always has plenty to say, and he always seems to be in a good mood, except for after a loss.
But even in those tough circumstances, Moss was willing to speak, and was always polite and respectful, because at risk of sounding like a broken record, he's just a nice guy.
So, there you have it; my breakdown of Iowa's 2023 NFL draft class and free agents.
I'm not about to give the class a grade from a performance, or from a potential standpoint.
But from a character and class standpoint, this group deserves an A-plus.
Iowa's four 2023 draft picks, and the free agents, are zero-maintenance to borrow a phrase from Iowa men's basketball coach Fran McCaffery.
They're guys that can be trusted to make the right decisions and choices away from the football field, and when nobody is watching.
And from a performance standpoint, we're talking about who is believed to be the only non-starter from Iowa to be picked in the first round in Van Ness, one of the greatest linebackers in program history in Campbell, one of the greatest tight ends in program history in LaPorta and one of the greatest cornerbacks in program history in Moss.
Iowa had one of the best defenses in the country last season, and the 2023 NFL draft is reflective of that.
The Iowa offense was a different story, but to no fault of LaPorta, who had over 50 catches and 600 receiving yards in each of the past two seasons.
LaPorta excels at gaining yards after the catch, and is durable and loyal.
Iowa was also his only Power Five offer coming out of high school in Illinois, and both sides have since been rewarded big time for their trust in each other.
One of the neatest things in covering the Iowa football team is watching as the players experience life-changing moments such as being picked in the NFL draft.
It's even more special when all the players are nice guys with high character.
This is my boy sharing the news to his hometown family that he is going to be a Detroit Lion! We had a magical night, we love you all and can't thank you enough for coming to celebrate with us! Highland IL, Iowa Hawkeyes and now Lion pride! pic.twitter.com/eG8HnYoamp

— Staci LaPorta (@SJLaPorta) April 30, 2023