IOWA CITY, Iowa – The Iowa men's basketball team hasn't seen the last of point guard Ahron Ulis.
Ulis, a 6-foot-3 junior from Chicago Heights, Illinois, will stay in the Big Ten Conference as he announced on Monday that he would transfer to Nebraska.
Former Iowa center Josh Ogundele, a 6-10 junior fron London, England, also announced on his Instagram page that he would transfer to Middle Tennessee State.
Ulis started 27 games for Iowa this past season and he spent three seasons in the program. He averaged 6.1 points and 2.1 assists per game this past season, and he averaged 22.5 minutes per game.
Ulis visited Nebraska on Sunday and then announced his decision on Monday.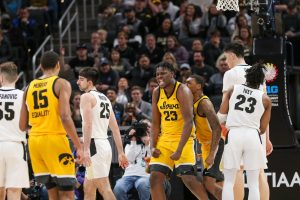 Ulis is the first player under Iowa head coach Fran McCaffery to transfer from Iowa to another Big Ten school.
Ogundele also spent three seasons at Iowa and he appeared in 38 games, averaging 1.5 points per game.
Iowa has also added one player player from the transfer portal as 6-9 Valparaiso forward Ben Krikke recently picked the Hawkeyes. He led the Missouri Valley Conference in scoring this past season.
Iowa still has one available scholarship to use this offseason.
Iowa was among the five finalists for 6-8 Wofford forward B.J. Mack, but he recently committed to South Carolina.