By Nick Quartaro
IOWA CITY, Iowa – Iowa Hawkeye fans are well-versed in the legend of Tory Taylor, Iowa's elder statesman and all-everything punter from Australia.
For a variety of reasons in his first three years with the Hawkeyes he has fashioned quite a following for someone at his position.
Given his philanthropic effort to help raise money for charitable purposes through sales of "Punting is Winning" t-shirts to being a mature, media savvy guy who handles interviews as well as any college athlete, Taylor's impact on a game should never be taken for granted.
As we say in the coaching world, Taylor is known for "flipping the field". His toolbox of punting skills is famous for backing up opposing offenses, thus forcing them to be looking at a long field.  He does it by booming punts from anywhere in Iowa's own territory to deep in the opponent's end of the field.
Taylor also does it by pinning opponents inside their own 20-yard line with incredible touch, similar to a pro golfer who works magic with a wedge. No one appreciates that more than Coach Phil Parker and the Hawkeye defense.
Taylor has three distinctly different types of punts in his repertoire. As a former Australian football player he brought the "roll out" punt with him from his homeland. That's when you see Taylor catch the snap and begin moving to his right and punting the ball on the move. Because of where Taylor is going and the direction of the punt, the Hawkeyes coordinate the type of punt protection and coverage they use when a roll out punt is going to be called.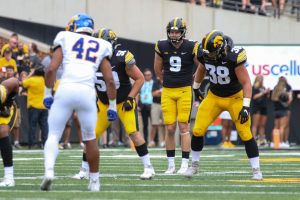 "I really don't take a certain number of steps or anything like that. It comes natural to me since I began punting a ball 20 years ago. It's really just rhythm and having a calm state of mind," Taylor said ina  recent phone interview.
When Taylor isn't rolling out, he's walking straight ahead but he has the ability to use two different punts. When he hits an end-over-end punt (similar spin to a kickoff) he calls it a "drop" punt. He chooses this punt when he is punting down-wind and also when he's trying to kill a ball or force a fair catch inside the opponent's 20-yard line.
Unfortunately, Taylor led the nation last year in total punts over the course of the season with 82. But, the most impressive statistic is that he had 38 punts (46.3% of his total) that put Iowa's defense on the field inside the opponent's 20. That number inside the 20 led the nation.
Probably no game was a greater example of his ability to pin opponents back than the season opener against South Dakota State when Taylor was called upon to punt 10 times. Seven of the 10 were inside the 20 and he stuck five of those inside the Jackrabbits' 12-yard line.
Prior to the relatively recent impact of Aussie punters, we can all recall great traditional American punters. We can visualize that right now–a long, high-arching spiral where the nose starts climbing to its apex then turns over and continues to carry for big yardage. Taylor can do that, too. Last year he launched 27 such punts of 50+ yards.
Each of Taylor's three different punts (roll out, drop and spiral) have their own time and place, but he explains, "I will always hit a spiral punt when we are going into a strong wind because the spiral will pierce the wind where a drop punt or roll out won't."
In the case of both the drop punt and traditional spiral, Taylor is locked into consistent steps and efficient operating time so as to not risk undue pressure or a potential block. He tells us that his goal is to have a "get off time" of around 2.0 seconds whenever he is not using a roll out punt.
Most fans likely don't spend much time thinking about this but, with Taylor's variety of punts, there is also a lot of strategy that goes into calling the punt game. After pre-game warmups Taylor will discuss things with LeVar Wood, special teams coordinator.
"I'll talk with Coach Woods regarding my shot selection with respect to field location and wind," Taylor said. "Then he will make the call on the sideline just as we take the field to punt."
Brutal weather conditions last year at Minnesota were the toughest that Taylor has had to handle during his Hawkeye career. The temperature at kickoff was 17 degrees, the wind made it feel like just 1 degree and it only got worse as they game went on.
"Nothing really changes in terms of punting; there's not much you can do," Taylor said. "I just think of what we can use to our advantage, how can I give myself the best chance to hit a good punt. I didn't think of using gloves that day because I'd never worn them in a game before."
Probably a very underrated value that Taylor also brings to the Hawks is being the trusty holder for Drew Stevens' placekicks. He says that he practiced it just a little before coming to Iowa.
"It take a lot of repetitions," Taylor said. "Me, Drew and Luke Elkin (snapper) are kind of nerdy about it."
Well, being nerdy about it has provided great results, as we know, with Stevens hitting 16-18 field goals in his rookie campaign.
As far as what gives the Aussie punter the most satisfaction?
"It's just knowing that the hard work and sacrifice pay off and I can contribute to the team in my own way," Taylor said"
Contribute in your own way?
Contribute is one thing. Playing a major factor in your team having a chance to win every week is another.