By Dallas Jones
IOWA CITY, IA – As the sun shines in Iowa City this week, a glimmer of hope for Iowa fans follows. There is no secret that the wide receiver room for the Hawkeyes has some holes to fill.
Kaleb Brown, a transfer from Ohio State, could be a huge get for the Hawkeye offense as he is visiting Iowa City this week.
Coming out of St. Rita High School in Chicago, Illinois, Brown was a four-star recruit. He was the 13th best receiver in the 2022 class, the second-ranked player from Illinois and a top-80 overall prospect in the 247Sports Composite.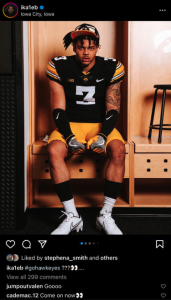 Brown had 19 scholarship offers from programs across the country, including Alabama, Florida, Michigan, Notre Dame and Wisconsin. He committed to Ohio State on June 7, 2021, and enrolled the following summer.
Departures from Keagan Johnson and Arland Bruce IV into the transfer portal, along with Brody Brecht committing his time to being one of the best pitchers in all of college baseball, leaves the
Hawkeye with just four scholarship receivers.
Brown was behind some of the best receivers in the country during his time on the Buckeyes, many of who are currently in the NFL or well on their way. If he does choose to be a Hawkeye, he will have an opportunity to be a huge part of the Hawkeye offense on day one.