IOWA CITY, Iowa – A sellout crowd watched as the Iowa baseball team pounded Ohio State 15-3 on Saturday at Duane Banks Field, giving Rick Heller his 1,000th career win.
"It means I'm getting old, and it's been a long career and I can think back to game one like it was yesterday," Heller said on the Big Ten Network post-game interview. "For me, it's just a time to remember all the awesome players that I've had the chance to coach, all the awesome assistants that were a big part of all those wins.
"And a good time to reminisce on all those awesome things, the fun part of the job."
Heller is one of just 10 active coaches with at least 1,000th career wins.
"I'm glad it's over. I can stop answering questions about what it's going to be like and all that stuff," Heller said.
There was little question about the outcome of Saturday's game as Iowa performed well at the plate, on the mound and in the field.
Sophomore Marcus Morgan grinded through five innings on the mound to earn a quality start, while the Iowa offense gave him more than enough support.
"I'm really happy with our offense, it was total team effort on the offensive side," Heller said. "The guys did a really good job executing the plan.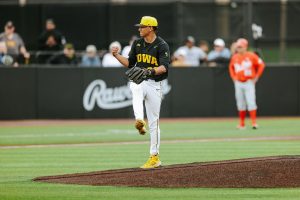 Morgan walked six batters, but he only allowed three hits and two runs, and he had seven strikeouts.
"Marcus Morgan worked out of a couple jams and got us through the fifth and we needed a good start out of him after last night's game where we had to go to the bullpen a lot," Heller said.
The Hawkeyes have combined to score 31 runs in the first two games of the series against Ohio State, winning 16-9 in the series opener on Friday.
And they've done without one of the best hitters on the team as sophomore Keaton Anthony missed his second straight game due to potential NCAA rules violations.
Iowa belted four home runs in Saturday's game, including two by Sam Hojnar, and improved to 34-11 overall and 10-6 in the conference.
Iowa will look for the series sweep on Sunday at Duane Banks Field.
"Just an overall well-played game after a well-played game last night," Heller said.
Heller was hired as the Iowa head coach shortly after the 2013 season.
He previously coached at his alma mater, Upper Iowa University, and at Northern Iowa and Indiana State prior to taking over at Iowa.
He has led all four teams to postseason play, and his current Iowa squad is poised to make the NCAA Tournament barring a late-season collapse.
https://twitter.com/UIBaseball/status/1654965873763835906?s=20