By Pat Harty
IOWA CITY, Iowa – Kirk Ferentz and Fran McCaffery both have called the transfer portal a mess.
And in some ways, they're right.
What was supposed to give student-athletes more freedom and flexibility has in many cases turned into pay for play, and is being helped by the influence of name, image and likeness.
Together, they have changed college athletics, and some will say, for the worse.
And meanwhile, the NCAA just ignores it.
Kirk Ferentz and Fran McCaffery, on the other hand, can't ignore the transfer portal, or NIL, because to do that would be career suicide at this point, even for two head coaches as secure as them.
The transfer portal and NIL both are here to stay, and while both certainly have flaws, there is also a bright side to both, especially the portal where help is always just a commitment away.
Kirk Ferentz and Fran McCaffery haven't made a habit of restocking through the transfer portal, but they both have used the portal to fill key spots.
Kirk Ferentz is a Hawkeye coaching legend, one of the best of all time, and the fourth all-time winningest head coach in Big Ten history.
He is entering his 25th season as the Iowa head coach making him the longest tenured head coach in the country.
Ferentz's contract runs through the 2029 season, and his boss, Iowa athletic director Gary Barta, is perhaps his biggest fan.
Iowa also should have one of the best defenses and kicking games in the country next season, and the Big Ten West Division looks very winnable.
So yes, Kirk Ferentz has a lot to feel good about, but he also has one giant mess to clean up on offense and he's relying on another mess – the transfer portal – to help him do it.
And right now, the results are encouraging.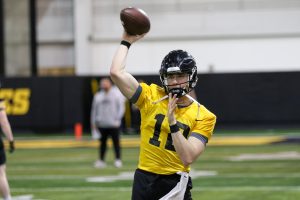 Since the end of the 2022 season, Iowa has added former Michigan quarterback Cade McNamara, former Michigan tight end Erick All, former Ohio State receiver Kaleb Brown, former Charleston Southern receiver Seth Anderson and offensive lineman Daijon Parker and Rusty Feth from the transfer portal.
Brown is the only one in that group that hasn't played a significant role since entering college. But he's also a former four-star recruit who was competing for playing time at Ohio State as a true freshman.
McNamara's story has been well-documented, how he led Michigan to the 2021 Big Ten title, and to the college playoff that season as its starting quarterback.
He is a proven commodity at the Big Ten level, as is All, who had over 400 receiving yards for Michigan during the 2021 season.
Anderson played a key role as a true freshman for an FCS school last season, and now he wants to play on a bigger stage.
The same could be said for Parker and Feth.
They both want to play at the highest level in college after having played for multiple seasons at Saginaw State and Miami (Ohio), respectively.
The fact that a former starting quarterback from Michigan will be throwing to a former starting tight end from Michigan, and to a former Ohio State four-star receiver, while playing for Iowa seems almost hard to believe, but it's true.
Kirk Ferentz's offense is coming off back-to-back seasons in which it performed at a historically low level. It was so bad last season that the Iowa offense became a national laughingstock and a punchline.
Making matters worse is that Kirk Ferentz's son, Brian Ferentz, is the Iowa offensive coordinator, and the focus of fan rage.
Kirk Ferentz had to do something in a hurry to help his offense, and help his son, and he turned to where help is always available.
Kirk Ferentz deserves credit for convincing McNamara that Iowa's problems on offense are fixable, and that McNamara is just what the offense needs to be fixed.
Brian Ferentz now has some key pieces to help jumpstart the offense, and that is reason for hope.
It would be foolish to think that the offense is fixed without having played some games. But there is at least reason to be hopeful, and maybe even a little optimistic, some will say, as long as Brian Ferentz doesn't screw it up.
Fair or not, that's where some fans, and maybe a lot of fans, stand with Brian Ferentz right now.
They're just fed up with the struggles on offense, and they need somebody to blame.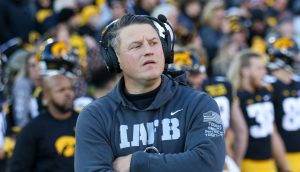 And who better to blame than the offensive coordinator, especially when he's the head coach's son, and since Spencer Petras is no longer the starting quarterback?
Iowa should be rock solid again on defense and special teams, and the Big Ten West Division is there for the taking with Wisconsin, Nebraska and Purdue all adjusting to new head coaches.
The offense doesn't have to be spectacular next season.
Heck, just being average would be a massive improvement, and maybe enough to accomplish some nice things.
Iowa's performance in the transfer portal makes being average on offense seem like a realistic goal.
It isn't often that you turn to a mess to help clean up a mess, but that's the world Kirk Ferentz lives in now and he deserves praise for accepting it.
"If you do a good job, you have a chance to benefit from it," Kirk Ferentz said of the transfer portal. "If you don't, there's just no… The fact we don't have any structure, good luck making that make sense. That's the world we're living in right now. We're going to do the best to operate in the world that fits with what we think is best for our program. So far so good."
As for Fran McCaffery, he needed help on the frontline after losing 6-foot-8 forward Kris Murray, 6-9 forward Filip Rebraca and 6-10 Josh Ogundele to the NBA draft, to graduation and to the transfer portal, respectively.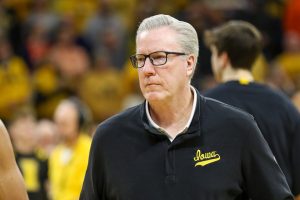 Help is on the way via the transfer portal as 6-9 Ben Krikke and 6-9 Even Brauns both have signed with Iowa.
Krikke played for Valparaiso for the past four seasons, and he led the Missouri Valley Conference in scoring last season. His ability to score in a variety of ways should fit nicely in Iowa's fast-paced offense.
Brauns will give Iowa a physical presence near the basket as he weighs about 240 pounds and is built to handle the rough play in the Big Ten.
Brauns and Krikke are similar in height, but their games, and what they bring to a team, are very different.
Iowa needs both.
It's impossible to know right now what the fallout will be from the gambling controversy that came to light earlier this week as 26 UI student-athletes have been linked to the investigation.
But if the Iowa football team has all its pieces on offense next season, there is at least reason for hope, thanks largely to the mess known as the transfer portal.