IOWA CITY, Iowa – Marcus Morgan earned a Friday start with how he has been pitching lately, and he probably earned another one by how well he pitched against Michigan State on Friday.
Morgan struggled with his control at times, which has been a problem for him as a Hawkeye.
He walked the first two batters of the game, which drew an early mound visit from Iowa pitching coach Sean McGrath.
But when Morgan did throw strikes, the Iowa City West graduate was unhittable over six innings.
Morgan threw six hitless innings and he had six strikeouts before Iowa coach Rick Heller turned to his bullpen to finish what his talented right-handed sophomore had started.
"It was a great start," Heller said of Morgan's performance. "He had really good stuff. Fastball was good. Cutter, slider, and change were all good after he got things established in the first inning. He settled in and didn't give up a hit."
Relief pitcher Jared Simpson then did his job, limiting the Spartans to three hits and no runs as Iowa prevailed 9-0 in the series opener at Duane Banks Field.
The win comes during what has been a busy and stressful week for the Iowa baseball team with it being finals week, and with the Iowa baseball team the focus of a sports-gambling investigation.
But the Iowa players showed little signs of being distracted or deflated by the investigation as they performed well on the mound, at the plate and on defense as evidenced by the lopsided score.
Sophomore Sam Petersen, who was 4-for-4 from the plate, ignited the Iowa offense with a solo home run in the second inning that sailed way beyond the left-field fence, giving Iowa a 1-0 lead.
Petersen also forced a rundown that allowed Kyle Huckstorf to score, giving Iowa a 3-0 lead in the third.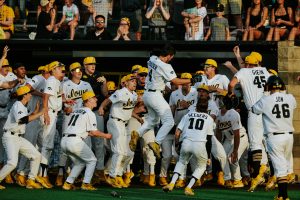 Brayden Frazier then belted a two-run homer in the fourth inning that also cleared the left-field fence by a wide margin, giving Iowa a 5-0 lead.
That was more than enough offense for Morgan, who replaced Brody Brecht as the Friday starter, which is considered the ace pitcher on a college staff.
Morgan and Brecht both came to Iowa in 2022 with big-time reputations and potential.
Brecht has been spectacular at times with his 100-mile per hour fastball making him close to unhittable for stretches. But he has struggled with his control in recent games as the Friday starter, causing Heller to go deep into his bullpen.
Morgan has been more steady than spectacular this season, but he was the latter on Friday as he held a very respectable Michigan State squad hitless for six innings.
He benefitted from a double-play to work out of a jam in the top of the first inning.
Morgan had a rough freshman season a year ago, caused mostly by his inability to throw strikes, and to work out of jams.
He has since regrouped, learned from that experience, and now Morgan is living up to the hype and expectations that accompanied him to college.
His team, meanwhile, improved to 11-7 in Big Ten play and 35-12 overall, and is 3-1 without Keaton Anthony in the lineup.
Anthony did return to the dugout for Friday's game, along with teammates Jacob Henderson, Ben Tallman and Gehrig Christensen.
They were all absent for the three games against Ohio State.
Iowa will try to win its final Big Ten home series when the teams meet on Saturday, with the first pitch slated for 11:05 a.m. at Banks Field. The starting time has been moved up three hours due to the threat of adverse weather.
Hawkeyesports.com contributed to this report
𝗪𝗲𝗹𝗰𝗼𝗺𝗲 𝘁𝗼 𝗙𝗿𝗶𝗱𝗮𝘆 𝗡𝗶𝗴𝗵𝘁, 𝗠𝗮𝗿𝗰𝘂𝘀 𝗠𝗼𝗿𝗴𝗮𝗻 🔥@Marcus_Morgan20 x #Hawkeyes pic.twitter.com/d57KFLBZzV

— Iowa Baseball (@UIBaseball) May 13, 2023