By Pat Harty
IOWA CITY, Iowa – Veteran recruiting analyst Tom Lemming has a message for Iowa offensive line coach George Barnett:
"He's doing an excellent job in Chicago," Lemming said of Barnett. "So, he's got to get credit because a lot of people wanted those guys."
Those guys to whom Lemming was referring are 2024 offensive linemen Will Nolan, Josh Janowski and Bodey McCaslin.
All three are from the Chicago area and have committed to the Iowa football team.
Barnett, who is entering his third season as the Iowa offensive line coach, was instrumental in landing all three, but he also had help from his fellow assistant coaches, namely offensive coordinator Brian Ferentz and assistant defensive coordinator/linebacker coach Seth Wallace.
"Nolan, I think, should be an All-American," Lemming said. "He's really good when you watch him, good athlete. All of them, Jankowsi is a big powerhouse of a guard or center.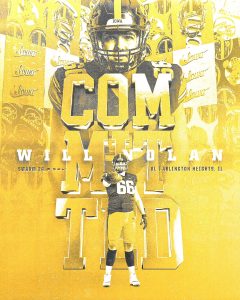 "They're all very good. They got three of the top four top offensive linemen and Chicago is loaded. I know everyone is talking about how good it is this year, and next year."
Lemming thinks Nolan, a 6-foot-6, 275-pound offensive tackle from Arlington Heights, is at the same level as 6-7, 300-pound offensive lineman Marques Easley, who is from Kankakee, Illinois.
Easley, as a four-star recruit, is ranked higher than Nolan, and Easley also has scholarship offers from some of the top programs in the country.
But when Lemming watches them both on tape, he sees two players with similar talent and potential.
"When you watch him (Nolan) technique wise and everything else, Nolan is just as good as he is," Lemming said.
Lemming has worked as a recruiting analyst since the late 1970s and he lives in the Chicago area.
And though he covers the entire nation, and drives all over the country to do it, Lemming's home is Chicago, and he knows the recruiting landscape like the back of his hand.
He had high praise for Kirk Ferentz for making the Chicago area a recruiting priority.
Ferentz has recruited Chicago, and the surrounding suburbs, very aggressively throughout his time as the Iowa head coach dating back to 1999.
It makes sense why he would, considering all the talent that comes from the Chicago area on a consistent basis, and how close Chicago is to the Iowa campus.
Iowa also has a lot to offer with 19 Hawkeye offensive linemen having been selected in the NFL draft under Kirk Ferentz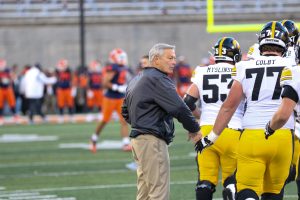 "You could win by coming in here and Iowa is one of the better schools, really," Lemming said. "They get good players out of Chicago."
Hayden Fry, who preceded Ferentz as the Iowa head coach, also made Chicago a recruiting priority.
Ferentz coached the Iowa offensive line under Fry from 1981-89, so Ferentz saw how beneficial recruiting Chicago could be.
"If you have similar connections and you take the time to go after the guys, you're going to wind up with a lot of good ball players, and Iowa has always done that from Chicago since Kirk got there," Lemming said. "I thought Hayden was good, but not as good as Kirk when it came to recruiting Chicago."
Iowa currently has four offensive linemen committed to its 2024 recruiting class, the fourth being Cody Fox from East Buchanan High School.
Iowa's 2024 class has 11 players committed overall, including Jacksonville, Florida quarterback James Resar, who in addition to being a top quarterback recruit, is also a star sprinter in track where he has been clocked at 10.67 seconds in the 100-meter dash.
Lemming met Resar in person this past September during a recruiting trip to the state of Florida.
"I like him," Lemming said of the 6-4, 204-pound Resar. "He's a good athlete, solidly built, good arm."
Iowa 2024 commitments
Will Nolan, 6-6, 275, offensive lineman, Arlington Heights, Illinois
Bodey McCaslin, 6-5, 270, offensive lineman, St. Charles, Illinois
Brevin Doll, 6-0, 185, running back, Ade-DeSoto
Xavier Williams, 6-0, 225, running back St. John, Indiana
Drew Campbell, 6-4, 225, defensive end, Cedar Falls
Cody Fox, 6-5, 270, offensive line, Winthrop (East Buchanan)
Derek Weisskopf, 6-3, 205, linebacker, Williamsburg
Cam Buffington, 6-3, 200, linebacker, Winfield-Mt. Union
Preston Ries, 6-2, 195, linebacker, Monticello
James Resar, 6-4, 204, quarterback, Jacksonville, Florida
Josh Janowski, 6-2, 275, offensive lineman, Tinley Park, Illinois