By Pat Harty
IOWA CITY, Iowa – Part of being a fan is knowing as much as you can about the teams for whom you cheer.
This 15-question quiz will test your knowledge about Hawkeye sports history and trivia, as long as you don't cheat by using google or Iowa media guides.
The answers are listed below the 15 questions, but see how many you can answer correctly before looking at the answers.
Some of the questions are more difficult than others, and some you might consider easy.
So, test your knowledge and have fun with it.
Match the first name of these four former Iowa student-athletes with their last name.
1. Candy
2.  David
3. Tullio
4. Shanty
A. DeProspero
B. Burks
C. LaPrince
D. DellaVedova
2. Which one of these former Iowa defensive backs is not from Texas.
A. Damien Robinson
B. Merton Hanks
C. Eddie Polly
D. Keaton Smiley
3. Who was the first Iowa player to rush for at least 1,000 yards in a season. And in what season did he achieve that milestone?
4. Which one of these former Iowa offensive linemen never made first-team All-Big Ten?
A. Mike Jones
B. Dace Richardson
C. Jordan Walsh
D. Marshal Yanda
5. Which one of these former Iowa receivers didn't lead the team in receiving yards for three consecutive seasons?
A. Derrell Johnson-Koulianos
B. Marvin McNutt
C. Tim Dwight
D. Jim Gibbons
6. Since 1943, only four Iowa players have gained at least 1,000 receiving yards in a season. Name the four players and the season in which they achieved that milestone.
7. Since 1933, only one player has led Iowa in rushing in four consecutive seasons. Name that player.
8. Match the former Iowa men's basketball player with his hometown.
Chad Calabria
2.Reggie Evans
3. Fred Brown
4. William Mayfield
A. Detroit
B. Milwaukee
C. Pensacola, Florida
D. Aliquippa, Pennsylvania
9. Match the current Iowa women's basketball player with her hometown.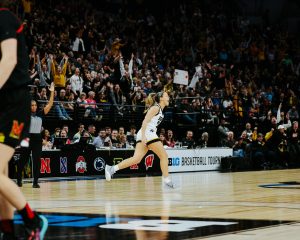 Kate Martin
2. Gabbie Marshall
3. Molly Davis
4. Kylie Feuerbach
A. Cincinnati, Ohio
B. Edwardsville, Illinois
C. Sycamore, Illinois
D. Midland, Michigan
10. Since 1980, a tight end has led Iowa in receiving yards for a season five times, including Sam LaPorta in each of the past two seasons. Name the other three tight ends to do it and the season in which they did it.
11. Which one of these four former Iowa football players scored at least one touchdown in the 1986 Rose Bowl and the 1986 and 1987 Holiday Bowls?
A. Marv Cook
B. David Hudson
C. Quinn Early
D. Mike Flagg
12. Former Iowa defensive lineman Eppy Epenesa transferred to Iowa in the mid-1990s from which of the following four schools?
A. Morningside
B. Drake
C. Iowa Wesleyan
D. Ellsworth Community College
13.  Which of these four Hawkeye milestone moments didn't happen during the 1972 calendar year?
A. Dan Gable is hired as an Iowa assistant wrestling coach under Gary Kurdelmeier.
B. Levi Mitchell rushes for 107 yards in a 34-3 loss at Michigan State to become Iowa's all-time leading rusher at the time with 1,710 career rushing yards.
C. Iowa baseball advances to the College World Series
D. Andre Jackson sets an Iowa single-season record with 171 tackles.
14. Match the Iowa football coach with the team he defeated for his first win as the head Hawk.
Hayden Fry
2. Forest Evashevski
3. Kirk Ferentz
4. Frank Lauterbur
A. Wisconsin
B. Iowa State
C. Northern Illinois
D. Ohio State
15. Name the four teams in order that the Iowa men's basketball team defeated in 1980 to reach the NCAA Final Four.
Answers
1-C, 2-A, 3-D, 4-B
2. C.) Eddie Polly was from Oklahoma City, Oklahoma.
3. Dennis Mosley rushed for 1,267 yards in 1979, Hayden Fry's first season as head coach.
4. D.) Marshal Yanda played two seasons for Iowa in 2005 and 2006 and made second-team All-Big Ten in 2006.
5. B.) Marvin McNutt led Iowa in receiving in 2010 and 2011.
6. Keith Chappelle, 1980, (1,037); Quinn Early, 1987, (1,004); Kevin Kasper, 2000, (1,010); Marvin McNutt, 2011, (1,315).
7. Ladell Betts led Iowa in rushing in the 1998, 1999, 2000 and 2001 seasons. Betts is now the Iowa running backs coach.
8. 1-D, 2-C, 3-B, 4-A
9. 1-B, 2-A, 3-D, 4-C
10. Marv Cook, 1988, (767); Alan Cross, 1992, (640); T.J. Hockenson, 2018, (760).
11. B.) David Hudson scored on a 1-yard run in each of the three bowl games in 1986 and 1987.
12. C.) Iowa Wesleyan
13. B.) Iowa's 34-3 loss at Michigan State in which Levi Mitchell became the program's all-time leading rusher happened on Oct. 23, 1971.
14. 1-B, 2-D, 3-C, 4-A
15. Virginia Commonwealth, North Carolina State, Syracuse, Georgetown.