By Pat Harty
IOWA CITY, Iowa – Chuck Long doesn't hold back when talking about Iowa offensive coordinator Brian Ferentz and his sputtering offense.
Long, a former Iowa All-America quarterback, and the 1985 Heisman Trophy runner-up, disagreed with the decision to make Brian Ferentz the quarterback coach, and Long also didn't like hearing Brian Ferentz say in a spring press conference in April that there would be no significant changes made on offense despite the addition of former Michigan quarterback Cade McNamara.
"We're going to do the same things we do, and we're going to do them better," Brian Ferentz said when asked what the offense has to do differently to avoid struggling the way it did last season.
Long was disappointed, and discouraged, to hear Brian Ferentz say that about an offense that finished last season ranked 130th out of 131 FBS teams in total offense, and that only produced seven touchdown passes.
"I think getting Cade was great," Long said Friday on the Hawk Fanatic radio show and podcast. "But not changing your offense at all is not great.
"And that needs to happen."
There was heavy speculation when Brian Ferentz met with the media in April that the offense would change with McNamra now behind center.
"Have you ever heard that talk from me?" Brian Ferentz said in April. "I'm going to approach my job the same way I've approached it for the last eleven seasons. My job is to help us win football games. We have a tried-and-true method. We know how we win. We know who we are. My job is to make sure that we play to those strengths, and then on Saturday, we're winning games, not losing them."
Chuck Long, in addition to being arguably the best quarterback in Hawkeye history, also has years of experience in coaching quarterbacks.
He just finished helping the Arlington Renegades win the XFL championship this past Saturday in San Antonio, Texas as an offensive assistant coach under former Hawkeye Bob Stoops.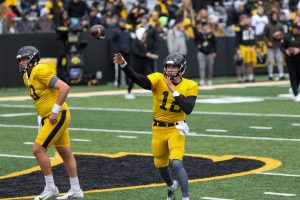 Former Iowa tight end Jonathan Hayes is also on the Arlington coaching staff, and he called the plays on offense.
Arlington struggled for parts of the season and was just 4-6 at one point.
However, the switch to Luis Perez at quarterback helped to jumpstart the offense.
"A quarterback can make you better because it proved to us this year," Long said. "Our quarterback, Luis Perez, made the difference in our football team. However, I don't like hearing the fact the offense won't change.
"One thing we did along the way, we changed our offense. From the start of the season to the end of the season, we had not a much different offense. We still kept our base packages, but we tweaked it in a way like the RPO (run-pass option) game for example. We really added the RPO to our run game and it really opened up our offense. And we took some more shots down the field late, and we played to his strengths as well, and it just opened-up our offense."
Long would like Brian Ferentz to take a similar approach with the Iowa offense.
"We tweaked and we added some more things, and that's where I think Brian needs to grow," Long said. "I think there's some stubbornness that he needs to get over because you have to be able to change with the times, and we certainly did that this year.
"And the beauty of Jonathan Hayes is he comes from the Brian Ferentz role of smash-mouth tight end play because that's where Jonathan grew up and that's how we started the season. Well, he figured out quickly, hey, we've only got ten games here, we've got to do something to open up our offense more. So, we went from more reduced offensive sets to spreading guys out and putting guys in space and that really helped us.
"And that's where I really think Brian needs to grow as a coordinator."
The Iowa offense became a national laughingstock and a punchline last season as it continued to produce at a historically low level.
Iowa still won eight games, but some will say in spite of the offense.
Fans directed most of their anger and frustration at Brian Ferentz and at Spencer Petras, who started at quarterback for Iowa for most of the past three seasons.
Petras still is on the Iowa roster, but the starting job belongs to McNamara.
Former Michigan tight end Erick All also has transferred to Iowa, while former Ohio State receiver Kaleb Brown has committed to Iowa.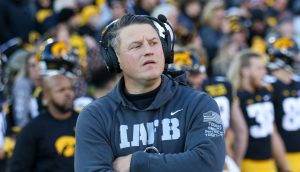 There is now at least hope for the Iowa offense because of the new additions, but Long feels strongly that the problems on offense go far beyond personnel.
Long thinks Brian Ferentz has to be willing to evolve and realize that the current strategy on offense isn't working.
"He's had the same system and it's the old square peg in round hole theory," Long said of Brian Ferentz, who is the son of Iowa head coach Kirk Ferentz. "You keep trying and trying and it just doesn't work. So, I think for his growth, I didn't like him saying that. I wish he would have said something along the lines, 'hey, we're going to see what our quarterback can do best and we're going to cater to that. We're looking to do things with our offense.' And something like that I think would have ignited and excited the fan base even that much more than on top of getting Cade McNamara.
"So, I think that's where he's got to just say, 'hey, I've got to look at what we're doing here and do something different and add something different in order to progress. Because otherwise you're going to have a quarterback that'll come in and he'll start getting frustrated with the situation if you don't allow yourself to play to his strengths or to add the things that he knows because otherwise you're going to get a frustrated quarterback and that's not good either."
Long was an assistant coach for Iowa from 1995 to 1999, his last year spent under Kirk Ferentz, who was hired to replace Hayden Fry as head coach shortly after the 1998 season.
Kirk Ferentz seems pretty set in his ways about how football should be played on offense, so, it's easy to assume that Brian Ferentz could only do so much in changing the offense before his father steps in.
Long doesn't see it that way, however.
"I know Kirk has a lot to do with it. I knew that in 1999 when I was with them.," Long said. "But not overly. I think he's not the micro-manager that some people think he is."