By Pat Harty
IOWA CITY, Iowa – Marcus Morgan was a multi-sport star at Iowa City West High school.
He competed in sports year around in football where he was a standout quarterback, basketball where he was a talented shooting guard, track and field where he excelled in the high jump, and baseball where he dominated as a pitcher.
Morgan probably could've played any of those four sports in college, but he ultimately chose to play baseball for the hometown Iowa Hawkeyes, whose baseball facility is barely one mile from the field on which Morgan competed in high school.
He came to Iowa as a highly decorated right-handed pitcher with a late-breaking slider that baffled high school batters, and with high expectations.
But then something happened on the way to instant stardom as a Hawkeye.
Morgan showed flashes early in his freshman season, but then he hit a stretch where he struggled to throw strikes and struggled with handling adversity on the mound.
He soon fell out of the rotation and pitched very little down the stretch last season.
It was the first time in Morgan's life that he had struggled in any sport, so he had to rely on his perseverance and patience to help overcome this new obstacle.
He had to rely on the people around him, his teammates and coaches, his support staff and his family and friends to fight through the adversity.
And he had to rely on himself to overcome the mental hump that came from struggling on the mound.
And now a year later it's fair to say that Morgan, with help from a lot of people, has bounced back from adversity in impressive fashion.
He has gone from barely figuring in Iowa's pitching plans late last season to now being the Friday starter, which is the college version of the ace of the staff.
Morgan will be on the mound when No. 3 seed Iowa faces sixth-seed Michigan in the first round of the Big Ten Tournament on Tuesday at 10 a.m. in Omaha, Nebraska.
He met with the media Monday morning and talked about the good times, and about the bad times from last season, saying it was the hardest thing he had ever dealt with in sports.
"Obviously, there's been ups and downs and you face adversity," Morgan said. "And I've got a lot of good people behind me that have been pulling for me and helping me in that way.
"But you could say definitely the hardest coming in and not having that success right away, it makes you take a step back and re-evaluate and just keep attacking the same way as before."
A strong case could be made for Morgan being named the Big Ten Pitcher of the Year as he leads the conference in league play in earned-run average (2.67), hits allowed (16), runs allowed (10), batting average against (.150) and extra base hits allowed (4).
Morgan was promoted to the Friday starter role late in the season after fellow sophomore Brody Brecht hit a rough stretch in which he struggled to throw strikes.
Morgan has since seized the opportunity with three quality starts as the Friday starter.
He didn't allow a hit over six innings and had six strikeouts in a win over Michigan State.
"It's never been about stuff, and it's never been about competing," Iowa coach Rick Heller said of Morgan's previous struggles as a freshman. "It's been about what do I do when things don't go well? How do I get back on track?
"The thing that Marcus has really done a great job of lately is he hasn't let anything bother him. Just watching him and how in control of himself he is, that's the thing that makes me feel really good, and really excited about, not only for the rest of this this season, but next season.
"And we can throw Brody into that mix as well. I think it's kind of the exact same story."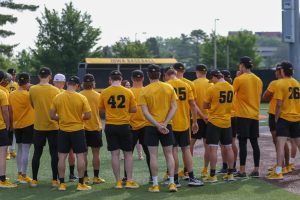 Morgan only threw four innings in his most recent start at Northwestern last Thursday and allowed just one hit.
Heller had the luxury of replacing Morgan after just four innings against Northwestern to rest his arm since Iowa was well on its way to a 15-3 victory.
Brecht then followed with a dominant performance as the No. 3 starter against Northwestern this past Saturday, allowing just one hit and striking out nine over six innings.
Brecht was named the Big Ten Pitcher of the Week on Monday.
"Seeing both of those guys this weekend at Northwestern go out and just being real awesome in control of themselves, that was a great sign heading into the tournament," Heller said.
Morgan and Heller both credited the people around Morgan multiple times as they talked with the media about his success this season.
From Iowa pitching coach Sean McGrath to sports psychologist Aubrette Kinne to his teammates, they've all played a key role in helping Morgan adjust to pitching in college.
"It's a lot different. It was a big jump," Morgan said of coming from high school. "And it took a lot of people helping me out and showing me the way.
"I think a lot of my confidence comes from my defense behind me. They make plays for me day in and day out. So, I think that's a big part as well."
In addition to struggling on the mound last season, Morgan also had to adjust to having a new pitching coach when Sean McGrath replaced Robin Lund, who resigned last November to take a job with the Detroit Tigers.
"Marcus has had to deal with a tough transition," Heller said. "He went from one pitching coach to another pitching coach in November, which is a completely different story, a really good story in how this team has adapted because that's not easy. And Sean has done an amazing job, and it's still not easy.
"I really think that Sean did a great job with Marcus once he got here. They've really hit it off and Sean has been super beneficial to Marcus on mental game training. And then our sports psyc person (Aubrette) Kinne has done a great job with our team. She's a big part of our team. She addressed the team at least once or twice a week and meets with guys all the time."
Despite his struggles last season, Morgan said he never stopped believing in his ability.
"You always have that deep down belief you know you can do it," Morgan said. "I've always thought that. I've never lost the faith or anything like that. I know my capabilities and it's just a matter of doing that on a day-to-day basis."
Morgan, who is the son of former Iowa basketball player Michael Morgan, has come to appreciate even more just how tough baseball is from a mental standpoint.
Morgan plays a game in which everybody struggles at some point.
"It's way different," Morgan said of baseball compared to the other sports he has played. "And that's part of it. I've got to remind myself that it's baseball and you can't do everything by yourself. There's going to be good days and bad days and you've got to be able to pick yourself back up and go back to work the next day."
Iowa enters the conference tournament with a 39-12 overall record and appears to be in a good position to make the NCAA Tournament for the first time since 2017.
But Heller still isn't taking any chances.
"In all seriousness we're not taking anything for granted, that's for sure," said Heller, whose team fell short of making the NCAA Tournament last season despite finishing 17-7 in conference play and winning three games in the Big Ten Tournament. "I would tell you after going through this as many years as I have that we should be a lock right now even if we don't win a game in the (Big Ten) tournament based on what we've done and the body of work, and all the things that have happened this season.
"But why not try to control what you can control is what we've talked about with this team since the get go."
Iowa has been without Keaton Anthony, one of its top hitters, for the past 10 games as an investigation into sports wagering is conducted.
Anthony and Iowa teammates Jacob Henderson, Ben Tallman and Gehrig Christensen are believed to to be among 26 UI student-athletes and 15 Iowa State student-athletes that are linked to the investigation.
Heller was asked Monday if he thinks there is a chance that the four players could be available for Tuesday's game.
All four players have been practicing with the team.
"I'm hoping so," he said. "I'm being told there's a chance that we could get some sort of answer by today, tommorrow or Wednesday. Hopefully, sooner then later. But I really don't have any information as to what would make that happen.
"I know that our adminisration and our people are pushing as hard as they can."