On a day when Marcus Morgan didn't have his best stuff on the mound, the Iowa baseball team showed what it takes to prevail in a team sport.
Morgan struggled with his control as he grinded through four innings, but he also kept the score close by allowing just one run before being replaced with no outs in the top of the fifth inning.
His teammates would do the rest as No. 3 seed Iowa scored six runs in the bottom of the fifth and then cruised to 13-3 victory over sixth-seed Michigan in the first round of the Big Ten Tournament on Tuesday in Omaha, Nebraska.
The game was stopped in the bottom of the eighth by the 10-run rule.
Morgan walked the first two batters in the fifth and was replaced by Jack Whitlock, who then walked the first batter he faced to load the bases with the score even at 1-1.
Whitlock then worked out of the jam by striking out the side as all three batters struckout swinging.
The Iowa offense then delivered big time in the bottom of the fifth, scoring six runs on a two-run single by Sam Hojnar , which came off 2023 Big Ten Pitcher of the Year Connor O'Hallorn, followed by a grand slam home run by Brayden Frazier with two outs.
It was Iowa's ninth grand slam of the season, and Frazier's third home run of the season, giving the Hawkeyes a 7-1 lead.
That would prove to be more than enough runs as Iowa improved to 40-12 overall, while also strengthening its NCAA Tournament chances.
"I just know that I'm doing for all the guys behind me," Frazier said on the Big Ten Network post-game interview from the Iowa dugout. "It got us going with two outs. I just got lucky and put a good swing on it."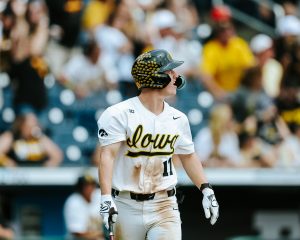 Sam Petersen then belted his 10th home run of the season in the seventh, giving Iowa an 11-2 lead.
Iowa and Michigan didn't play during the regular season and their last meeting came in the semifinals of the 2022 Big Ten Tournament in which the Wolverines prevailed 13-1 in seven innings and then would go on to win the title.
Iowa avenged that loss by winning by the 10-run rule on Tuesday.
Some believe that Iowa already has accomplished enough to make the NCAA Tournament for the first time since 2017, but Iowa head coach Rick Heller told the media on Monday that he wasn't taking anything for granted.
His team then played on Tuesday as if it weren't taking anything for granted.
Morgan avoided allowing a big inning despite falling behind multiple batters, and that helped to set the stage for the decisive fifth inning when Iowa broke the game open.
The Iowa bullpen did its part, allowing just two runs over the final five innings, while Iowa had no errors on defense.
Iowa now has a day off to prepare for Thursday's game, which will be played against the winner of the Tuesday's matchup between No. 2 seed Indiana and seventh-seed Illinois.
Iowa played its 11th straight game without Keaton Anthony and improved to 9-2 in those games despite being without one of its best hitters.
Anthony and teammates Jacob Henderson, Ben Tallman and Gehrig Christensen are reportedly linked to an investigation into sports wagering that is centered around 26 UI student-athletes and 15 Iowa State student-athletes.
Rick Heller was hoping that a decision would be made before Tuesday's game, but that obviously didn't happen.
Iowa is without one of its top hitters in Anthony, one of its top relief pitchers in Henderson and two of its catchers in Tallman and Christensen.
And yet, the team continues to perform at a high level in all three phases and has won 15 of its last 18 games.
"We've been through this all year, this offense, we don't ever quit," Frazier said.
Iowa is making its eighth consecutive appearance in the Big Ten Tournament under Rick Heller, who is in his 10th season as head coach.
Iowa is trying to win the Big Ten Tournament for the first time since 2017.
• Frazier's first grand slam
• 1st grand slam in B1G tourney since 2017
• 1st grand slam in B1G tourney history at Charles Schwab Field#B1Gstats x @UIBaseball https://t.co/l1EsnSsJ1Q

— Iowa On BTN (@IowaOnBTN) May 23, 2023