By Pat Harty
IOWA CITY, Iowa – In late February, I sent Iowa baseball coach Rick Heller a text message saying that I had a good feeling about his 2023 team.
Iowa had just won its first three games of the season against Quinnipiac and Indiana State by a combined score of 23-3, so there was reason to be optimistic, even for an old cynic like me.
Heller thanked me in his response, and he said there were a lot of positives to take from the opening weekend of the season.
But he was also ready to move on and quick to remind me that there were bigger challenges coming in the next week in Round Rock, Texas where Iowa would face Sam Houston State, top-ranked Louisiana State and Kansas State in that order.
The Hawkeyes struggled against Sam Houston State, losing 6-0, but they rebounded to defeat LSU and Kansas State by scores of 12-4 and 6-5, respectively.
Iowa would go on to win 19 of its first 22 games of the season and has continued to win on a regular basis despite facing some tough and unusual distractions.
The Hawkeyes are 40-13 overall heading into Thursday's game against No. 2 seed Indiana in the Big Ten Tournament in Omaha, Nebraska, and they're also 9-2 since four players, including top hitter Keaton Anthony, were withheld from games as part of an investigation into sports wagering.
And while Heller is hopeful that the four players, which also includes pitcher Jacob Henderson and catchers Ben Tallman and Gehrig Christensen, will be cleared to play this season, he and the players must prepare as if they won't be available because that's really all they can do under the circumstances.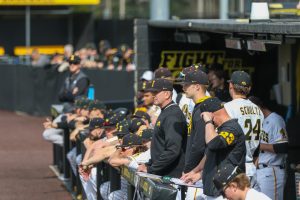 The way in which Iowa has rallied in the face of adversity is impressive because it would've been so easy to unravel.
Iowa for a long stretch has been without arguably its best hitter in Anthony, a top reliever in Henderson and two of its top three catchers in Tallman and Christensen, and yet, the level of performance hasn't dropped.
That speaks volumes about the players and coaches, and about the culture that Heller has built over the past decade as head coach.
Iowa refers to it as Hellerball, and while there is no exact definition of what that means, perhaps the best way to describe Hellerball is living in the moment, having mental toughness, trusting the process, not taking short cuts, always putting the team first, being fundamentally sound, and doing your job on a consistent basis.
The Iowa players often refer to the culture under Heller when talking about the reasons for their success.
That culture has followed Heller throughout his climb up the coaching ladder, and it's no coincidence that Heller has been successful at each of his four head coaching jobs, starting with his alma mater Upper Iowa.
He also coached at Northern Iowa where his teams won 270 games, including the 2001 Missouri Valley Conference championship and an NCAA Regional berth.
He then moved on to Indiana State where he led the Sycamores to their first outright Missouri Valley Conference championship in school history and back to the NCAA Tournament for the first time since 1995 during the record-setting 2012 season.
Heller spent four seasons at Indiana State before accepting Gary Barta's challenge of rebuilding the Iowa program shortly after the 2013 season.
Some will say that Barta should've offered Heller the job much sooner than he did, and it's hard to argue with that based on what Heller has accomplished as the head Hawk.
But in this case, better late than never.
Iowa baseball has gone from being irrelevant before Heller took over to being one of the most consistent programs in the Big Ten.
Iowa is playing in the Big Ten Tournament for the eighth time under Heller and is also poised to make the NCAA Tournament for the third time under his watch.
The home attendance has risen significantly under Heller compared to before he was hired, and that's due mostly to just winning games.
The current team is solid in all three phases.
It hits for average, and with power, has solid pitching, both starters and relievers, and excels on defense.
Heller and first-year pitching coach Sean McGrath have had to be creative this season in how they handle the pitching staff.
Sophomore pitchers Brody Brecht and Marcus Morgan both are immensely talented, but they also have struggled to throw strikes at times, forcing Heller to change his rotation.
Morgan replaced Brecht as the Friday starter late in the season, and Morgan has pitched well for the most part in that role.
Morgan struggled with his control against Michigan in the first round of the Big Ten Tournament, but he also avoided a big inning and left the game in the fifth inning with the score even at 1-1.
Iowa would go on to prevail 13-3 in eight innings.
"Really proud of our guys and how they fought hard all day long," Heller said after Tuesday's victory. "The first five innings we hit some balls hard but didn't get rewarded. We didn't have some things go our way, but we didn't play the victim and found a way to get it done. We kept to our plan, and finally broke through in the fifth."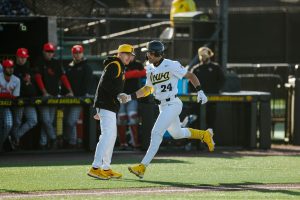 Iowa had a big hole to fill at first base with Peyton Williams having moved on to professional baseball, and Heller met that challenge by signing Brennen Dorighi as a graduate transfer from Wofford.
Dorighi has been one of Iowa's best players this season, and he was rewarded for his play by making second-team All-Big Ten.
"I could see and sense the culture right away," Dorighi said at media day in February. "I wanted to be a part of it. I was impressed with the trust between the players and coaches. They were all on the same page and committed to winning as a team."
Part of being a head coach is trusting your instincts and gut feelings and trusting your assistant coaches.
When Heller says we stuck to our plan, that's the trust factor because the plan is part of the culture.
Heller is similar to both Kirk Ferentz and Fran McCaffery in how all three live in the moment and they don't get too high or too low during the peaks and valleys of a season.
Baseball is a game of failure, considering that a .300 hitter fails seven out of every 10 times at the plate, and it takes mental toughness and resolve to handle all the disappointment.
Heller has surrounded himself with a top-notch support staff that includes sports psychologist Aubrette Kinne and a staff of student managers that help with analytics and all sorts of little details that are part of winning.
Players have come and gone, but the culture and the process have remained the same.
Assistant coach Marty Sutherland has been with Heller since the beginning at Iowa, and together they bring continuity and stability.
The success of the Iowa baseball team under Rick Heller has certainly been a group effort and Heller would be the first to say that.
But it all starts with the person in charge.