By Pat Harty
IOWA CITY, Iowa – For just the third time since 1991, the University of Iowa is searching for a new athletic director.
Gary Barta's decision to retire after 17 years as the head Hawk didn't really come as a surprise, at least to me.
I started thinking this day would come sooner than later shortly after the Iowa state appeals board in early March approved a settlement for more than $4 million in a lawsuit brought by former Iowa football players who alleged racial discrimination in coach Kirk Ferentz's Iowa football program.
And now less than three months later, Barta has made it official as he will retire on Aug. 1.
The timing could just be a coincidence, but it seems odd that Barta would step down at the age of 59, and with so much happening in college athletics, from the growth of name, image and likeness to both USC and UCLA set to join the Big Ten Conference in 2024.
I'm about one month older than Barta, so perhaps I'm in denial about 59 being an age to retire.
Barta obviously doesn't need to work anymore from a financial standpoint, assuming he has saved some of the money he has made along the way.
He explained his decision in a statement that was released Friday morning.

"It has been an absolute privilege and honor to serve in this role the past 17 years," Barta said. "I'm humbled to have worked beside, and on behalf of, so many student-athletes, coaches, staff, donors, fans, and community leaders over the past two decades. The success enjoyed by our student-athletes and coaches during my entire tenure, and especially the past several years, has been impressive and record breaking on so many levels.
"My wife, Connie, and I were blessed to be able to raise our two kids (Luke and Madi) in this wonderful community. The four of us will be Hawkeyes for life.
"I've made incredible friendships within the athletic department, across campus, throughout the greater Iowa City community and across the state.
"This decision didn't come suddenly, nor did it come without significant thought, discussion and prayer. As I've reflected, I came to the conclusion there's never a good time to step away, because there's always more to be done. That said, I'm confident this is the right time for me and for my family."
The only part of Barta's statement that could be disputed is the part where he said there's never a good time to step away.
Because this is a good time for Barta to step away.
It is time for Iowa to have a change in leadership, and if Iowa and Barta want to describe it as him retiring, then so be it, even though it seems more as if he's stepping down.
It seems hard to believe that Barta, at the age of 59, would stay retired for the rest of his life.
His contract was set to expire on June 30, 2024 but Barta chose to step away 11 months earlier, or he agreed to step away.
The timing is right for several reasons, including that more and more Iowa fans seem to have lost confidence and faith in Barta's ability to do his job effectively.
The football settlement was the latest in a growing list of embarrassing and costly settlements that have occurred under Barta's watch.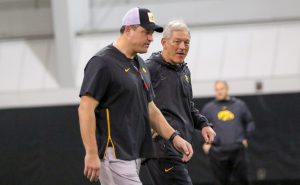 Iowa's decision to eliminate men's swimming and diving and men's gymnastics in response to the financial shortfalls caused by the global pandemic also didn't sit well with some fans who blamed Barta for acting impulsively.
Fans were also upset after learning that Barta refused to give the Iowa Swarm Collective contact information for Iowa football season ticket holders.
Some fans even want to blame Barta for the current investigation into sports wagering in which 26 UI student-athletes and 15 Iowa State students athletes are the focus of the investigation.
That would seem like piling on, though, because for one reason, Iowa makes it abundantly clear to its student-athletes that sports gambling is prohibited, and that there are consequences for those who violate the rule.
It isn't Barta's fault that some student-athletes decided to violate a rule that is clearly stated.
The more you look at Barta's legacy, the more divided it becomes because it seems that for every positive there is a negative to counter it.
Some of the good that has occurred under Barta's watch includes the hiring of Rick Heller as the Iowa baseball coach, the hiring of Joey Woody as the Director of Track and Field, and the hiring of Fran McCaffery as the men's basketball coach.
But there have also been hires that didn't work, most notably Barta's decision to hire Todd Lickliter as men's basketball coach in 2007, and Barta's decision to hire Marla Looper as the Iowa softball coach after Gayle Blevins had stepped down under peculiar circumstances.
Lickliter was fired after three losing seasons, and after multiple players had transferred out of the program.
Barta didn't have a choice but to fire Lickliter, or risk having the men's basketball program collapse.
And while Fran McCaffery hasn't built Iowa into a national power, the program is respectable again and close to where former head coach Tom Davis had the men's basketball program when he was forced out in 1999 by Barta's predecessor, Bob Bowlsby.
The football settlement came as part of the fallout from when multiple former Iowa players in the summer of 2020 accused the Iowa football program of racial discrimination and bullying.
Former Iowa center James Daniels took the story public when he voiced his frustration about race relations on Twitter in the summer of 2020.
Daniels had previously shared his feelings with Barta privately, but then Daniels didn't feel that enough was being done to address the racial issues, so he ultimately went public.
It's hard to believe that I've covered the Iowa beat for over three decades and dealt mostly with just two athletic directors in Bowlsby and Barta.
My first week on the job at the Iowa City Press-Citizen in June 1991 was also Bump Elliott's last week as the Iowa Athletic Director.
Bump had been on the job since 1970.
So, over the past 53 years, Iowa has only had three athletic directors, not including Christine Grant, who used to be the women's athletic director before the two programs merged.
The job obviously has a lot to offer based on how long each of the three athletic directors stayed on the job.
Bowlsby resigned in 2006 to become the athletic director at Stanford.
Just like with Barta now, the timing seemed right for Bowlsby to move on.
The Pierre Pierce sexual assault scandal still was a huge controversy at the time, and Bowlsby's decision to hire Steve Alford as the Iowa men's basketball coach in 1999 had produced more negatives than positives.
From a personal standpoint, I have enjoyed working with Barta more than with Bowlsby simply because Barta is more friendly and personable, whereas Bowlsby came off as being smug and aloof, at least with me.
It was no secret that I didn't like or respect Steve Alford and that caused irreparable damage to my working relationship with Bowlsby because it became personal.
That never has been the case with Barta even though I've written some less-than-flattering articles about his job performance.
I've accused Barta of coddling Kirk Ferentz, and of allowing Kirk Ferentz to promote his son, Brian Ferentz, to offensive coordinator when Brian didn't seem qualified for the job.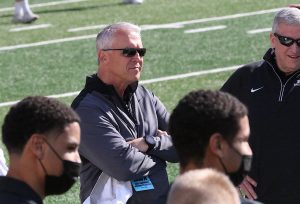 But with Barta, it never has been personal.
He never has complained about anything I've written, nor does he hold grudges.
I actually like Gary Barta as a person, but still feel this is the right time to make a change.
And if he made this decision on his own, and without any pressure to step down, then I salute Gary Barta for doing the right thing at the right time.
I just find it hard to believe in the wake of the football settlement that Barta is retiring from a job that pays him approximately $1 million annually rather than resigning as part of a mutual separation.
As for picking Barta's successor, Iowa deputy athletic director Beth Goetz would appear to be a solid candidate, much to the dismay of some fans who apparently believe that promoting her would be a case of Iowa settling.
I don't agree with that opinion, but I'm also not endorsing Goetz, or anybody, for the job.
Kansas State Athletic Director Gene Taylor could also emerge as a candidate since he previously worked under Barta at Iowa and is highly respected.
The person who replaces Barta will likely hire the next Iowa football coach, so it's important for UI officials to make the right hire.
Iowa will conduct a thorough job search and pick who they feel is the best fit for the job.
To say that Gary Barta was a failure as the Iowa Athletic Director would be unfair and inaccurate.
He accomplished a lot of good things as the head Hawk, and he will leave the athletic department in pretty good shape from a competitive standpoint, and from a fundraising standpoint.
It could be argued that Iowa is in better shape now from a competitive standpoint compared to when Barta was hired.
But there has also been too much self-inflicted controversy and too many costly lawsuits that could've been avoided with better leadership, awareness and vision.
So again, it's time to make a change.