By Pat Harty
With all the hype surrounding Iowa sophomore pitchers Marcus Morgan and Brody Brecht, it's easy to forget about junior Ty Langenberg.
Michigan probably would like to forget about Langenberg after the way in which he silenced the Wolverines' bats in the semifinals of the Big Ten Tournament Saturday morning in Omaha, Nebraska.
Langenberg held Michigan scoreless over seven innings and was the beneficiary of some timely hitting and nifty defensive plays by his teammates as Iowa defeated the Wolverines 5-0 to advance to Sunday's 2 p.m. championship game against No. 1 seed Maryland.
Langenberg allowed just two hits and had nine strikeouts as Iowa improved to 42-13 on the season. The 42 wins is the second most in program history and the most for Iowa in a season since 1981.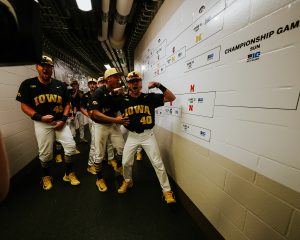 "Coming into this tournament we kind of came together and we talked about it a little bit, we were like, 'hey, we're a special group and we can do this," Langenberg said on the Big Ten Network post-game show. "We've earned this right to be here and to play games after this Big Ten Tournament, too.
"Forty-two wins is kind of a product of having this great team chemistry and this camaradrie and being one big family."
The Hawkeyes also have won 11 of 13 games since four players, including star hitter Keaton Anthony, were withheld from games as an investigation into sports wagering is conducted.
Iowa scored its first run of the game in the bottom of the third when Raider Tello was hit by a pitch with the bases loaded.
Hawkeye shortstop Michael Seegers then scored the second run for Iowa on Kyle Huckstorf's triple to deep centerfield in the sixth.
Michigan had runners on first and second with one out in the seventh when Dylan Stanton hit a hard ground ball that Seegers fielded cleanly on one bounce and then he spun around and turned it into a 6-4-3 double play to squash the threat.
Iowa then broke the game open by scoring three runs in the seventh inning.
The bullpen then took over for Langenberg as Will Christopherson entered the game in the eight inning, and with a 5-0 lead.
Christopherson was coming off a performance against Indiana on Thursday in which he struckout five consecutive batters.
However, he gave up a double to the first Michigan batter he faced on Saturday and then fell behind 3-0 to the second batter before battling back to record a strikeout.
Christopherson then retired the next two batters on fly outs to the outfield to end the frame, leaving Iowa just three outs from advancing to the title game.
Sophomore right-hander Chas Wheatley started on the mound for Iowa in the ninth, but then he hit the first batter he faced with his first pitch and then walked the second batter, giving Michigan runners on first and second with no outs.
Iowa then made a pitching change as reshirt junior Luke Llewellyn replaced Wheatley.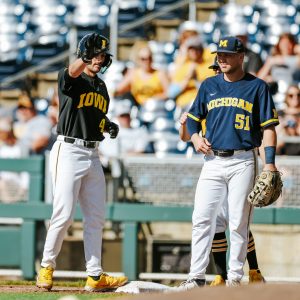 Llewellyn then struckout the side to end the game as Iowa recorded its fifth shutout win of the season.
The Iowa pitchers combined for 13 strikeouts in Saturday's victory.
Iowa has outscored its first three opponents 27-7 in the Big Ten Tournament, and has performed well in all three phases of pitching, hitting and defense.
Iowa defeated Michigan 13-3 in the first round on Tuesday and Indiana 9-4 on Thursday.
"It's the biggest confidence booster as a pitcher to go out there and know that your bats are hot and theey're going to do whatever they can to score runs." Langenberg said. "And obviously, the previous two games were examples of that.
"I came into today and I knew that they were going to do everything they could to score some runs. And if you go out there with that kind of confidence, it means everything to a pitcher.
Langenberg has now thrown 14 2/3 scoreless innings against Michigan.
"Coming into today and considering my past success against them, I could have more confidence," Langenberg said.
Langenberg is technically Iowa's third starter behind Morgan and Brecht, but that was hard to tell on Saturday as the Michigan batters had no answer for Langenberg.
Iowa is now just two wins from tying the school record for most wins in a season at 44, and the 42 wins are the most under head coach Rick Heller.
The fact that Langengberg pitched seven innings also means the Iowa bullpen should be rested and ready for Sunday's championship game.
This will be Iowa's fifth trip to the Big Ten title game, and its first since 2017 when it won the tournament.
Iowa entered Saturday's game with RPI of 31 and is considered a lock to make the NCAA Tournament for the first time since 2017.
A victory in the title game would give Iowa an automatic bid to the NCAA Tournament.
The last time @UIBaseball reached 42 wins in a season (May 5, 1981):

⚾️John Anderson was an assistant coach at Minnesota
⚾️Michael Jordan was a high school senior
⚾️ E.T. was a year and 3 weeks away from debuting
⚾️ Ronald Reagan was President#B1GBaseball pic.twitter.com/rUaMRdPhz6

— Big Ten Baseball (@B1Gbaseball) May 27, 2023