By Pat Harty
IOWA CITY, Iowa – When Brian Ferentz met with the media in April as part of the spring football press conferences, he just wasn't himself.
He seemed deflated and dispirited, which is in stark contrast to his usual outspokenness and bold talk.
As I watched and listened to Brian Ferentz answer questions, I wondered if all the criticism, and the jokes and cheap shots about his performance as the Iowa offensive coordinator, was starting to affect him.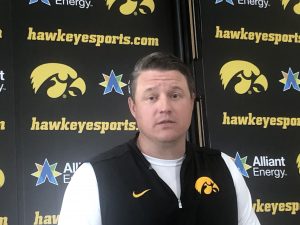 It seemed that he didn't want to be there, and that's just not the Brian Ferentz that we have come to know.
The spark, and gift for gab, just wasn't there, and it's easy to see why considering the circumstances.
The Iowa football team is coming off a 2022 season in which its offense performed at a historically low level, and the offense wasn't much better the season before.
Understandably, fans are frustrated, and Brian Ferentz is at the center of their rage, even more so now that Spencer Petras isn't the starting quarterback.
Some in the media have pushed the narrative that big changes are coming to the Iowa offense, caused largely by the addition of Cade McNamara at quarterback, but Brian Ferentz squashed that narrative at his press conference.
He dismissed the talk of changes and said what his father, Iowa head coach Kirk Ferentz, has often said during tough times in that it's not about making changes on offense, but rather it's about playing better.
"We're going to do the same things we do, and we're going to do them better," Brian Ferentz said in April.
Brian Ferentz also distanced himself from the talk about making changes, saying that he never has promoted that narrative.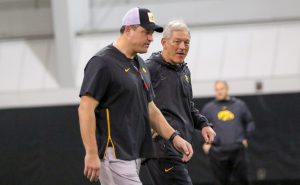 And he's right.
The talk about big changes coming on offense has for some become what they hope is a self-fulfilling prophecy.
But it hasn't come from Brian Ferentz, or from his father.
"Have you ever heard that talk from me?" Brian Ferentz said. "I'm going to approach my job the same way I've approached it for the last eleven seasons. My job is to help us win football games. We have a tried-and-true method. We know how we win. We know who we are. My job is to make sure that we play to those strengths, and then on Saturday, we're winning games, not losing them."
The talk about changes coming on offense gained more momentum when Cade McNamara transferred to Iowa, with the thinking being that Kirk Ferentz must have agreed to at least tweak the offense to get McNamara to commit.
But listening to Brian Ferentz describe it, that isn't the case.
He describes it as business as usual on offense, even with McNamara behind center.
But I'm not so sure about that.
Yes, that's right, the old skeptic that never believes any changes are coming on offense, besides the names of the players, has this funny feeling that Brian Ferentz knows more than he's leading on about making changes.
This isn't to suggest that sweeping changes are coming on offense because Iowa isn't built from a personnel standpoint to make sweeping changes on offense.
I'm talking about more subtle changes, more RPOs and taking more chances downfield, and more plays in which McNamara moves the pocket.
McNamara already has shown what he can accomplish behind arguably the best offensive line in the country, and with a stable of talented running backs and receivers, when he led Michigan to the 2021 Big Ten title, and to the college playoff that season.
His supporting cast at Iowa probably won't match what he had at Michigan, but Iowa has three quality running backs, two reliable tight ends, including Michigan transfer Erick All, and multiple starters returning on the offensive line, along with adding two veteran offensive linemen from the transfer portal.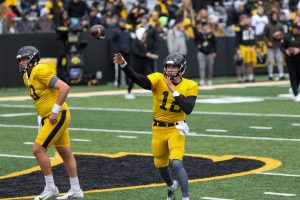 I left the final spring practice on April 22 feeling better than I would have expected about the offense, and still feel that way.
I've actually started to wonder if Brian Ferentz was keeping it close to the vest during his April press conference.
And if so, more power to him.
Brian Ferentz doesn't have to tell the media if they're making changes in strategy and approach because that would also tip off the opponents.
And speaking of the opponents, they're helping to fuel my optimism about the offense perhaps being better than expected, because on paper, Iowa's 2023 schedule has opportunity written all over it.
No disrespect to the 12 opponents on Iowa's 2023 schedule, but other than the Big Ten opener at Penn State on Sept. 23, every game appears very winnable if the offense would just be average.
So, again, I'm not predicting that there will be major changes on offense.
I just have this weird gut feeling that there will be some changes on offense, some brought on just by McNamara's presence, but some also caused by a shift in strategy.
Gary Barta won't be the Iowa athletic director when the 2023 season starts as he will retire on Aug. 1 after 17 years on the job.
Brian Ferentz has reported to Barta since joining the Iowa staff because of nepotism rules.
Brian Ferentz was asked at his April press conference about the amendments to his contract that were announced in early February.
He tried to give the impression that he didn't care about the amendments, but he's human, and he has an ego, so he has to care a little bit.
One of the amendments has his annaul salary dropping from $900,000 to $850,000 for the 2023 season.
His rolling two-year contract is also currently gone unless he meets "designated performance objectives." Those objectives require that Iowa averages 25 points per game and that the Hawkeyes win at least seven games next season. That wins number includes a possible bowl game.
Brian Ferentz was asked if the amendments would change how he calls plays or handles certain situations, and he said not surprisingly that it wouldn't have any impact.
Okay. Fair enough.
But Brian Ferentz is backed into a corner and has little wiggle room, even with his father's power and influence.
The offense has to show progress or it'll be hard for Kirk Ferentz to keep justifying making no changes.