By Pat Harty
IOWA CITY, Iowa – Austin West was a multi-sport standout at Iowa City West High School, and even though he's now only competing in one sport as an Iowa Hawkeye, his versatility still is on full display.
West continued his ascent in the decathlon by finishing third and earning a bronze medal at the NCAA Track and Field Championships this past Thursday in Austin, Texas.
The junior had to withstand a deep and talented field of competitors, and a lengthy weather delay to achieve that lofty milestone.
Instead of being deterred by the distractions, West set personal bests in the discus (146-2) and the javelin (212'9), and won the 1,500-meters on his way to third place, finishing with 8,054 points.
Texas junior Leo Neugebauer edged Georgia senior Kyle Garland for first place in a classic dual for first place as Neugebauer set a meet record with 8,836 points, while Garland scored 8,630 points.
They, along with West, were the only participants to score at least 8,000 points.
"I thought he had a good start to the day, his discus throw really got the ball rolling with all three throws going over his PR," Iowa Director of Track and Field Joey Woody said of West. "He had a monster throw in the javelin to put himself in position to be top three.
"To get third in this meet where the competition breaks the collegiate record and you have the previous collegiate record holder, that's pretty impressive. I am really proud of him for battling through the two-day competition, conditions, heat and delay. He earned it."
This marks the second straight year in which West has surpassed 8,000 points in the decathlon at the NCAA Championships as he recorded a life-time best 8,179 points last year.
West is a perfect example of what can happen with the right vision, work ethic, support system, good fortune, and of course, talent, because none of this great stuff could've happened without West being physically gifted, and without him staying healthy.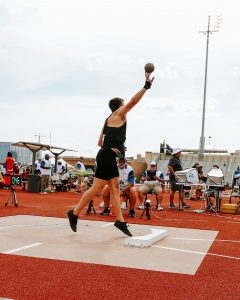 Most people could work and train from morning until night and still never come close to achieving what West has in the decathlon.
He has taken all the skills that helped him excel in track and field, football and baseball in high school, and used them to become an emerging star in the decathlon.
To finish third in the nation in any sport, or in any event, is impressive under any circumstance.
But the decathlon stands out because of what it takes from a physical, and from a mental standpoint, to even compete in the sport, let alone be one of the best.
The decathlon consists of 10 events that are held over two days, with five events on each day.
Day one consists of the 100-meters, long jump, shot put, high jump and 400-meters, while day two has the 100-meter hurdles, discus throw, pole vault, javelin throw and 1,500-meters.
It is a grueling grind that tests a person's strength, speed, quickness, flexibility, leaping ability, finesse, and last but certainly not least, the courage that it takes to try the pole vault for the first time.
West has called the pole vault his weakest event, and he isn't alone as many in the decathlon have struggled in the pole vault because they had no exposure to it before entering college.
The challenge is to become so productive in other events that it'll make up for the weaker events, and Austin West has consistently met that challenge.
If you were to rank the best all-around athletes at the University of Iowa, a strong case could be made for Austin West topping that list.
Because we're talking about a guy who stands well over six feet and weighs over 200 pounds who consistently surpasses 24 feet in the lone jump, who can run the 400-meter hurdles in less than 50 seconds and the 100 in less than 11 seconds.
West also has endurance as he showed by winning the 1,500-meter run in the decathlon at the NCAA Championships.
West has star potential in the hurdles, and that was clearly his best event in high school as he broke Joey Woody's record in the 400-hurdles on his way to a state title as a senior.
West also won the 400-meter hurdles at the 2023 Big Ten Outdoor Championships in 49.34 seconds, which ranks second all-time at Iowa.
And that fact West can now soar nearly 25 feet in the long jump without having ever focused solely on that event is also quite impressive, especially for somebody his size.
Thanks to hindsight, it's now easy to understand why Joey Woody saw Austin West's potential in the decathlon in high school.
But it wasn't as easy back then.
Woody saw potential when others didn't, including West because he knew so little about the decathlon in high school.
West trusted Woody's vision and instincts and he trusted his own ability, and now they're both being rewarded as West continues to establish himself in track and field's most challenging event.
https://twitter.com/IowaXC_TF/status/1667209403894755329?s=20