By Pat Harty
IOWA CITY, Iowa – In this new age of the transfer portal in which student-athletes are switching schools at a staggering pace, almost anything seems possible, and very little should come as a surprise.
And yet, learning that Iowa baseball player Sam Hojnar and Iowa track and field standout Jenoah McKiver both had recently entered the portal still was hard to believe at first.
But it's true in both cases, although, their reasons for entering the transfer portal are different.
Hojnar, a redshirt junior second baseman from Naperville, Illinois, entered the portal, according to a source close to the situation, to cover himself since Iowa is currently over the scholarship limit.
The hope is that Hojnar could make enough money through name, image and likeness to offset the lack of scholarship money so he could play his senior season as a Hawkeye.
A Division I baseball team can offer a maximum of 11.7 scholarships to be divided between a maximum of 27 players.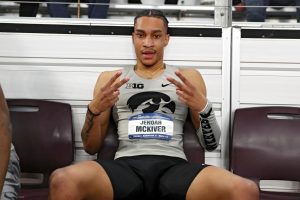 Hojnar started 57 games this past season and he finished third on the team with 10 home runs and he was 11-for-11 in stolen bases.
He also batted .255, scored 42 runs and had 13 doublesfor an Iowa team that made the NCAA Tournament for the third time under Rick Heller, and that tied the single-season program record with 44 wins.
McKiver, meanwhile, has entered the transfer portal to pursue other options, according to Joey Woody, who is Iowa's Director of Track and Field and Cross Country.
A native of High Point, North Carolina, McKiver was a two-time Big Ten champion outdoors this spring as a junior, winning the 400 meters in 45.59 seconds and running the lead leg on Iowa's victorious 1,600-meter relay squad.
He also was named the Big Ten Indoor Track Athlete of the Year in 2022 and he set a school record in the 400 (44.74) at the Jim Click Shootout in the 2022 outdoor season.