By Pat Harty
IOWA CITY, Iowa – Another sports calendar year for Hawkeye athletics has come and gone, and what a year 2022-23 was on the women's side, led, of course, by the Iowa women's basketball team's unprecedented march to a national runner-up finish.
Caitlin Clark showed for a third consecutive season that she is a generational talent, while teammate Monika Czinano further solidified her status as one of the best Iowa post players of all time.
They helped the Iowa women's basketball team go where no Iowa women's basketball team has gone before by reaching the national title game, and they also energized the fan base as Clark and her cohorts set home attendance records.
There were also other Hawkeye women that excelled in different sports, and here is one person's opinion as to who should rank from one to 10 from an individual achievment standpoint.
Picks one through four were easy, especially the top spot on the list, but picks five through 10 were difficult, including the order in which to rank them.
But the struggle is part of the fun in doing these rankings.
The Iowa women's wrestling team will become an official varsity sport this coming season, so compiling this list will be even more difficult moving forward.
The top-10 UI men's student-athletes for the 2022-23 sports calendar year will be published Thursday on Hawk Fanatic.
Editor's note: Statistics from Hawkeyesports.com contributed to this report.
Rank, name, class, sport, hometown
10. Esme Gibson, Sr., field hockey, Worcestershire, England: She earned her second consecutive All-America honor after starting 19 games in 2022. She also was a first-team all-region and second-team All-Big Ten honoree. She scored four goals and had four assists for the season, and she also played 60 or more minutes in eight games, and 1,114 minutes overall.
9. Myreanna Bebe, Jr., track and field, Orlando, Florida: She won the women's 60-meter hurdles at the Big Ten Indoor Championships and set a new school record. Bebe bettered her previous record time, crossing the finish line in 8.07 and earning first-team all-Big Ten honors.
She would go on to earn second-team All-America honors at the NCAA Indoor Championships.
8. Samantha Mannix, Sr., tennis, Elkhorn, Nebraska:  She made All-Big Ten after winning a team-best 10 singles matches during the 2023 season. She also recorded nine doubles wins, including a team-best six on court one.
Mannix graduated with a double major in communication studies and sport & recreation management, and she also has earned her master's degree in sport & recreation management.
7. Adeline Kenlin, Jr. gymnastics, Iowa City, Iowa: The West Branch graduate finished as the NCAA runner-up on beam at the NCAA Championships with a 9.950 score. It was the highest beam score by a Hawkeye at the NCAA Championships in program history, an her runner-up finish is the highest by a Hawkeye all-time.
She is the sixth All-American in school history at NCAA Championships and second on beam. She finished second to Olympic Gold medalist Suni Lee (9.9650. She also advanced to NCAA Championships after scoring a 9.950 at NCAA Regionals, becoming the first Hawkeye to qualify for NCAAs since 2017, and she made second-team All-Big Ten.
6. Tionna Tobias, Jr., track and field, Sicklerville, New Jersey:  She won the women's heptathlon in dominant fashion at the Big Ten Outdoor Championship in May. She never fell from first place throughout the two-day competition, and she also set the program's second-best score in the event with 5,640 points.
She earned honorable mention recognition at the NCAA Championships.
5. JerQuavia Henderson, Sr., gymnastics, Peoria, Illinois: She was named a Women's Collegiate Gymnastics Association second-team All-American on floor.
Henderson is just the third Hawkeye to earn three All-America distinctions, joining Alexis Maday (2002-04) and Lauren Guerin (2020-2022). Henderson was a second-team selection in 2021 and 2022.
Henderson's second-team honors came after she posted a 9.945 NQS on the floor exercise. She has scored 9.900 or higher in nine competitions this season. She tied the school record, posting two 9.975s during the regular season and finished with a 9.950 at the Big Ten Championships to share the event title.
She was named first team All-Big Ten for a third straight season. She earned that distinction after winning 12 event titles and tallying 20 top-three finishes during the regular season. She tied her own school record on floor, posting a 9.975 over Minnesota, and has scored a 9.925 or higher seven times in the event.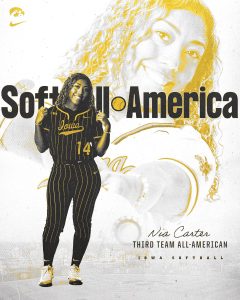 4. Nia Carter, Sr., softball, Rancho Cucamonga, California: A third-team All-America selection, she started every game of the 2023 season in right field and led the team in batting average (.479), hits (101), runs scored (45) and total bases (115). She had a career-high 30 RBIs, third most on the team.
Her 101 hits led the Big Ten and is a new single season record at Iowa. She was the second player in Big Ten history to eclipse 100 hits in a season. Her .479 batting average also led the conference, and is second in school history only behind her own freshman year season.
3. Monika Czinano, Sr., basketball, Watertown, Minnesota: The 6-3 center capped her decorated Hawkeye career in spectacular fashion, helping to lead Iowa to a national runner-up finish.
She was a unanimous First Team All-Big Ten selection, was on the All-Big Ten Tournament team, and she earned honorable mention from the Associated Press in 2022-23.
Czinano finished her Iowa career with 2,413 points, 787 rebounds, and shot at least 67% the past four seasons. She was the fifth Hawkeye to net more than 2,000 points in a career.
2. Anthe Nijziel, Sr., field hockey, Eindhoven, Netherlands: She earned first-team All-America honors for a third straight season after having led a Hawkeye defense that posted six shutouts and allowed just 8.8 shots per game in 2022. The NFHCA first-team all-region and first-team All-Big Ten selection scored six goals and had five assists, finishing third on the team with 17 points.
She is just the second Hawkeye all-time to earn three or more first-team honors.
Caitlin Clark, Jr., basketball, West Des Moines, Iowa: She solidified her legendary status by having arguably the greatest season for a Hawkeye in any sport, both men and women.
A 6-foot point guard with mind-boggling 3-point shooting range and incredible vision and court awareness, Clark was unstoppable on offense as she led Iowa to its first-ever NCAA Championship game and helped post the most wins in a single season.
Clark was the consensus National Player of the Year, and during the NCAA Tournament, she posted the first 40-point triple-double in NCAA Tournament history (men's or women's) and broke the NCAA single-tournament records for most 3-point FG made (24) and most points scored (191). She was also the only player in the nation to finish with 1,000 points, 240 rebounds, 310 assists and 45 steals this past season.
Clark became the first player in Division I women's basketball history to record more than 1,000 points and 300 assists in the same season and was fastest Division I player (men's or women's) to reach 1,500 career points over the last 20 seasons.