IOWA CITY, Iowa – The Iowa wrestling team received a major boost from the transfer portal on Friday as North Dakota State All-Americans Jared Franek and Michael Caliendo both announced on Instagram that will transfer to Iowa.
Franek and Caliendo both entered the transfer portal last month following coach Roger Kish's move from North Dakota State to Oklahoma.
Franek, a four-time North Dakota state high school champion for West Fargo High School, compiled a 92-20 record during four seasons with the Bison. He finished 27-3 this past season with nine bonus-point victories during his march to a fourth-place finish at 157 pounds at the NCAA Championships.
"The last month has brought about a lot of change and tough decisions," Franek wrote on Instagram. "After giving NDSU everything I had for the last 5 years, I entered the transfer portal with the intention of putting myself in the best position possible to win a national title. With that being said, I have decided to spend my last year at the University of Iowa. Special thanks to my coaches, teammates, and fans at NDSU for all the support over the years. Excited to get to work! #GoHawks."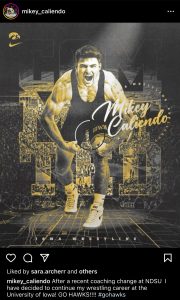 Caliendo, who is from Illinois, has three seasons of eligibility remaining. He went 29-5 at 165 pounds with 10 bonus-point victories last season and placed seventh at the NCAA Championships.
"After a recent coaching change at NDSU I have decided to continue my wrestling career at the University of Iowa!" Caliendo wrote on Instagram.
Franek and Caliendo are the third and fourth transfer portal additions for the Hawkeyes this offseason. Iowa also picked up 125-pounder Joey Cruz from Oklahoma and 149-pound NCAA qualifier Victor Voinovich from Oklahoma State.