By Pat Harty
Iowa City, Iowa – Took some time recently to glance into my crystal ball that predicts the future about Hawkeye athletics and came up with these 10 mostly glass-half-full predictions for the 2023-24 sports calendar year, but in no particular order:
Beth Goetz will ultimately be promoted from Iowa's interim athletic director to athletic director following a nationwide search and interview process: The narrative since Goetz came from Ball State in 2021 to be Iowa's Deputy Athletic Director is that she was being groomed to replace Gary Barta, who has been Iowa's athletic director since 2006.
Barta recently announced that he would retire effective Aug. 1, adding even more fuel to the belief that Goetz would replace him.
Goetz, 48, has steadily and impressively climbed the sports administration ladder, and she has plenty of former colleagues who speak highly of her leadership skills.
She was very successful in her time as the Ball State Athletic Director as she directly supervised 19 Division I Intercollegiate sports teams, all head coaches, and the senior athletics department professional staff. Goetz previously served as Minnesota's Deputy Athletics Director from 2013-15 and interim Athletics Director during the 2015-16 season.
Ball State won 10 Mid-American Conference championships during the time Goetz served as athletics director, including seven during the 2021-22 athletics campaign, the most since 1999-2000. Goetz also guided Ball State to strong marks in the Reese and Jacoby Trophy standings, which honors the top men's and women's athletics programs in the MAC, respectively.
2. Senior guard Tony Perkins will lead the Iowa men's basketball team in scoring next season: This was a tough pick between Perkins and senior forward Patrick McCaffery and Valparaiso transfer Ben Krikke.
Perkins ultimately was given a slight edge, partly because he should have the ball in his hands more than Patrick McCaffery or Krikke, who also plays forward.
Perkins and Patrick McCaffery both will probably have to score more next season compared to last season as Iowa moves on without All-Big Ten forwards Kris Murray and Filip Rebraca.
Krikke also will be relied on for double-digit scoring as he averaged around 20 points per game last season for Valparaiso.
Perkins also could benefit from having a better shooter playing alongside him at point guard, assuming sophomore Dasonte Bowen and incoming freshman Brock Harding both prove to be better shooters than former starting point guard Ahron Ulis was this past season.
Opponents didn't have much reason to respect Ulis's 3-point shot, and that made it more difficult for Iowa to spread the floor on offense.
3. Caitlin Clark will become the third different Big Ten women's basketball player to score at least 50 points in a game: That distinction currently belongs to former Minnesota player Rachel Banham and former Michigan star Naz Hillmon.
Banham actually did it twice, scoring 60 and 52 points as a Gopher, while Hillmon scored 50 points in a game.
Former Iowa All-America center Megan Gustafson holds the Iowa single-game scoring record of 48 points, but just barely as Clark's career best is 46 points.
Clark is also the first player in NCAA Tournament history with back-to-back 40-point games as she achieved that milestone this past season while leading Iowa to a runner-up finish in the NCAA Tournament. It's only happened once in the history of the men's tournament: Austin Carr had three straight in 1970.
Iowa will be without former All-Big Ten center Monika Czinano next season and her absence in the post could mean that Clark will have to carry even more of the scoring load.
It was tempting to go as far as to predict that Clark would break Banham's 60-point scoring record, but that's a lot of points, even for Caitlin Clark.
4. The Iowa football team will win the Big Ten West Division to mark the end of an era as the Big Ten plans to get rid of the divisions once UCLA and USC both join the conference in 2024: This prediction says as much about the Big Ten West Division as it does about Iowa.
The Hawkeyes should be rock-solid again on defense and special teams, and it's hard to envision Cade McNamara performing any worse than Spencer Petras did as Iowa's starting quarterback for most of the past three seasons.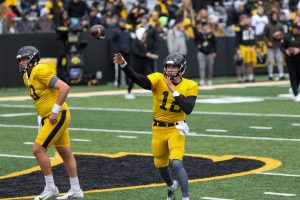 Petras was mediocre at best behind center, and yet, Iowa still won the Big Ten West, and 10 games overall, in 2021.
The Big Ten West has three new head coaches in Matt Rhule at Nebraska, Luke Fickell at Wisconsin and Ryan Walters at Purdue.
And while optimism always runs high on the heels of a head coaching change, especially in the case of Nebraska, the transition from one head coach to another doesn't always go smoothly at first.
Iowa also doesn't play Michigan or Ohio State next season, and Iowa's nonconference schedule, which consists of homes games against Utah State and Western Michigan in weeks one and three, and a game at Iowa State squeezed in between, hardly seems daunting on paper.
5. The Iowa baseball team will win the Big Ten regular-season title next season, and for the first time since 1990: This bold prediction was made with the assumption that Iowa's roster would mostly stay intact.
The loss of Brennen Dorighi at first base, and the expected loss of Keaton Anthony as a designated hitter to the Major League baseball draft, would create two sizable voids.
But there is also widespread talent and experience set to return, including all three starting pitchers, assuming they all return in this unpredictable age of the transfer portal and name, image and likeness.
Brody Brecht, Marcus Morgan and Ty Langenberg have the potential to be the Big Ten's best starting pitching rotation next season.
Most of Iowa's position players also are set to return, so the talent and experience combined with the culture that Rick Heller has built over the past decade certainly makes Iowa look like a Big Ten contender on paper.
So why not Iowa?
6. Virginia transfer Nick Jackson will lead the Iowa football team in tackles next season: Iowa suffered two big hits at linebacker with the loss of multi-year starters Jack Campbell and Seth Benson.
Campbell was named the 2022 Butkus Award winner as the nation's top collegiate linebacker, while Benson was his reliable sidekick for the past three seasons.
To lose both at the same time was cause for immediate action and Iowa responded by landing a proven player as Nick Jackson led Virginia in tackles in each of the last three seasons. He also earned Second-Team All-ACC honors for the second season in a row this past season after averaging 10.4 tackles per game in 2022, the second-best mark in the ACC. Jackson led the ACC with 117 tackles in 2021 and was second in the ACC with 10.5 tackles per game in 2020, earning Third-Team All-ACC honors that season.
The Atlanta, Georgia native concluded his UVA career with 354 total tackles, tied for 11th-most all-time in Virginia program history. In 46 total games, including 33 starts, Jackson had 20 tackles for loss and 10.5 sacks.
Teams are usually led in tackles by a linebacker, and Jackson wants to make the most of his final season in college.
He's coming to Iowa to be an impact player on defense.
7. Iowa tight ends Luke Lachey and Erick All will both have over 30 catches next season: This is easy to see happening considering  tight end Sam LaPorta had 58 catches just by himself last season.
Lachey played second-fiddle to LaPorta as a receiver last season, but Lachey also made the most of his opportunities as he had four of Iowa's seven touchdown catches on 28 receptions.
Lachey is a big target at 6-foot-6 and 252 pounds, and he has soft hands and the ability to make catches in traffic.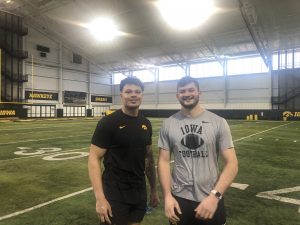 All, meanwhile, had over 400 receiving yards during Michigan's march to the Big Ten title in 2021, and to the college playoff that season.
He also had McNamara as his quarterback, so they already have built a chemistry together on and off the field.
Say what you want about the much-maligned Iowa offense under Brian Ferentz, but the tight end position still has produced on a consistent basis.
With Lachey and All, Iowa has besides two Ohio natives what appears to be a formidable one-two punch at tight end.
So, getting them the ball on a consistent basis should be a top priority.
8. Cooper DeJean will have at least one punt return for a touchdown next season and at least one pick-six next season: As impressive as that would be, it doesn't really seem far-fetched since DeJean had three pick-sixes last seasons and averaged 16.5 yards on 10 punt returns.
DeJean just has a knack for the ball, and for making big plays as a defensive back.
Opponents might be reluctant to throw his way next season, so that could hurt his chances of getting another pick six.
But that would also shut down half of the field, and that would give Iowa a huge boost on defense.
9. The Iowa football team will defeat Iowa State in Ames: It won't be easy because it hardly ever is for either team.
But with Iowa's defense and special teams, and with McNamara playing quarterback, a win in Ames against a suspect Iowa State team is hardly making a bold statement.
Iowa Stated outlasted Iowa 10-7 last season in a game in which both offenses left so much to be desired.
This prediction was made under the belief that McNamara will give Iowa better production at quarterback, and that the Iowa offensive line will perform better than last season.
Iowa also has won six of the last seven games in the series.
10. Tory Taylor will punt fewer than 65 times next season: That might not seem like a big deal until you realize that Taylor punted 82 times last season and 80 the season before.
This is yet another prediction based mostly on the belief that the Iowa offense will be better next season with McNamara at quarterback, and with an offensive line that is a year older, a year wiser and better overall.