By Pat Harty
IOWA CITY, Iowa – Central Lyon/George-Little Rock High School is in Rock Rapids and has an enrollment of approximately 229 students, and two of the students just committed to the Iowa football team's 2024 recruiting class, and a recent graduate from the northwest Iowa school is part of Iowa's 2023 class.
Three out of 229 might not seem like a large percentage, or anything special.
In this case, however, it's very special as lots of high schools, even big schools, can go years, and in some cases decades, without producing three Power Five football recruits in two recruiting cycles.
It's no wonder Central Lyon/George-Little Rock won the Class 2A state title in football and finished undefeated (13-0) this past season, because to have just one future Hawkeye on a high school football team is rare, but to have three, including two with scholarship offers, is quite impressive.
Graham Eben and Reece Vander Zee committed to Iowa on Monday and Tuesday, respectively, while Zach Lutmer signed with Iowa this past December and will be a freshman defensive back this coming season.
Eben has accepted a preferred walk-on opportunity and will play linebacker, while Vander Zee, a 6-foot-5, 190-pound receiver, and Lutmer both were offered scholarships.
"This is truly a dream come true," Vander Zee said in his announcement on Twitter. "Thank you to the entire Iowa coaching staff for believing me and blessing me with this amazing opportunity. Let's get to work. GO HAWKS!!!!!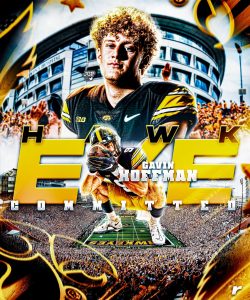 Since Monday, four players from the 2024 class have committed to Iowa as tight end Gavin Hoffman, a three-star prospect from Overland Park, Kansas, announced his commitment on Tuesday, and just a couple hours after Vander Zee had announced his commitment.
Arizona defensive end Devan Kennedy, who is the son of former Penn State and former NFL defensive lineman Jimmy Kennedy, also committed to Iowa on Monday.
Throw in 2024 Omaha tight end Michael Burt, who committed on June 22, and that's five players that have committed to Iowa's 2024 class in the last five days, including four with scholarship offers and two tight ends.
Former Iowa All-Big Ten linebacker Abdul Hodge is the Iowa tight end coach.
"I am very humbled by this opportunity and I can't wait to get to work with Coach Ferentz and Coach Hodge," Hoffman said on Twitter.
These recent commitments come on the heels of a weekend in which Iowa hosted multiple players from the 2024 class.
There currently are 15 players committed to Iowa's 2024 class, including seven from instate.
Vander Zee is the first receiver to commit to Iowa's 2024 class.
"He's got a big frame, he's a smooth athlete, he's tall," veteran recruiting analyst Tom Lemming said of Vander Zee. "He can jump out of the gym. And even though he doesn't have blazing speed, he's got workable college speed.
"I just think, especially in Iowa's offense as more of a possession receiver, he fits in perfectly."
And while Eben will have to pay his own way as he starts his Hawkeye career, walk-ons have a long history of excelling at Iowa, especially under Kirk Ferentz.
They're treated the exact same as scholarship players, and they also can benefit financially from name, image and likeness.
The path to success starts with an opportunity, and Graham Eben has been given one, as have two of his high school friends and teammmates.
Iowa's 2024 Iowa football commitments
Gavin Hoffman, 6-5, 195, tight end, Overland Park, Kansas
Reece Vander Zee, 6-5, 190, receiver, Rock Rapids, Iowa
Devan Kennedy, 6-3, 245, defensive end, Phoenix, Arizona
Michael Burt, 6-5, 230, tight end, Omaha, Nebraska
Will Nolan, 6-7, 270, offensive lineman, Arlington Heights, Illinois
Bodey McCaslin, 6-5, 270, offensive lineman, St. Charles, Illinois
Brevin Doll, 6-0, 185, running back, Ade-DeSoto
Xavier Williams, 6-0, 225, running back St. John, Indiana
Drew Campbell, 6-4, 225, defensive end, Cedar Falls
Cody Fox, 6-5, 270, offensive lineman, Winthrop (East Buchanan)
Derek Weisskopf, 6-3, 205, linebacker, Williamsburg
Cam Buffington, 6-3, 200, linebacker, Winfield-Mt. Union
Preston Ries, 6-2, 195, linebacker, Monticello
James Resar, 6-4, 204, quarterback, Jacksonville, Florida
Josh Janowski, 6-2, 275, offensive lineman, Tinley Park, Illinois