By Pat Harty
IOWA CITY, Iowa – The response to my column in which I listed five candidates to succeed Kirk Ferentz as the Iowa football coach was so strong from a readership standpoint that I figured why stop there?
Why not do the same for Fran McCaffery and Lisa Bluder since they're both in their 60s and will retire probably sooner than later?
Neither has given any hint about retiring and they're both secure in their job with long-term contracts and they deserve to coach for as long as they so desire.
Bluder is enjoying an unprecedented run of success, which includes having led the Iowa women's basketball team to the national championship game for the first time ever this past season, while McCaffery has built the Iowa men into a consistent NCAA Tournament team, and he has had a consensus All-American on his roster in each of the past four seasons.
But Fran McCaffery is also 64 years old and won't coach forever.
His youngest son, Jack McCaffery, also has indicated that he might choose to play somewhere other than Iowa when he enters college in two years.
So, if you're the next Iowa Athletic Director, it would be wise to have a short list of candidates ready just in case.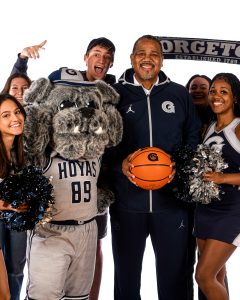 Ed Cooley would've been on this short list to succeed Fran McCaffery based on what he accomplished as the Providence head coach.
However, Georgetown officials obviously felt the same way as they hired Cooley in March to replace Patrick Ewing, who was fired as the head coach for his alma mater on March 9.
It's hard to envision Cooley leaving Georgetown anytime soon.
Micah Shrewsberry would've also be on the list if he had stayed at Penn State rather than take the Notre Dame job shortly after last season.
Former Hawkeye Ryan Bowen also deserves consideration, but he recently said in an interview on KCJJ radio that he believes he is better suited to coach in the NBA where he is currently an assistant coach with the current NBA champion Denver Nuggets.
A case also could be made for another former Hawkeye, Jeff Horner, who has been the head coach at Division II Truman State since 2018.
It's rare, however, for a head coach to jump from Division II to a Power Five program, so Horner, a former Hawkeye point guard from Mason City, might have to make one more climb up the coaching ladder before being considered a serious candidate for his alma mater.
Speaking of former Iowa point guards from Mason City, Dean Oliver was also considered for this short list. He has been an assistant coach for Wisconsin since 2017, and he was an assistant coach at Illinois State prior to that.
But he's never been a head coach, and it would be easier to envision Oliver being a candidate if he were coaching at his alma mater rather than at Wisconsin.
Here's my current short list, but in no specific order:
Darian DeVries: As a Drake graduate, I'm reluctant to put him on the list, but that's also being selfish, petty and unrealistic.
DeVries deserves to be on the short list based on his incredible performance in five seasons as the Drake head coach.
The older brother of former Iowa All-America defensive lineman Jared DeVries has won at least 20 games in each of his five seasons at Drake, and he has led Drake to the NCAA Tournament in two of the past three seasons.
Drake has won the Missouri Valley Conference title once under Darian DeVries and finished second four times.
DeVries has a 122-48 overall record at Drake, including 78-24 over the past three seasons.
A former Northern Iowa guard and longtime Creighton assistant coach, Darian DeVries is 48 years old and in the prime of his career. He is clearly ready to coach on a bigger stage, and that isn't easy to say as a Drake graduate.
Chris Collins: His 10 seasons as the Northwestern head coach have certainly been filled with struggles and hardship.
But the 49-year old Collins is also the only head coach to lead Northwestern to the NCAA Tournament, and he's accomplished that twice, including this past season.
It isn't easy to win at Northwestern due to the tough academic standards, and because of the lack of tradition, and yet, Collins has won at least 20 games three times at Northwestern, topped by a 24-win season in 2016-17.
He also grew up in the Chicago suburbs, making him familiar with a key area in recruiting.
Collins also was recruited heavily by Iowa, and he nearly picked the Hawkeyes before ultimately choosing Duke where he would go on to become a standout guard under Mike Krzyzewski.
Iowa could do a lot worse than Chris Collins, who is the son of former NBA star and former NBA head coach Doug Collins.
Steve Forbes: The Lone Tree native has been climbing the coaching ladder since getting his start in 1989 as an assistant coach for Southwestern Community College in Creston.
Forbes is currently the head coach for Wake Forest where he has compiled a 50-39 record over three seasons, including a 25-10 record in the 2021-22 season.
He landed the Wake Forest job after having had success as a head coach at East Tennessee State, Northwest Florida State and Barton Community College.
Forbes, who turned 58 this past March, was also an assistant coach at Idaho, Louisiana Tech, Illinois State, Texas A&M and Tennessee where he worked under Bruce Pearl and excelled as a recruiter.
Forbes has certainly paid his dues and has been highly successful as a head coach at three different levels of competition.
His Iowa roots also could help his cause.
Bruce Pearl: This is a long shot for multiple reasons, not the least of which is Pearl being 63 years old.
But the guy can coach and recruit with the best of them.
A former Iowa assistant coach under Tom Davis, Pearl has been a head coach for four different schools and is currently the head coach for Auburn where he has a 187-111 record over nine seasons. One of those wins came against Iowa in the first round of the 2023 NCAA Tournament.
He also led Auburn to the Final Four in 2019.
Pearl led Tennessee to the NCAA Tournament in each of his six seasons as head coach from 2005 to 2011, and prior to that he was the head coach for Milwaukee and Southern Indiana, compiling records of 86-38 and 231-46, respectively.
However, Pearl was also fired as the Tennessee head coach due to NCAA violations and was then given a three-year show-cause penalty for lying to the NCAA, effective until August 23, 2014.
So, yes, Pearl comes with baggage, making him a long shot.
But it's still intriguing to think about the impact he would have as the head Hawk.
Matt Gatens: What he lacks in coaching experience he makes up for with his deep Hawkeye roots, and with being a current member of Fran McCaffery's staff at Iowa.
Gatens, 34, was also an assistant coach for Drake under Darian DeVries and a graduate assistant for Auburn under Bruce Pearl before returning to his alma mater prior to the 2021-22 season.
Gatens was a four-year starter for the Hawkeyes from 2009-12. His final two seasons were Fran McCaffery's first two as Iowa's head coach. As a senior, Gatens and the Hawkeyes won seven more games than the previous year and advanced to postseason play (NIT Second Round) for the first time under McCaffery and the first time as a program in six seasons.
A native of Iowa City, Gatens was a two-time All-Big Ten selection, two-time team captain, two-time academic all-conference honoree, recipient of the 2012 Chris Street Award, and voted to the 2009 Big Ten All-Freshman team. Gatens amassed 1,635 points and 239 3-pointers ranking 10th and third, respectively, in Iowa history.
He will undoubtedly be a college head coach at some point.
Editor's note: Coming next on Monday: a short list of candidates to succeed Lisa Bluder