By Pat Harty
IOWA CITY, Iowa – As much as it hurts to say this, Lisa Bluder won't coach forever.
That doesn't mean the end is near for Iowa's all-time winningest women's basketball coach, but at some point Bluder will decide that she's had enough and will retire on her terms.
She just recently signed a contract extension through the 2028-29 season, and she has at least one more season with superstar guard Caitlin Clark leading her team.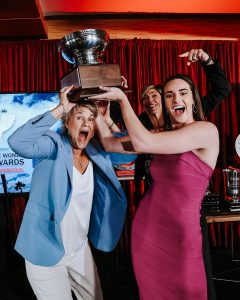 Next season will be Bluder's 24th as the head Hawk, and expectations are at all-time with Iowa having advanced to the NCAA Tournament championship game for the first time ever this past season.
Home attendance is also at an all-time high with Clark and her cohorts perhaps the hottest show in town.
The days when Iowa used to hang drapes to hide the empty seats during women's basketball games at Carver-Hawkeye Arena are long gone.
Iowa has won consistently under Bluder, but her success over the last five seasons has lifted the program to elite status.
She is currently one of just four active Division I head coaches to win at least 850 games, one of 14 women's head coaches to win at least 850 games and one 24 head coaches, both men and women, to win at least 850 games.
Iowa has won at least 20 games in 16 seasons under Bluder, including 14 of the last 16 seasons.
But all good things must come to an end, and there will come a point when someone else is coaching the Iowa women's basketball team.
Here is a short list of candidates:
Jan Jensen: She is in her 24th season with the Iowa women's basketball team and her 20th as associate head coach.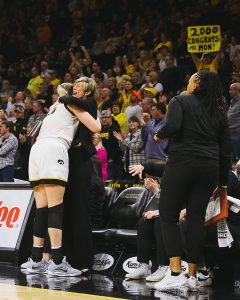 It is reasonable to believe that Jensen has had opportunities to be a head coach elsewhere, but she has stayed loyal to Bluder and to Iowa.
Jensen was a star player for Bluder at Drake, and they have since become close friends.
Jensen serves as Iowa's recruiting coordinator, and she also works with the post players. Her track record for developing post players is long and distinguished, a list that includes Megan Gustafson, Monika Czinano and Jamie Cavey among others, including one of the coaching candidates on this list.
Jensen has recruited four McDonald's All-Americans to Iowa (Samantha Logic, Lindsay Richards, Johanna Solverson, and Caitlin Clark).
She also has helped Iowa have a top-20 recruiting class six times.
It's hard to envision anyone else besides Jensen being hired to replace Bluder when that time comes.
Bluder still has six seasons on her contract, and she has built Iowa into a national power, so it could be a while before she steps down.
But when it finally happens, Jensen would be the likely choice to replace Bluder.
Jennie (Lillis) Baranczyk: She graduated from West Des Moines Dowling Catholic and then helped Lisa Bluder lay the foundation at Iowa as an All-Big Ten forward in the early 2000s.
She then followed Bluder into the coaching ranks and is now the head coach for Oklahoma where she has compiled a 51-16 record in two seasons, and twice made the NCAA Tournament.
Baranczyk landed the Oklahoma job after having had major success as the Drake head coach for nine seasons from 2012 to 2021.
Drake won at least 20 games in six of her nine seasons as head coach, and she also led the Bulldogs to six postseason tournaments, including three berths in the NCAA Tournament.
If it weren't for the presence of Jan Jensen as Bluder's long-time associate head coach, Baranczyk would seem an obvious choice to succeed Bluder at her alma mater.
Cara Consuegra: A former point guard under Lisa Bluder at Iowa, Consuegra is currently the head coach for Charlotte where she has a 208-154 record.
Consuegra won Conference USA's Coach of the Year honors in 2021-22 after guiding the Niners to a 22-10 overall record, including a 15-3 mark in Conference-USA play to win the regular season before winning all three games in the C-USA Tournament to capture that title.
The tournament victories over Rice, North Texas and Louisiana Tech clinched the Niners first trip back to the NCAA Tournament since the 2008-09 season.
Consuegra became the program's all-time wins leader after a season-opening 63-45 win at Richmond on November 9, 2021.
Megan Duffy: She has an 85-34 record in four seasons as the head coach for Marquette. Prior to that, she served as the head coach for Miami (Ohio) where she compiled a 44-20 record over two seasons.
In her first seasons at Marquette, she was named the BIG EAST Coach of the Year after guiding the Golden Eagles to a runner-up finish in the league and a 22-7 overall record despite being picked ninth in the league's preseason coaches' poll.
She was also an assistant coach at St. John's, George Washington and Michigan before becoming a head coach.
A native of Kettering, Ohio, Duffy was a standout guard for Notre Dame from 2002 to 2006.
She also played in 42 games over three seasons in the WNBA from 2006-08.
Shannon Perry-LeBeauf: The former Iowa Hawkeye forward and defensive standout was promoted to associate head coach at UCLA prior to the 2019-20 season. She joined the UCLA women's basketball coaching staff in May of 2011 and also serves as the program's recruiting coordinator.
In 11 seasons with the team, she has helped guide the Bruins to 233 wins and six NCAA Tournament appearances, including an Elite 8 berth in 2018. Most recently, Perry-LeBeauf helped guide the Bruins to the Pac-12 Tournament championship game and an appearance in the NCAA Tournament Second Round in 2021.
She has served on the UCLA coaching staff with Assistant Coach Tony Newnan for the duration of Head Coach Cori Close's 11-year tenure. Before returning to Los Angeles, she coached at Duke for five seasons (2004-09). Perry-LeBeauf was also an assistant at USC from 2000-04 and Iowa from 1999-2000.
Perry-LeBeauf was a four-year letterwinner at Iowa under both C. Vivian Stringer and Angie Lee.
She helped lead the Hawkeyes to the 1997 Big Ten Tournament title, as well as regular season titles in 1996 and 1998. Her teams also advanced to the NCAA Tournament her final three seasons and made a trip to the Sweet 16 in 1996.
She was also a three-time All-Big Ten Academic selection and received the 1998 Robin Roberts/WBCA Sports Communication Scholarship award and the 1998 NCAA Women's Enhancement Post-Graduate Scholarship award.