By Pat Harty
IOWA CITY, Iowa – For a brief time this summer, Iowa defensive end Joe Evans has been living the best of best worlds.
Training table with the Iowa football team and mom's cooking at home.
Both are pleasing to the palate and always available since Evans is now living in the basement of his parents' house in Iowa City until his new lease starts in August.
Evans will share an apartment with Iowa quarterback Cade McNamara, but until then, Evans gets to appreciate the conveniences of being a Hawkeye football player and the conveniences of living at home at the same time.
"Yeah, it's awesome," Evans this past Tuesday. "They do a great job, and my mom is always texting me, 'hey, do you need anything?
"And I'm like, 'mom I'm good. I'm 24. I can take care of myself. But she's just loving having me at home. And she keeps saying, 'hey if the whole thing with you and Cade doesn't work out, I'd love to have you here."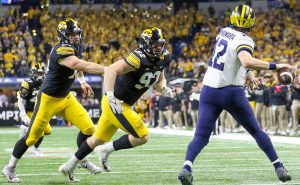 Evans looks forward to being on his own again, and to living with Iowa's new starting quarterback.
But until then, he will savor every minute of living with his parents, while enjoying the perks that come with it.
"They're really trying to push me to stay," Evans said. "They're awesome. I have the best parents in the world."
Evans epitomizes the player development aspect of the Iowa football program under head coach Kirk Ferentz.
He grew up in Ames where he was a star quarterback and linebacker in high school.
Iowa gave Evans a chance to join the program as a preferred-walk-on linebacker, but he switched to defensive end early in college.
The Iowa coaches apparently saw something that made them believe Evans could develop into a reliable defensive end, and they couldn't have been more spot on as the 6-foot-2, 246-pound Evans will leave college as a multi-year starter for the Hawkeyes.
Evans showed early on as a Hawkeye a knack for getting to the quarterback as he had four sacks and four tackles for loss in just eight games as a redshirt freshman in 2019.
He had seven tackles for loss and seven sacks as a junior in 2021 followed by 8.5 tackles for loss and 6.5 sacks last season.
Evans could've moved on after having been in the Iowa program for five years, but instead, he chose to use his free Covid year that was afforded to him because of the global pandemic.
He now gives Iowa an established and respected veteran leader who is on a mission to make the most out of his final season as a Hawkeye.
"I was talking to (my parents) about just kind of the bittersweet feeling, just kind of taking every day differently than I have," Evans said. "Just really looking at every day with full eyes and just really appreciating everything that this program has given me, and just appreciating every workout.
"We have tough workouts, but it's kind of like an appreciation. Just, wow, I'm really going to miss this."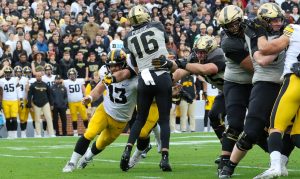 Evans is part of an Iowa defense that is expected to be rock solid again this coming season.
His decision to return helps to solidify a defensive line that should be among the best in the Big Ten, although, the status of senior defensive tackle Noah Shannon, who also chose to use his Covid year, is uncertain as he is part of the ongoing investigation into sports wagering involving student-athletes from both Iowa and Iowa State.
Iowa's biggest concern is on offense where the Hawkeyes finished last season ranked 130th out of 131 FBS teams in total offense and had just seven touchdown passes in 13 games.
McNamara was brought in to help jumpstart the offense after having led Michigan to the 2021 Big Ten title as its starting quarterback.
The players on offense have talked this offseason about having a chip on their shoulder because they're upset and embarrassed by how they performed last season.
Evans recently traveled to California with McNamara and nearly a dozen offensive players to train and to also strengthen their bond as teammates.
"I think they all have a chip on their shoulder," Evans said of players on offense. "I think every single thing they do they have something to prove. And it's awesome.
"But I feel like that's the same way with the whole football team. We have one goal in mind, and obviously, that goal is to win a Big Ten championship. So, every single thing we do I feel is going towards that goal and I feel like every single person that works out, or is in meetings, everyone has a chip on their shoulder."
As for his living with his parents, Evans will cherish the few days he has left.
His father, Spencer Evans, was hired as the new Principal for Cedar Rapids Prairie High School in April, after having previously held the same job at Tipton High School and Ames High School.
"He got the job at Prairie, which is awesome," Joe Evans said. "They're loving having me at home and I'm loving be home. I don't admit it to them as much because they want to keep me there."