By Pat Harty
IOWA CITY, Iowa– It apparently will take more than a dysfunctional offense, accusations of nepotism against the head coach and a mediocre 2023 home schedule to keep Iowa football fans away.
Because the 2023 season is still more than a month away, and yet, Iowa's first five home games are already sold out.
That is a testimony to the loyalty of Iowa fans, and to what Iowa has added from the transfer portal, most notably former Michigan quarterback Cade McNamara.
To already have five sellouts destroys the prediction that a growing number of fans would refuse to buy tickets this fall as a way of protesting the situation on offense.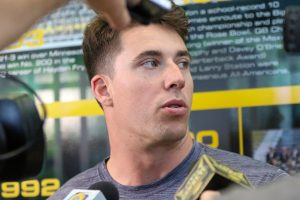 There probably are some fans that are fed up with the offense and refuse to buy tickets.
But apparently not enough to make a dent.
For Iowa to already have five of its seven home games sold out is quite impressive, especially considering how poorly the offense performed last season when it finished ranked 130th out of 131 teams in total offense and had just seven touchdown passes in 13 games.
The Iowa offense was painful to watch at times last season, and the fact that Kirk Ferentz's son is the offensive coordinator just added to the pain and frustration.
Brian Ferentz will be coaching under some pressure this season as it was announced this past February that his contract has been modified and now includes some performance incentives.
In the new contract, Brian Ferentz will make a base salary of $850,000 and will be able to have his contract reinstated to a two-year rolling agreement with a bonus and salary adjustment if the team meets certain requirements.
The team needs to score at least 25 points per game and win a minimum of seven games in 2023 for Brian Ferentz to meet the incentives.
The adjustments to his contract drew criticism from some Iowa fans, and from some in the national media, who viewed it as Brian Ferentz receiving preferential treatment because his father is the head coach.
Whatever the case, the uproar appears to have faded based on how well ticket sales have gone.
It certainly helps from a promotional/sales standpoint that Iowa will have McNamara playing quarterback because he brings instant credibility after having led Michigan to the 2021 Big Ten title as its starting quarterback.
One player certainly doesn't make or break an offense, but the addition of one player, in this case McNamara, has given Iowa fans hope and belief that the offense will be better.
Iowa has also added some other players on offense from the transfer portal, including former Michigan tight end Erick All, who had over 400 receiving yards for the Wolverines in 2021 with McNamara throwing to him.
Kirk Ferentz apparently realized that he needed help ASAP on offense, and he turned to the portal for what he hopes is a quick fix.
Iowa's haul from the portal already has helped to sell tickets, or so it would seem.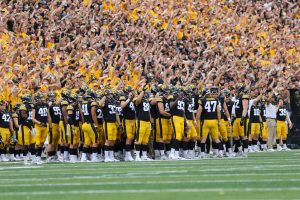 There was also a belief that Iowa's home slate in 2023, which doesn't include Iowa State, Wisconsin or Nebraska, would keep some fans from purchasing tickets because the home schedule leaves something to be desired from an intriguing standpoint.
Iowa's seven home opponents in order are Utah State, Western Michigan, Michigan State, Purdue, Minnesota, Rutgers and Illinois.
No disrespect to those seven teams, but they would hardly qualify as must-see opponents.
Former Iowa receiver and return specialist Charlie Jones doesn't even play for Purdue anymore.
And yet, it's just now getting into late July and all but two of Iowa's seven home games are sold out.
The two exceptions are Rutgers and Illinois, but that is probably because they're the last two home games on the schedule and won't be played until November.
The Iowa offense became a national laughingstock and a punchline last season as it performed at a historically low level.
Some would say that Iowa won eight games last season, including the Music City Bowl, in spite of the offense.
Fans showed their displeasure with the offense by booing during games, by complaining on social media and by threatening to not buy tickets.
And while some have stopped buying tickets, there are enough fans that are willing to keep purchasing tickets to keep Kinnick Stadium full.
So, what appeared to be a potential crisis at the ticket office is really just business as usual.