By Pat Harty
IOWA CITY, Iowa – For the first time in his career as an Iowa basketball player, Patrick McCaffery is the team's veteran leader as a redshirt senior.
With his older brother, Connor McCaffery, having graduated and moved on, along with Kris Murray and Filip Rebraca, Patrick McCaffery is now Iowa's elder statesmen as he has been in the program longer than everybody else on the team.
Tony Perkins is also a senior, as is Valparaiso transfer Ben Krikke and Belmont transfer Even Brauns, but Perkins is a fourth-year senior, while Krikke and Brauns both joined the team just a few months ago and have yet to play in a game for Iowa.
Nobody has been a Hawkeye longer than Patrick McCaffery.
"It's crazy," he said before practice this past Thursday.
And though he is eager to take on more of a leadership role, Patrick McCaffery said he won't change that much from a personality standpoint.
"I'll talk a little bit more," Patrick McCaffery said. "I'm not going to be the guy that's like breaking it down every huddle. That's not really who I am.
"But I'll talk a lot in the scrimmages if some guy does something good or bad or whatever. Speak on it, don't let that stuff continue to happen. You've got to set a standard, and that's what I'm trying to do."
Patrick McCaffery has been a key piece to his father's team over the past two seasons, but he hasn't had to fill the role of veteran leader because there was always somebody else to fill that role.
From Tyler Cook to Luka Garza to Jordan Bohannon to Keegan Murray to Connor McCaffery, ever since Patrick McCaffery became a Hawkeye, he always has been surrounded by older players.
But that ends this season.
Patrick McCaffery is now the old man on the team, and with that comes some added responsibility and pressure, although, Patrick downplayed the pressure factor.
"Whether or not I was older or younger, I always would put pressure on myself to play at a high level," Patrick McCaffery said. "Just from my role on the team, it doesn't change my expectations on myself. I'm very hard on myself and I expect myself to have a really good game. That's kind of the standard I've set."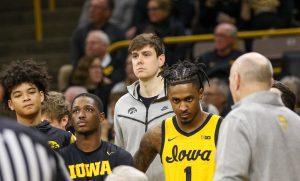 If overcoming adversity helps to make a leader, then Patrick McCaffery should thrive in his new role considering how much he has had to overcome.
He had a malignant tumor removed from his thyroid in 2014 and he missed multiple games last season due to anxiety issues.
Patrick can certainly help to put things that happen on the court in perspective because of what he has had to endure away from the court.
Iowa has a lot of points and rebounds to replace on the frontline with the loss of Kris Murray to the NBA and Rebraca to graduation.
Patrick McCaffery has always been considered a scorer ever since he started playing basketball at a young age, but he expects to play a bigger role on offense this season.
He averaged 9.8 points per game last season while playing in 27 games.
"Yeah, I think that's fair to say," he said. "I would expect my points to go up and my shots to go up."
Fran McCaffery is entering his 14th season as the Iowa head coach, and this season will mark the seventh consecutive season in which he has coached at least one of his sons.
Fran expects a lot from Patrick McCaffery this season as a player and as a leader.
"We've had really good leaders the last couple years whether it be Luka or Jordan or Connor and Kris and Keegan, those guys were all really good leaders in that sense," Fran McCaffery said. "So, who's it going to be? Tony, Payton (Sandfort) and Patrick are the three guys that you think about. So that's what I'm expecting from them."
Patrick McCaffery said he's working on all parts of his game this summer, but with an emphasis on shooting.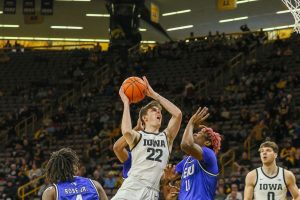 He shot 41 percent from the field last season, including 34 percent from 3-point range.
His goal is to become a more consistent and reliable shooter.
"I'm a good shooter and can make shots," he said. "But I want to be like a knock-down shooter. So, that's something I've been working on a lot, stuff from the mid-range and stuff from the three.
"I've really been working on my shooting and my ball handling, and my defense, obviously. Trying to get my body in a good place with cardio and all that kind of stuff in a place where I can be an effective contributor on that end."
Patrick McCaffery already has a solid mid-range game where he uses his 6-foot-9 frame and length to create shots in traffic.
He can score facing the basket or with his back to the basket, and he can make threes.
"It sets up a lot of different stuff," Patrick McCaffery said of his mid-range game. "You never want to be somebody who can just go finish at the basket, or you never want to be somebody who can only shoot threes because then other teams can guard you accordingly.
"Obviously, you want to get to the basket if you can. But if not, you want to be able to have other options. You're not always going to be able to get to your three, or get to a layup. There's going to other spots in between. There's guys that can make the mid-range real effectively and I feel I can be one of those guys."
Patrick McCaffery also has been working hard in the weight room as he will be expected to help carry the rebounding load, along with Krikke and Brauns, all of whom are listed at 6-9, and 6-10 incoming freshman Owen Freeman.
Patrick only averaged 3.5 rebounds per game last season, but that was partly due to Kris Murray and Rebraca averaging 7.9 and 7.5 rebounds per game, respectively, for a team that made the NCAA Tournament.
But they're not around anymore, so it'll be up to Patrick McCaffery and the other frontline players to lead the rebounding charge.
The addition of Brauns helps Patrick on and off the court.
Brauns weighs about 260 pounds, and his rugged playing style and his strength should help Iowa compete on the boards in the Big Ten where physical play is common.
"He's very physical, very physical," Patrick McCaffery said of his close friend and former high school teammate.
Patrick McCaffery and Brauns were teammates for two seasons at Iowa City West High School.
"It's more so just a continuation of an already really strong relationship, somebody that's been one of my best friends for a really long time," Patrick McCaffery said of Brauns. "And so the fact that we get to now live together and play together in college and spend pretty much every minute of the day together is something I'm really looking forward to and just building on that."