By Pat Harty
Indianapolis – Contrary to how it might have seemed, there was more to write about at the annual Big Ten media day event than just suspensions and ongoing investigations.
There were also some feel-good stories, including the unbreakable bond between a father and his son.
That bond was on full display Wednesday as Iowa football players Luke Lachey and Jay Higgins both met with the media.
Both were seated at separate tables inside Lucas Oil Stadium, and in Lachey's case, his father, Jim Lachey, was among those listening as his son answered questions from the media.
Jim Lachey, a former Ohio State and NFL offensive lineman, was allowed to attend the event since he works as a radio analyst covering his alma mater.
Jim doesn't get to watch his son play tight end for the Hawkeyes because of his work in radio. So, the chance to watch Luke represent Iowa at Big Ten media day was a special treat and something Jim Lachey couldn't have imagined just a few years ago.
"I've been at it now for 27 years covering Ohio State and you just never think about that," Jim Lachey said Wednesday. "He's the youngest of five kids and it's kind of cool to see him step into his own and grow up."
Luke Lachey has come a long way since he joined the Iowa football team as a skinny tight end who played with more finesse than physicality in high school.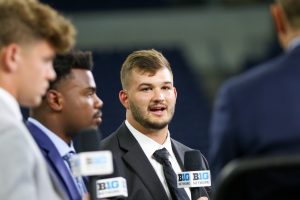 He now carries 252 pounds on a 6-foot-6 frame, and he will also carry a bigger load on offense as Iowa moves on without former All-Big Ten tight end Sam LaPorta, who is now preparing for his rookie season with the Detroit Lions after having been picked in the second round of the 2023 NFL draft.
Iowa has a long and distinguished list of tight ends that have flourished under veteran head coach Kirk Ferentz, and Luke Lachey is now on that list.
The Iowa offense struggled last season under offensive coordinator Brian Ferentz, but to little fault of Luke Lachey as he had four of the team's seven touchdown catches.
"Coach Ferentz had a great vision for him when they started recruiting him, and Brian, and they brought him in and he's blossomed," Jim Lachey said. "It's just been fabulous with coach Ferentz and Brian there.
"And then, obviously, Sam LaPorta and learning from him. So, it's been good, just growing and getting better."
With his long-standing connection to the Big Ten Conference, Jim Lachey has built numerous relationships with head coaches along the way, and he holds Kirk Ferentz in the highest regard.
He also considers former Michigan State head coach Mark Dantonio a friend and somebody he greatly respects.
"So, I ever thought if my son did go someplace in the Big Ten besides Ohio State that those would be two good programs," Jim Lachey said of Iowa and Michigan State . "Of course, Dantonio retired and moved on. But coach Ferentz is still out there. So, it all worked out."
Jim Lachey and Kirk Ferentz both share a passion for offensive linemen because Lachey used to be one, while Ferentz climbed the coaching ladder as an offensive line coach, including for nine seasons at Iowa under Hayden Fry from 1981 to 1989 and for six seasons in the NFL before replacing Fry as the Iowa head coach in 1999.
Luke Lachey, on the other hand, chose a different path in football, partly due to his slender frame as he barely weighed 210 pounds coming out of high school.
"He was a basketball player," Jim Lachey said of his son.
Jim Lachey figured his son could handle the receiving part of playing tight end in college because he had watched Luke excel as a receiver in high school.
Ironically, it was the blocking part of being a tight end that Jim Lachey wasn't as sure about.
But Jim now takes great pride in how much Luke has improved as a blocker.
"I knew that he would have to learn to become a blocker and get into a three-point (stance) because he was always a skill guy, quarterback, wide receiver," Jim Lachey said. "I didn't worry about catching. He's had a ball in his hands since he's been old enough to walk."
Luke Lachey credits his father for helping him reach this point as a football player.
"He wants to help me be the best player that I can be," Luke Lachey said.
Luke also credits the Iowa coaches for helping him become a complete tight end by teaching him to block.
"It was just learning a whole new thing," Luke said. "In high school, I was out wide, so, I didn't do much in-line blocking at all. So, it was just learning it, and I feel that we have great coaches. They're just going to go out there and teach you how to block."
Luke Lachey is expected to form a valuable one-two punch at tight along with former Michigan tight end Erick All, who joined the program this past winter via the transfer portal.
Former Michigan quarterback Cade McNamara also transferred to Iowa at the start of the spring semester, giving the Hawkeyes an established player behind center.
Luke Lachey and All are both from Ohio, and they have since become close friends.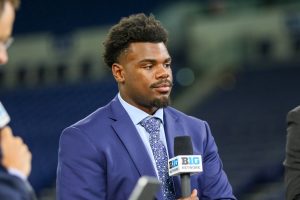 "I'm really excited to play with him," Luke Lachey said of All., who had over 400 receiving yards for Michigan's 2021 Big Ten champion team, and with McNamara throwing to him. "I've learned a lot from him already, just little things that help to play the position."
As for Jay Higgins and his father, Roy Higgins, they also have an unbreakable bond that has continued to grow since Jay became an Iowa linebacker.
Jay is from Indianapolis, so being able to represent Iowa at Big Ten media day was a special honor for him, and for his father.
Jay Higgins said his father was so excited that he wanted to attend Big Ten media day, but Jay had to remind him that it was only for the media.
"He was convinced he'd be in your position now," Jay Higgins said of his father. "He thought he would be on the field talking to me and I told him there was a little bit more security that goes on. They can't just let people off the streets of Indianapolis in here.
"But he's really excited for me. He's always been one of my biggest supporters. Any opportunity I can to make him proud, I just love doing it for him."
Jay Higgins and Virginia transfer Nick Jackson will help fill a massive void that was created with the loss of linebackers Jack Campbell and Seth Benson to graduation.
Campbell was named the 2022 Butkus Award winner as the nation's top collegiate linebacker, and was picked in the first round of the 2023 NFL draft by the Detroit Lions, while Benson was a three-year starter for the Hawkeyes.
Iowa usually has one of the top defenses in the Big Ten, and Iowa defensive coordinator Phil Parker is considered one of top defensive coordinators in college football.
Jay Higgins looks forward to the challenge of living up to the high standard that has been set on defense under Parker and assistant defensive coordinator and linebacker coach Seth Wallace.
"Coach Parker, his philosophy has, obviously, worked, so I wouldn't imagine this is the year we change everything," Jay Higgins said. "Just continue to go with the game plan he gives us and continue to trust and believe what him and coach Wallace are preaching to us.