By Pat Harty
INDIANAPOLIS – Kirk Ferentz was nearing the end his nearly 50-minute interview session at Big Ten Media Days this past Wednesday when he was asked the following two questions:
"Coach, 25 years doing this, is there anything sentimental about that? And why do you continue to coach this late in your career?"
Ferentz, who turns 68 on Tuesday, then gave a simple explanation.
"I don't know about sentimental," Ferentz said. "But why do I coach is just easy. It's because I really like doing it and nobody has told me to sit down yet. So, at some point they will, and if they do, that'll be the time.
"That's the thing about this job, other people will let you know when it's time to take a seat. But it's invigorating. It's what I like. It's what I do."
Ferentz then referred to an entertainer without being specific that while on stage had recently explained why he still performs.
"I saw a performer on Sunday, a guy I should have known, but I don't know," Ferentz said. "But anyway, I won't bore you with the details. But up on stage, he just said for most of his life he doesn't have any hobbies. He performs and then he prepares. He's in the studio preparing and doing whatever musicians do.
"And I can identify with that. I'm lucky. I like my job a lot. I like sitting out in the back, too, at my house. I really enjoy that and the peace and quiet occasionally, coffee or another beverage and all those things, too. But I really like what I do. I like the people I'm around. I feel fortunate."
Ferentz didn't always think he would last this long as a football coach, or would want to last this long.
"If you had told me in 1981 I was going to live thirty-plus years in Iowa City, I would have said you're absolutely nuts, out of your mind," said Ferentz, who is the longest tenured FBS head coach in the country. "So, you just never know where it's going to take you. I've been really lucky."
Ferentz's connection to Hawkeye football started in 1981 when Hayden Fry hired Ferentz as his offensive line coach.
Ferentz was just 25 years old when he landed the job.
Little did he know at the time, but that decision would change the course of his life.
Ferentz coached under Fry for nine seasons before leaving shortly after the 1989 season to be the head coach at Maine, a job he held for three seasons before moving to the NFL as an offensive line coach.
He then spent six seasons in the NFL as an offensive line coach, and probably assumed that he would stay in the NFL for the rest of his career.
But as Ferentz said, you never know where it's going to take you, and when Iowa offered Ferentz the chance to succeed Fry as the Iowa head coach, Ferentz considered it an honor and embraced the opportunity.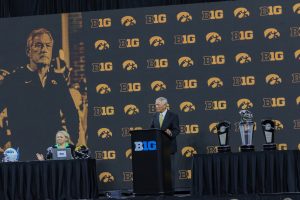 Ferentz wasn't the popular choice among most Iowa fans who were hoping that former Hawkeye defensive back Bob Stoops would replace Fry at Iowa.
Stoops was reportedly close to being hired by his alma mater, but there was one more candidate that still had to be interviewed, and that was Kirk Ferentz.
Stoops apparently didn't want to wait any longer, so he took the Oklahoma job instead, much to the dismay of some Iowa fans.
Those same fans became even more frustrated when Ferentz lost 18 of his first 20 games as the Iowa head coach, while Stoops won a national title in his second season at Oklahoma in 2000.
But in fairness to Ferentz, he didn't have nearly as much talent or depth as Stoops had with the Sooners.
Ferentz faced a daunting task in rebuilding the Iowa program, and it took some time and suffering.
Iowa finished 1-10 in Ferentz's first season in 1999 and 3-9 in 2000.
The breakthrough finally came in 2001 when Iowa finished 7-5, capped by a win over Texas Tech in the Alamo Bowl.
Iowa has had just two losing seasons since then, and Ferentz now ranks fourth all-time in wins among Big Ten coaches with 186 victories.
However, his love for the game has been tested since the tumultuous summer of 2020, when in addition to dealing with the global pandemic, multiple former Iowa black players accused the program of racial disparities and bullying.
Ferentz admitted to having a blind spot, and he lost his long-time strength and conditioning coach, and his close friend as part of the fallout when Chris Doyle was relieved of his duties barely two weeks after the allegations were made public.
Ferentz vowed to fix the culture, and to his credit, positive steps have been taken.
Iowa also has a combined record of 24-11 since the summer of unrest and won the Big Ten West Division in 2021.
So, despite all the distractions and the negative publicity, the program has remained solid under Ferentz.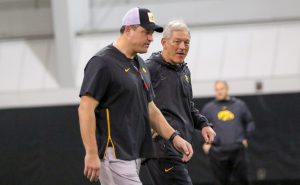 His biggest problem right now is his sputtering offense, which finished last season ranked 130th out of 131 FBS teams in total offense. Iowa also had only seven touchdown passes in 13 games last season.
Making matters worse is that Kirk Ferentz's son, Brian Ferentz, is the offensive coordinator.
Kirk Ferentz has been accused of nepotism and of turning Iowa football into a family business, while his offense, and his son, have been widely criticized and ridiculed by Iowa fans, and by the media.
Brian Ferentz enters this season with the added pressure from having his contract adjusted with performance incentives.
The contract amendments include a salary of $850,000. The objectives for the 2023 season include an average of at least 25 points per game and a minimum of seven wins, including regular season and a possible bowl game.
If the objectives are met, the contract will return to the prior two-year rolling agreement terms, along with a one-time lump sum bonus and base salary adjustment.
Kirk Ferentz, not surprisingly, was asked about the amendments to Brian Ferentz's contract at Big Ten media day.
"It is what it is," Kirk Ferentz said. "It's on record. It's really nothing to worry about. Our focus is going to be on winning games and playing the best we can.
"None of us are running from last year. We were not good offensively. You don't have to be a rocket scientist to figure it out if you just look at numbers."
Iowa still won eight games last season, including a bowl game, despite the offense.
The defense was rock solid under Phil Parker, as were special teams under LeVar Woods, and both units are expected to be strong again this season.
"The way we're built, we do believe in defense at our place," Kirk Ferentz said. "We do believe in special teams. And all three components really work well.
"But if we're playing the way we need to play, then it's not going to be an issue. And that's really where our focuses are. What can we do to move forward?"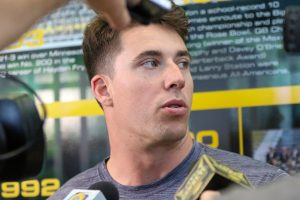 Part of the approach to moving forward this offseason included a more active role in the transfer portal where Iowa added some key pieces on offense, most notably former Michigan quarterback Cade McNamara.
The additions from the transfer portal have helped to energize the fan base as evidenced by Iowa's first five home games already having been sold out.
Kirk Ferentz knew he had to do something to fix his offense, and he did.
Now it's just a matter of making it work on the field.
Most of the prognosticators have either Wisconsin or Iowa as the preseason favorite to win the Big Ten West. So, despite all the negativity surrounding the offense, Kirk Ferentz still has a team that deserves respect.
Kirk Ferentz has faced difficult stretches before as the head Hawk, and each time, he has persevered on and off the field.
He overcame a 2-18 start as the Iowa head coach, and he also performed a reboot of his program after a disappointing end to the 2014 season.
He benched Jake Rudock at quarterback shortly after the 2014 season and replaced him with C.J. Beathard.
He also moved practice from late in the afternoon to early in the morning after the 2014 season, and those two changes made a huge impact as Iowa finished 12-2 in 2015 and played in the Rose Bowl for the first time since 1991.
Iowa also won 10 games in 2019 and 2021 and finished 6-2 during the Covid-shortened 2020 season.
Every time Kirk Ferentz has been backed into a corner, he has come out fighting with positive results.
And while Kirk Ferentz has changed very little over the years, the circumstances have changed around as other head coaches have come and gone.
Iowa will also hire a new athletic director to replace Gary Barta, who retires at the end of July.
Beth Goetz has been named the interim athletic director, and she was among those listening as Kirk Ferentz answered questions at Big Ten Media Days.
Kirk Ferentz paid his respects to Barta and Goetz will speaking at Big Ten Media Days.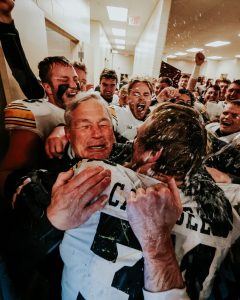 "Want to publicly thank Gary Barta for his service at Iowa for 17 years," Kirk Ferentz said. "Had the opportunity to work with Gary. He's been a great friend and had a great working relationship. I'm, obviously, very appreciative of that. Wishing he and (his wife) Connie all the best moving forward.  
"Want to welcome Beth Goetz, our interim AD, who's been on campus for almost a year and has already garnered a lot of respect from everybody she's interfaced with. Certainly, great to have her with us."  
A cynic would say that it's easy for Kirk Ferentz to keep coaching when he's being paid $7.5 million annually.
And while money is certainly a factor in his desire to keep coaching, it isn't easy to keep winning at this level.
Remember, this is the same Iowa program that suffered through 19 consecutive non-winning seasons from 1962 to 1980.
Kirk Ferentz has earned the right to decide when he retires because of his success on the field.
The racial unrest from the summer of 2020 is certainly a blemish on his record and will forever be a part of Kirk Ferentz's legacy.
But Iowa decided, even with that controversy, that the good still outweighs the bad with Kirk Ferentz and they have stuck with him.
Kirk Ferentz's contract runs through the 2029 season, and right now, he seems determined to coach for that long.
He appears to be in good health, and he must have the blessing from his wife, Mary, to keep coaching at an age when many are retired.
Family and football are what matters the most to Kirk Ferentz.
His family will be with him forever.
But at some point, Kirk Ferentz will step away from football, although, it doesn't seem as if that will happen anytime soon because he just loves the game, and his job, too much to step away.