By Pat Harty
IOWA CITY, Iowa – One of the Iowa storylines to emerge from Big Ten Media Days was Kirk Ferentz's highly optimistic outlook for his offensive line.
Reporters jumped on the topic, and understandably so, because no disrespect to quarterback Cade McNamara, but the performance of the Iowa offensive line could have the biggest impact on Iowa's performance as a team.
Should the offensive line struggle as it did last season, McNamara might also struggle.
McNamara played quite well in 2021 as Michigan's starting quarterback, leading the Wolverines to the Big Ten championship and to the four-team college playoff.
But he also played behind arguably the best offensive line in the Big Ten, if not the country.
McNamara had time to throw, and he had the support from a potent ground attack, thanks largely to the performance of the Michigan offensive line.
As a Hawkeye, McNamara will play behind an offensive line that seemed overmatched at times last season, for reasons that included injuries, a lack of experience, and just from not being as good as the opponent.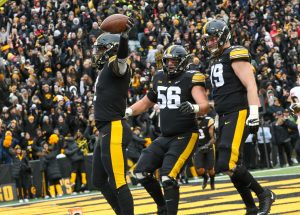 Spencer Petras certainly had his flaws as Iowa's starting quarterback last season.
But he also had very little time to throw, and he had a running game that produced very little.
It was a recipe for struggle, and to say the Iowa offense struggled last season would be an understatement as it finished last season ranked 130th out of 131 FBS teams in total offense.
And yet, Kirk Ferentz at Big Ten Media Days last Wednesday in Indianapolis still almost went out of his way to praise and promote his offensive line, and offensive line coach George Barnett.
"A big part of our issue has been up front," Kirk Ferentz said. "We just haven't been at the level that we'd like to be. I love our guys. That's not the problem. But you can't microwave that. And George Barnett is an awesome coach. I don't know if he gets beat up on social media or not. I'm a little discriminative about line coaches and George is an unbelievable line coach.
"So, I think we have the right people in place, and I think we'll have the right competition. So, we've got to stay healthy, and everybody has to improve. Everybody has to improve on our team for us to be where we want to be. But I'm excited about it."
There isn't anything unusual about a head coach having a glass-half-full mentality at a media day event.
In fact, Kirk Ferentz was optimistic about his offensive line at 2022 Big Ten Media Days, saying that being a year older and year wiser should make the unit better.
Iowa had six offensive linemen returning with starting experience last season, but the unit just never really clicked. It made some improvement near the end of the season, but the bad still far outweighed the good.
It wasn't surprising that Kirk Ferentz was optimistic about his offensive line because consider the circumstance, and because Ferentz, by nature, is pretty optimistic and supportive of players.
It's just how far Ferentz went with his praise at Big Ten Media Days, and how much detail he used to explain his optimism, that made you think maybe it was more than just a media day lip service.
Maybe Kirk Ferentz does truly believe that his offensive line is poised and ready to make a significant leap.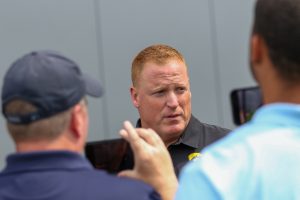 He singled out third-year junior guard Connor Colby, who has had to grow up in a hurry as a Hawkeye, with 24 career starts already under his belt, and with no redshirt season, and redshirt junior Logan Jones, who started all 13 games at center last season after having switched from defensive tackle the previous March heading into spring practice.
"We had our last workout yesterday and I'm watching him, and I said, 'you know, this guy is in his second year this past year and we're treating him like he's a returning starter last year," Kirk Ferentz said of Colby, who attended Cedar Rapids Kennedy High School. "Second year in college. There was a time when offensive linemen played five (seasons) and they usually played pretty well in four and five, good in three, but four and five.
"And the same thing with Logan Jones. Logan probably should get a medal for the way he played last year because what he did was so difficult, moving him in March and then starting every game, and he played pretty well last year. And this guy, everything he does is at such a high level. So, to think he's not going to be better this year and next year, seriously? And I'd say the same thing about Connor. I think he'll be at a different level physically and certainly maturity, and he'll understand coaching a little bit better."
Iowa is known as a developmental program in which players need time to mature physically.
There are exceptions such as former Big Ten Offensive Lineman of the Year Tristan Wirfs, who now starts at right tackle for the Tampa Bay Buccaneers after having played just three seasons for Iowa.
But those players are few and far between at Iowa, and even Wirfs needed some time to develop.
"It's asking a lot for a second-year guy to go out there and play well at that position," Kirk Ferentz said. "It's really challenging. We've had guys do it. But I would suggest Tristan Wirfs was a lot better in year three than in one or two.
"So, that's the part you just can't microwave. You can't have a guy walk in the weight room and say, 'okay, you went from 250 to 350 in one week time.' That doesn't happen. And it's kind of a similar process. I just feel good about the whole group that way."
Of course, right now, all Kirk Ferentz has is words, and he acknowledged that.
Time and performance will ultimately determine if his optimism was accurate.
Some fans will take a wait-and-see approach before believing that the offensive line will perform at a higher level because they've been disappointed too many times before.
And the memory from last season still is fresh in their minds.
So, there is a reason to be skeptical and suspicious.
Iowa has a month to prepare for its season opener against Utah State on Sept. 2 at a soldout Kinnick Stadium.
But again, Ferentz really laid it on thick at Big Ten Media Days, and if anybody should know whether an offensive line is ready to emerge, it's Kirk Ferentz, considering he coached the Iowa offensive line for nine seasons under Hayden Fry 1981 to 1989 and for six seasons in the NFL.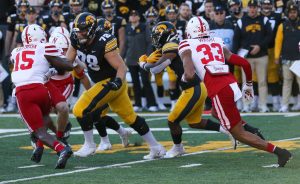 Iowa has six returning offensive linemen that combined to make 47 starts last season, including 13 starts by Mason Richman at left tackle.
Richman has started 25 of the last 27 games at left tackle, but he also missed spring practice due to an injury from which he has since recovered.
"I can go right down the list, every guy is a better player," Kirk Ferentz said. "I can't say it about Mason because we didn't have him out there this spring. But he'll be healthy this year, and he's a year more mature, and I'm around him frequently, and he'll play at a much higher level, too. I don't want to say he's just been surviving but there's a difference between doing your job and doing your job well and having some control.
"I just think we're closer to that point. We're not there yet by any stretch. We really need a good month and I think we'll have a chance maybe to play at a level that kind of meets the standard we're looking for. It's not that guys haven't tried. Injuries factor into it. There's a million things that factor into it. And I say, George is an unbelievable coach. So, that's not the issue." We could stand on ten land mines in the next two weeks. But I don't think that's going to happen. I think we'll be a little bit better that way, and that makes everything easier to do."
Barnett is entering his third season as the Iowa offensive line coach. And even though, the numbers don't show it, he apparently has performed his duties at a high level since Kirk Ferentz twice used the word outstanding to describe him at Big Ten media day.
Iowa also added two offensive linemen from the transfer portal in Daijon Parker and Rusty Feth, both of whom already have made the two-deep lineup. Parker is listed as the No. 2 right tackle, while Feth is the backup at right guard.
Parker played for three seasons for Division II Saginaw State in his home state of Michigan, while Feth played four seasons for Miami (Ohio) and made second-team All-Mid-American Conference last season.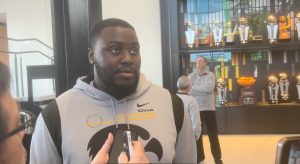 Both players were looking for a bigger stage after having proven themselves, and they didn't come to Iowa to sit on the bench with what little time they have left to play in college.
This might have been Kirk Ferentz just conducting one big public relations push to help boost a unit that has struggled.
But it didn't seem that way.
Kirk Ferentz is too wise, too experienced and too media savvy at this point to set a group up for failure.
He sort of did that at last year's Big Ten media day event, but he wasn't nearly as persuasive, and he ultimately was wrong about the 2022 offensive line.
Iowa has a load of experience returning on the offensive line, this season and the key pieces are all upperclassmen now, including Colby.
The time is now for the offensive line to hold up its end of the deal for a change.
There are no more excuses, although, the threat of injuries always looms.
"We really need a good month and I think we'll have a chance maybe to play at a level that kind of meets the standard we're looking for," Kirk Ferentz said . "It's not that guys haven't tried. Injuries factor into it. There's a million things that factor into it.
"And I say, George is an unbelievable coach. So, that's not the issue." We could stand on ten land mines in the next two weeks. But I don't think that's going to happen. I think we'll be a little bit better that way, and that makes everything easier to do."