By KCJJ radio and Hawk Fanatic
IOWA CITY, Iowa – A former walk-on kicker at the University of Iowa was charged Wednesday in connection with wagering on Hawkeye sporting events — one day after Iowa State quarterback Hunter Dekkers was accused of commiting the same offense at his school.
Aaron Blom, who was on the Iowa roster from 2020-22, used a DraftKings Sportsbook account set up under his mother's name and made about 170 mobile or online sports wagers before he turned 21, the legal gambling age in the state. That's according to a criminal complaint filed in Johnson County.
The wagers totaled over $4,400, with about eight placed on Iowa sporting events. One of the bets included the 2021 Iowa-Iowa State football game.
Blom is also accused in the complaint of tampering with records related to an Iowa Criminal Division investigation into sports gambling.
The bet Blom placed on the rivalry game was an over-under wager, which requires the bettor to choose whether the teams will combine for more or less than a designated combined point total. The over-under for the game was 45 points, and Iowa won 27-17 for a total of 44 points. Blom, who did not participate in the game, chose the under, according to the complaint.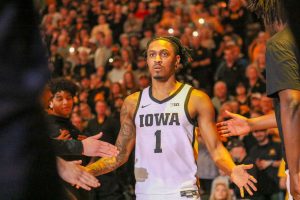 His mother, Michelle Blom, told the Department of Criminal Investigations that the DraftKings account was registered under her name and used by her son with her consent and knowledge. Blom and his parents acknowledged they knew about his online wagering activity and agreed that he would be responsible for any tax implications.
The Johnson County Attorney's Office announced on Wednesday that two other former Hawkeye athletes were charged in the investigation. They include former Hawkeye basketball player Ahron Ulis and former Hawkeye baseball player Gehrig Christensen. Both are charged with Tampering With Records.
Ulis, who has since transferred to Nebraska, has been accused of making approximately 1,850 sports wagers, including more than 430 bets on NCAA football and men's basketball games.  He also has beena accused of making at least bet on an Iowa football game.
Ulis made his bets on Fan Duel, including some underage, totaling $34,800 according to the complaint. He also used the name "Anton Porter" to make his bets.
Ulis started 27 games at point guard for Iowa last season.
A statement from University of Nebraska Athletics was released Wednesday:
"The University of Nebraska Athletic Department was made aware this summer about a potential issue regarding the eligibility of men's basketball student-athlete Ahron Ulis. Since that time, we been in communication with the NCAA regarding this matter and Ahron is not participating with the team on its trip to Spain."
Nebraska reportedly was not aware of the allegations involving Ulis when it was recruiting him.
Nebraska head men's basketball coach Fred Hoiberg told reporters Wednesday he learned of Ulis' eligibility issue in May after Ulis had already signed with the Cornhuskers.
"We were not aware of this issue at the time we were recruiting him in the transfer portal this spring," Hoiberg said.
Christensen, meanwhile, has been accused of making 559 wagers while underage totaling more than $2,400, including 23 bets on Iowa sporting events.
His mother called it a "silly mistake" in court documents.
Christensen was among four Iowa baseball players that missed the final 18 games of the 2023 season because of being linked to the investigation into sports wagering.
The others were former All-Big Ten selection Keaton Anthony, pitcher Jacob Henderson and catcher Ben Tallman.