By Hawkeyesports.com
IOWA CITY, Iowa — University of Iowa senior punter Tory Taylor has been named to the 2023 Ray Guy Award Watch List, while sophomore place kicker Drew Stevens has been named to the Lou Groza Award Watch List. The announcements were made Wednesday by the Augusta Sports Council and Palm Beach County Sports Commission.
The Ray Guy Award is presented to the nation's top collegiate punter, while the Lou Groza Award goes to the country's best place kicker.  
RAY GUY AWARD 
Taylor, who was a Ray Guy Award semifinalist in 2020 and 2021, was also named a preseason first-team All-American by Athlon Sports in May. The Australia native garnered first-team All-America honors by FWW, Phil Steele and Pro Football Focus and was a second-team selection by the Associated Press in 2022.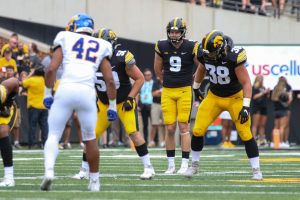 Taylor (6-foot-4, 232 pounds) averaged 45.4 yards on 82 punts a season ago. He set the Iowa single season record for punting yards with 3,688 yards (80 punts, 46.1 average) in 2021 and increased that record to 3,725 yards in 2022. Taylor placed 39 and 38 punts inside the 20 in 2021 and 2022, respectively. He averaged a career-best 51.8 yards on eight punts at Purdue in 2022.
 Established in 2000, the Ray Guy Award is named after College and Pro Football Hall of Fame inductee Ray Guy. Former Hawkeye Ryan Donahue was a finalist for the award in 2010. 
The Ray Guy Award committee will select ten semifinalists on Nov. 10. A national body of Football Bowl Subdivision (FBS) sports information directors, media representatives and previous Ray Guy Award winners will then vote for the top three finalists to be announced on Nov. 22. After the finalists are named, the voting body will cast ballots again to select the nation's top punter.  
LOU GROZA AWARD 
A 2022 Groza semifinalist, Stevens (6-foot, 199 pounds) was one of only two freshmen to be so honored last season. Among the 13 returning FBS kickers who made multiple long distance field goals last year, his 88.9 percent accuracy ranked third. He scored the opening and game-winning points in a 13-10 win over Minnesota.
 Stevens was also named a preseason first-team All-Big Ten by Athlon Sports and Phil Steele in May. The Augusta, South Carolina, native set a freshman program record with 16 field goals in 2022 en route to freshman All-America honors. He made 16-of-18 field goal attempts, including 6-for-8 from 40+. 
The Lou Groza Award, established in 1992, is named for National Football League Hall of Fame kicker Lou "The Toe" Groza, who played 21 seasons with the Cleveland Browns. Groza won four NFL championships with Cleveland and was named NFL Player of the Year in 1954.  
Stevens became the sixth Hawkeye kicker to be named a semifinalist for the Groza Award in 2022. Nate Kaeding won the award in 2002 and was a finalist in 2003. Keith Duncan (2019) joined Kaeding as a previous finalist. Other semifinalists include Kyle Schlicher (2005), Meyer (2011 and 2012) and Caleb Shudak (2021). 
The Lou Groza Award will announce its 20 semifinalists on Nov. 9. From this list, a panel of more than 100 FBS head coaches, SIDs, media members, former Groza finalists, and current NFL kickers selects the top three finalists for the award, announced on Nov. 28.  
The winners of both awards will be announced Dec. 7 as part of ESPN's College Football Awards Show.
The Hawkeyes open their season against Sept. 2 against Utah State. The sold-out game is set for an 11 a.m. (CT) kickoff.