By Pat Harty
IOWA CITY, Iowa – There isn't one statistic, one just player or one unit that will determine the Iowa football team's level of success this coming season.
Football is considered the ultimate team sport in which three units – offense, defense and special teams – work together to win games.
Iowa performed at an exceptionally high level on defense and special teams last season, but still lost five games mostly because the offense failed to hold up its end of the deal.
It takes a group effort to win football games, but for the sake of this column, I picked one statistic that could go a long way in determining Iowa's level of success this season, and that's per-game rushing yards.
With so much attention focused on the addition of quarterback Cade McNamara from the transfer portal, and deservedly so because he is a key addition, it's easy to overlook the running game even though it might have a bigger impact, good or bad, on Iowa's season than McNamara.
Iowa's chance of winning the Big Ten West Division, and at least 10 games, would seem well within reach if the running game averages at least 175 rushing yards per game and at least four yards per carry.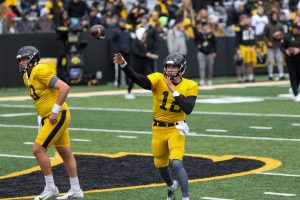 You figure the defense and special teams will pick up where both units left off last season, and that McNamara will be a step up at quarterback.
The running game, on the other hand, inspires far less confidence, because more times than not, especially in recent seasons, it has failed to deliver.
To ask a team such as Iowa that takes so much pride in its running game to average at least 175 rushing yards per game, and at least four yards per carry, really isn't asking that much, although, Iowa's track record would suggest otherwise.
Consider this sobering statistic: Since the 2004 season, only three times has Iowa averaged at least 175 rushing yards per game.
The last time it happened was in 2015 when a 12-2 Iowa team averaged 181.7 rushing yards per game.
Iowa also averaged 179.9 rushing yards per game in 2013 and won its final three regular-season games and nearly defeated Louisiana State in the Outback Bowl, losing 21-14 to finish 8-5 overall.
The only other time it has happened since 2004 was the 2008 season when the Shonn Greene-led Hawkeyes averaged 188.7 rushing yards per game and finished 9-4 overall.
It probably isn't a coincidence that Iowa combined to win 29 games in the last three seasons it has averaged at least 175 rushing yards per game because the Iowa offense works so much better when the running game is a real threat.
There are exceptions such as the 2004 season when Iowa won a share of the Big Ten title and 10 games despite only averaging 72.6 rushing yards per game.
But Iowa also had arguably the best quarterback in the Big Ten that season in sophomore Drew Tate and a rock-solid defense.
Iowa also won 11 games in 2009 despite only averaging 114.2 rushing yards per game. But that team also had Marvin McNutt and Derrell Johnson-Koulianos playing receiver, to go with a top-notch defense.
McNutt and Koulianos are ranked first and second in career receiving yards at Iowa with 2,861 and 2,616 yards, respectively.
So, yes, there are ways to win without a reliable rushing attack, but the odds are stacked against you.
Should Iowa average at least 175 rushing yards per game, that would give McNamara the luxury of using play action to keep defenses off balance and guessing.
McNamara had the luxury of using plae action as Michigan's starting quarterback in 2021 and it helped him, and the Michigan offense to perform at a high level while winning the Big Ten title and making the four-team college playoff.
If a psychic were to tell me that Iowa will average at least 175 rushing yards per game this season, I'd pick the Hawkeyes to win the West Division and at least 10 games because it's amazing how much the Iowa offense is impacted by its running game.
When the running game is reliable and productive, the Iowa offense operates more smoothly because everything feeds off the running game.
But when the running game sputters, the Iowa offense more times than not fails to deliver.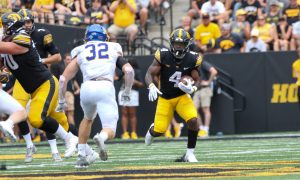 One of the biggest problems on offense in each of the past two seasons was too many negative running plays, especially on first down.
Spencer Petras certainly has his flaws as a quarterback, but he also faced way too many second-and-long situations because of negative running plays on first down.
The pieces would seem to be in place for the Iowa running game to be effective this season.
From McNamara's presence at quarterback to having three solid running backs in Kaleb Johnson, Leshon Williams and Jaziun Patterson to now having a veteran offensive line where multiple starters return, Iowa should have what it takes to average at least 175 rushing yards per game.
That wouldn't seem to be asking too much for a team that is considered a running team, and for a head coach whose area of expertise is the offensive line.
When most people think of Kirk Ferentz and the Hawkeyes, they probably think of strong defenses, reliable special teams and a power running game that consistently moves the chains.
But those familiar with Hawkeye football under Kirk Ferentz know that isn't entirely true because the running game usually fails to live up to its reputation.
Iowa rushing woes
Season, average rushing yards per game
2022 – 94.9
2021 – 123.6
2020 – 171.0
2019 – 137.6
2018 – 148.4
2017 – 139.2
2016 – 171.8
2015 – 181.7
2014 – 163.1
2013 – 179.9
2012 – 123.0
2011 – 137.7
2010 – 148.4
2009 – 114.2
2008 – 188.7
2007 – 126.3
2006 – 143.5
2005 – 174.7
2004 – 72.6