By Pat Harty
IOWA CITY, Iowa – My original plan for Iowa football media day didn't include writing a column about Noah Shannon.
Because for one, I didn't know if Shannon would be made available for interviews on Friday since he had turned down a chance to represent Iowa at Big Ten Media Day last month in Indianapolis.
And if he were made available, I figured that he might be very guarded in what he could say since he had chosen not to attend Big Ten Media Day.
Wow!
I was so wrong.
Shannon didn't just show up and answer questions for nearly an hour under a blistering August sun, Iowa's sixth-year defensive tackle spoke from his heart, and with a sense of humility and accountability that was so impressive.
He spoke softly as usual, but what he said came through loud and clear and deserved to be highlighted.
Shannon, not surprisingly, declined to talk about the specifics of the investigation, or about what he was alleged to have done to become a part of it.
But he explained why he turned down a chance to represent Iowa at Big Ten media day and he talked about the brotherhood on the Iowa football team and what it means to him and what it means to be a veteran leader.
"Especially as a sixth-year leader on the team, I feel like I have to hold myself accountable in all aspects," Shannon said. "I've got a lot of guys on the team that look up to me. So, I feel like I have to now set the standard, the standard was set way before me, but kind of just uphold it and bring it with me and pour it on to these future Hawkeyes who are going to be on the field on Saturdays."
Shannon was honored to have been chosen to represent a program that means so much to him at Big Ten media day.
To be among the three players chosen to represent Iowa at Big Ten media day is a huge compliment and the ultimate sign of respect.
But Shannon didn't think it would be right for him to represent Iowa under the circumstances.
So, he met with Iowa head coach Kirk Ferentz in early July and explained his reasons.
Senior linebacker Jay Higgins then was picked to replace Shannon at Big Ten media day.
"I spoke to coach Ferentz a week before we went on the Fourth of July break and kind of brought it up to him and told him I don't know if it's a good idea that I represent our team at media day just with the investigation pending," Shannon said. "I thought it would be smart for someone else to fill my role, like Jay Higgins.
"I didn't want what was going on with me off the field to take away from what's going on with the team."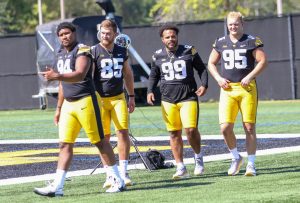 If there is anything positive to come from the gambling investigation, which has led to 15 current and former Iowa and Iowa State football players now facing criminal charges, it's that we've had a chance to learn why Kirk Ferentz speaks so highly of Noah Shannon.
Shannon, who turned 23 in March, hasn't been charged with breaking any laws in relation to the gambling investigation since he is of legal gambling age.
And judging from how supportive Kirk Ferentz has been in the wake of the investigation being launched, it causes one to think that what Shannon allegedly did is considered minor even though gambling is strictly prohibited by the NCAA.
It also seems apparent with Kirk Ferentz voicing his support for Shannon that Shannon didn't bet on Iowa football games.
Kirk Ferentz made it abundantly clear on Friday how he feels about players betting on their own games.
"I think the key point there is betting on our games, and to me it's a deal breaker if that is, in fact, proven to be true," Kirk Ferentz said.
"My wife says because I'm telling her how the kid's feeling, which is terrible and she goes, he didn't commit a crime," Kirk Ferentz said. "He's of age. That's the sad part about this. There's a humanistic side to this, too."
"When I was a kid, it was smoking advertisements right, Marlboro Man, Tarrington, Lucky Strikes. Now it's all gambling. So, we wonder why all this is going on. It is what it is, but we'll deal with it. But he's a great kid."
Shannon could have also skipped Iowa's media day, but he was encouraged by Kirk Ferentz to attend.
"I think he needs to just because what's he hiding?" Kirk Ferentz said. "He shouldn't hide. He's a great young guy and he's been nothing but stellar with our program, and he made a mistake, sort of."
"The NCAA part I get that. But I would suggest those rules probably need to be adjusted. They are what they are, and he knew that at the time. So. I'm not making any excuses."
The NCAA recently established new guidelines for sports betting violations that provide more leniency than in the past.
If a player wagers on their own sport at another school, the player could lose 50 percent of one season of eligibility. They must also receive education on sports wagering rules and prevention.
For all other betting violations, such as pro sports, it will depend on the cumulative amount of money wagered:
$200 or less: Only further education is required.
$201 to $500: Loss of 10 percent of a season, plus further education.
$501 to $800: Loss of 30 percent of a season, plus further education.
More than $800: NCAA reinstatement staff will consider whether further loss of eligibility is appropriate, including potentially permanent ineligibility.
It's impossible to know what punishment Shannon could be facing without knowing the specific details about his case.
Shannon was asked Friday why he has chosen to deal with this controversy head on, and why he has been so transparent when he didn't have to be.
"I think it has to do with how I was raised by my mom and dad," Shannon said. "They always raised me to be honest. And you can't get in trouble for learning. So, that's how I thought about it and wanted to come forward.
"I felt like the team should know. As being a leader on the team, I didn't want to have any secrets from anyone. So, I felt like it was best to make my statement and let the team know and let them know that I wanted somebody else to represent us in Indianapolis."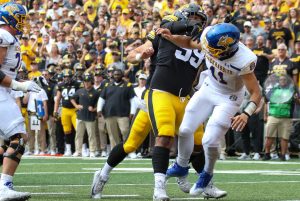 Shannon has dealt with waiting for a ruling on his status by staying busy, which is easy to do during preseason camp, and by staying isolated from the outside noise.
"I feel like anybody would be anxious if they had something coming out about them," Shannon said. "But I've just been getting really lost in my work here at camp, just working with the young guys and working on my rehab. I don't have social media, so, I'm not on it scrolling through Twitter and looking at stuff.
"So, I'm in a good head space right now."
Shannon said he learned that he was part of the investigation in early May. And now more than three months later, he's still waiting for a resolution, and to know what his future as a Hawkeye will be.
"We're just going to let the NCAA take their time and do whatever they want to do, and hopefully, get a result here soon," Shannon said.
Shannon is fortunate to have a strong base of support from the people that mean the most to him; his family, his girl friend and his teammates and coaches.
"They've meant everything, just having their constant support," Shannon said. "Whether it's just like a laugh or like little small talk, anything. I love these guys. It's a big reason why I came back to be with my teammates and coaches, and obviously, the fans. We have the best fans in the world."
Shannon also seems to think that he has the best parents in the world because he credits them for helping to shape him into the young man that he is today.
"It feels great. And how I was brought up by my parents and grandparents it says a lot about them, too," Shannon said. "I'm grateful for coach Ferentz and all the great words he's had to say. But I think it really starts with how my parents raised me."
As one of the oldest players on the team, Shannon has gained a sense of maturity that is now helping him to cope with the uncertainty surrounding the investigation.
"I would definitely say for guys who can't be charged criminally, I'd say it's easier because I am legally of age to do so," Shannon said. "It probably would be a little harder if I was younger because I wasn't as mature as I am now. I probably would have handled the situation a little different.
"But I'm honestly mad that it happened, but I'm also grateful because these types of things tend to define people's lives and which paths they go down. But I'm not going to do that. I'm not going to let it define me and I'm going to keep moving on with my life.
Shannon is part of a veteran Iowa defensive line that is considered among the best in the Big Ten.
He started every game at defensive tackle in each of the past two seasons and was one of 12 players named to Iowa's 2022 Player Council.
His loss would be significant on the field, but maybe even more so away from the field because Shannon means so much to the team as a day-to-day leader.
He unfortunately made a mistake, and will have to pay for it.
But unless something comes out to prove otherwise, if ever there were a case for giving somebody a second chance, this would seem to be it.