By Pat Harty
IOWA CITY, Iowa – Iowa quarterback Cade McNamara barely had stood back up when word started to spread on social media that he had just been injured in Saturday's Kids Day practice at Kinnick Stadium.
News of this magnitude travels fast these days.
McNamara suffered what Iowa head coach Kirk Ferentz described as a soft tissue injury. The injury came on a play in which McNamara scrambled from the pocket. He then fell to the ground without having suffered any contact.
"It's not structural as far as I know," Kirk Ferentz said.
McNamara was limping slightly after he got up and did not return to practice.
"Anytime anybody is down it's not good," Kirk Ferentz said.
Ferentz was then asked if McNamara's injury was a day-to-day thing.
"I'll know more next week, but I'm not alarmed right now," Ferentz said. "It's not like, oh, boy, he broke his leg or something like that. That would be really significant.
"So, I think it's just going to be one of those things where we just have to take it day by day, and hopefully, it's on the shorter end than the longer end."
McNamara is being counted on to help jumpstart an Iowa offense that finished last season ranked 130th out of 131 FBS teams in total offense, and that only had seven touchdown passes.
He still has three weeks to get healthy before Iowa faces Utah State in the season opener on Sept. 2 at Kinnick Stadium.
Six of Iowa's seven home games already are sold out for this season, and it's probably fair to say that the addition of McNamara is part of the reason.
McNamara led Michigan to the 2021 Big Ten title and to the four-team college playoff as its starting quarterback.
So, he brings instant credibility to an offense in which quarterback play has been a problem in recent seasons.
Iowa held its annual media day event on Friday and McNamara talked about how much he has enjoyed his short time as a Hawkeye.
He still was recovering from a leg injury when he transferred to Iowa in the winter, but he was healthy when preseason practice started barely one week ago.
And while it appears the injury could have been worse, and that Iowa might have dodged a bullet, McNamara still will miss some valuable practice time.
"I wouldn't say he's upset, but he's not happy because you don't want to miss time," Kirk Ferentz said of McNamara. "He doesn't like not playing. He doesn't like not practicing.
"I just told him injuries are part of the game. It sucks, but they're part of the game. All you can do is all you can do. My guess is he'll wear the training staff out the next couple days or whatever it takes."
Iowa is already without No. 3 quarterback Joe Labas because of an injury, leaving backup Deacon Hill and incoming freshman Marco Lainez as the only healthy quarterbacks on scholarship.
The fifth quarterback on the depth chart is incoming freshman walk-on Tommy Poholsky.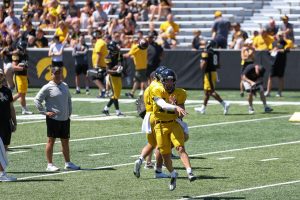 Hill, who transferred from Wisconsin at the start of the spring semester, moved ahead of Labas on the depth chart during spring practice.
Hill saw extensive playing time in Saturday's practice after McNamara was injured, and that should continue for as long as McNamara is out.
Kirk Ferentz said Friday that Labas has been out since July, so there really hasn't been any competition for the backup spot.
Labas is the only quarterback on the 2023 roster that has played in a game for Iowa as he made his first career start in the 2022 Music City Bowl, helping to lead the Hawkeyes to a 21-0 victory over Kentucky.
Labas and Hill were expected to compete for the No. 2 spot in preseason practice, but the job now belongs to Hill, partly by default.
"Basically, he's competing with me," Kirk Ferentz said of Hill. "So, it's not a fair fight.
"But as I said yesterday, it's been Cade and it's been Deacon. And Deacon, as you can see, he's got some really good potential, but he also hasn't played much.
"But he's an older guy. It's not like he's 18 and just trying to figure it all out like the other two guys. And then Joe will get in there and he'll do a good job as well."
Despite two quarterbacks now being injured, Kirk Ferentz still feels good about the situation at quarterback.
"I think we have a healthy situation," Kirk Ferentz said. "I just hope we can get Joe practicing, and hopefully, it's this week."
As for Saturday's practice and which players stood out, sophomore receiver Seth Anderson and redshirt freshman defensive end Brian Allen both performed well.
Anderson came to Iowa via the transfer portal after having played his freshman season for Charleston Southern where he had 42 catches for 612 yards and seven touchdowns.
However, he missed spring because of an injury, but is now healthy.
"We didn't see him in the spring, but we thought he was a real good prospect and today was probably as good a day as he's had," Kirk Ferentz said of Anderson. "He likes to show up for the crowd apparently.
"But that was encouraging. He works hard and he's got a great attitude. The injury in the spring kept him off the field, but he's been out there every day this camp. And that's been really good. So, he's making progress. Anybody that can help our football team be better, I'm all for it.'
Allen also appears to have been motivated by having some fans in the stands for Saturday's practice.
"I would say that was probably his best day, his most active day," Kirk Ferentz said of Allen, who is from Lake in the Hills, Illinois. "Kind of like Seth, it's good to see some guys, maybe the lights come on and they go a little better."